NFL: New Orleans Saints franchise tag Jimmy Graham but tight end row brewing
New Orleans Saints have placed the franchise tag on tight end Jimmy Graham after failing to agree a new long-term deal.
Last Updated: 01/03/14 12:44pm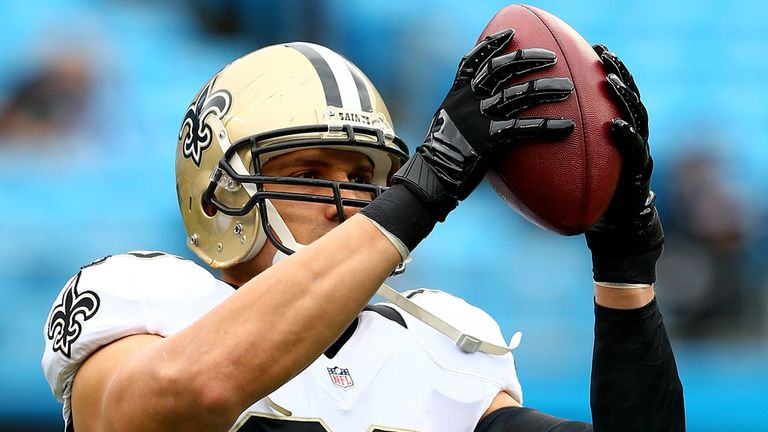 Graham has been a touchdown machine for the Saints and they are desperate to sign him up long-term, but with his contract now up and free agency starting on March 3 they have been forced to franchise him.
The Saints have until July 15 to sign him to a long-term deal, but if not then under the franchise rule he will receive a one-year contract worth $7m - as the average of the top five players at his position.
However, Graham's team are looking for him to be paid as a wide receiver, which would mean a $12m franchise number - and they are threatening to file a grievance against the Saints to get him re-designated as a receiver for salary negotiations.
The 27-year-old was one of the lowest paid tight ends in the league last season when he earned $1.3m in the last year of his rookie contract, and he was a huge bargain for the team as he led the league with 16 touchdown catches despite dealing with a painful foot injury.
Neither party is keen on using the franchise tag, and New Orleans are looking to reward Graham by making him the highest paid tight end in the league - but it is the argument over what position he should get paid for playing that is causing all the issues.
CBA wording
The latest collective bargaining agreement states that the franchise tag number should be based on where a player lines up most during the season, and Graham did play over half his snaps (67% according to the stats) as a receiver last season.
However, the Saints will argue that blocking at the line for even a minority of snaps still qualifies him as a tight end - as the modern position in the NFL is used more and more out wide - but blocking at the line differentiates them from receivers.
Saints GM Mickey Loomis isn't interested in a change of designation, saying in January: "This business about what position he is? I think he's a tight end. That's where we drafted him. That's where we play him. In our view he's a tight end. That's what makes him valuable."
While the outcome of any grievance will be key to the Saints' plans, it will also be a landmark for the NFL as it could lead to more tight ends wanting to be paid as receivers and more players in general trying to change positions to bolster their income.
Rob Gronkowski's six-year, $53m extension with the Patriots is the current biggest deal for a tight end, but Graham will want to increase that - and even chase the likes of receivers Calvin Johnson, Larry Fitzgerald and Vincent Jackson.
While the yardages don't quite add up, tight ends are becoming more and more crucial in the passing game, especially in scoring touchdowns as three of the top-five receiving TD scorers last season played in that position.
Evolving position
As the position evolves, so will the salaries paid to the new growing breed of tight ends, but Graham wants to set the benchmark now, and everyone around the league will be watching the outcome closely.
Recently-retired Atlanta Falcon Tony Gonzalez was one of the original pass-catching tight ends and he believes Graham should be tagged as a receiver - but not quite paid as highly.
"If you're going to franchise him, you have to franchise him as a receiver," Gonalez said on CBS Radio. "Obviously he's not going to get Megatron money, like those big-time receivers, Fitzgerald and a couple of other guys.
"But I think in the double-digit millions is probably what he should be paid at this point. For what he brings to that offense, it's a huge mismatch no matter where he is on the field. And the numbers he's putting up? Shoot, they're almost comparable to Megatron and those other guys.
"So at the very least you've got to meet him halfway. And hopefully they can get this done. I know they want to."