NFL: Washington Redskins use franchise tag on Brian Orakpo before Monday deadline
Three-time Pro Bowl linebacker Brian Orakpo has been given the franchise tag by the Washington Redskins.
Last Updated: 05/03/14 11:52am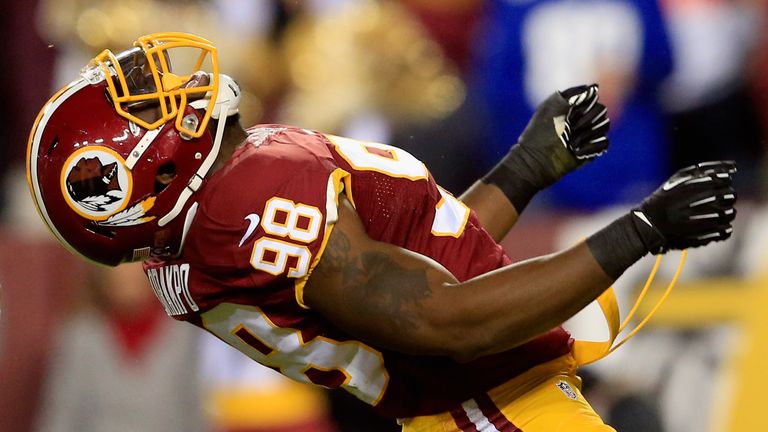 The 27-year-old was due to become a free agent this year but is now set to stay with the Redskins after Washington used their non-exclusive tag on him before Monday's deadline.
Washington have the right to match any offer another team may make for Orakpo and could receive two first-round draft picks in compensation if he signs elsewhere.
The franchise tag allows teams to keep a player despite the fact they have an expiring contract, with the Redskins and Orakpo so far unable to come to an agreement on a long-term extension.
But the player is well compensated for staying put, the franchise tag for linebackers being worth around $11.5 million in 2014.
Negotiations over a conventional new contract are expected to continue, but the tag means Orakpo will not become an unrestricted free agent.
Other players to have been slapped with the franchise tag this season include New Orleans Saints tight end Jimmy Graham, Carolina Panthers defensive end Greg Hardy and Cleveland Browns centre Alex Mack, who was given the slightly less-lucrative transition tag.
Notable players who were not given the franchise tag include Buffalo Bills safety Jairus Byrd, Seattle Seahawks defensive end Michael Bennett and New England Patriots cornerback Aqib Talib.
If these players do not re-sign with their respective teams before March 11, they will become unrestricted free agents.
One player who did work out a new deal before the franchise tag deadline was San Francisco 49ers wide receiver Anquan Boldin, who signed a new two-year contract with his team.
Miami cornerback Brent Grimes also signed a new four-year deal with the Dolphins.