NFL: Darrelle Revis on trading block with Julius Peppers, Steve Smith, LaMarr Woodley
Veterans Darrelle Revis, Steve Smith and Julius Peppers have all reportedly been put on the block by their teams.
Last Updated: 11/03/14 8:56pm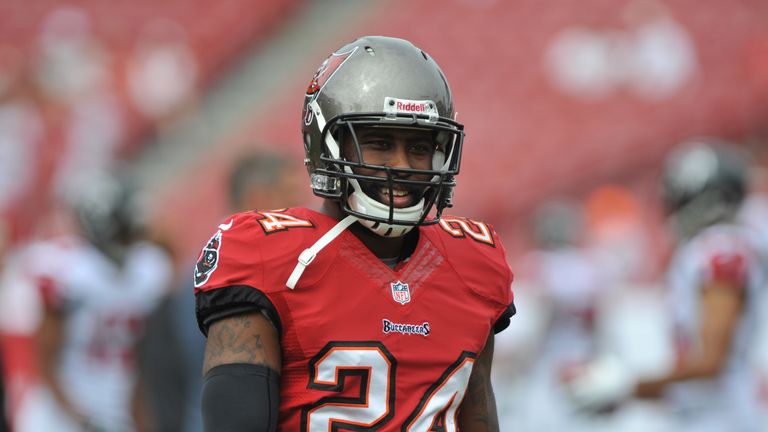 Star cornerback Revis was brought in in a big-money move last April, but the Buccaneers are now squirming at the thought of shelling out $16 million on his 2014 salary, so are looking for a trade.
Revis also cost the Bucs a first-round pick when they acquired him from the New York Jets, and Tampa Bay are now willing to talk to any interested parties about a trade.
Coming back off knee surgery, Revis did well enough to make the Pro Bowl when starting all 16 games for his new team last year, but after finishing 4-12 Tampa Bay now feel their money could be better used to strengthen elsewhere.
One of the best cornerbacks around, Revis would interest almost every team in the NFL but his salary could be a huge sticking point in any trade talks, which throws up the remarkable possibility of one of the best players in the league hitting free agency if Tampa Bay are determined not to pay up.
Steve Smith
Another big name on the block is Carolina Panthers wide receiver Steve Smith, whose future has been in doubt for weeks with both coach Ron Rivera and general manager Dave Gettleman unable to answer direct questions on his future.
Being a veteran at 34 and with a $7 million salary cap number, trading partners will be few and far between for Carolina, so they are almost certain to have to release the best player in their history.
Smith has spent 13 seasons with the Panthers and has caught 836 catches for 12,197 yards and 67 touchdowns, but he was way off his usual pace in 2013.
Again a trade seems almost impossible given Smith's age and salary expectations, and also given the depth of receiving talent in the Draft available.
Smith has recently sounded anything but thrilled at the prospect of leaving Carolina, but even if he wanted to stay it seems the team believe they are better off without him - even if cutting him means they have no receivers left on the roster who caught a pass last year.
Peppers, Woodley
The big names are falling thick and fast with the Chicago Bears about to cut ties with Julius Peppers - who they signed in 2010 on the biggest contract ever given to a defensive player at the time.
He looked well worth it at first, but again age is becoming a factor at 34 and with a whopping $20 million cap number - it would be a huge surprise if a trade was found.
Instead, Peppers will be another big-name veteran suffering the humbling of looking out for a new team in free agency, with the Bears keen to cut him soon to make an early splash in the market.
LaMarr Woodley was handed a $61.5m contract by the Pittsburgh Steelers in 2011, but that seems to have been a huge waste and he will become a big free agent name after the team informed the linebacker he would be released.
The New York Jets will finally cut ties with wide receiver Santonio Holmes. One of coach Rex Ryan's favourites, Holmes made some big plays when they made the AFC Champions game in 2010, but injuries over the last couple of years have badly hampered him.
The San Francisco 49ers will be down two cornerbacks with Tarrell Brown set to hit the open market and Carlos Rogers also set to be released unless he agrees on a pay cut from his $6.6m expected 2014 salary.