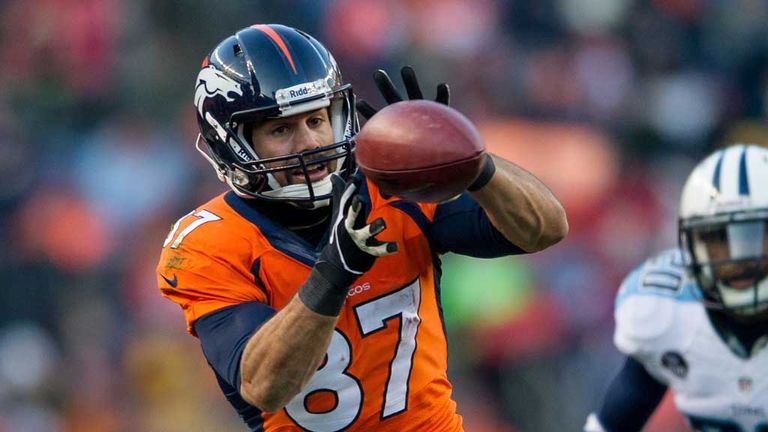 The New York Jets have announced the signing of wide receiver Eric Decker from the Denver Broncos.
The 26-year-old has agreed terms on a five-year contract worth a reported $36.25million, and $15million guaranteed according to NFL sources.
Decker was one of the leading wideouts in the league last season, linking up with quarterback Peyton Manning for a career-high 87 receptions for 1,288 yards and 11 touchdowns.
He produced a remarkable week 13 performance against Kansas City, hauling in eight catches for 174 yards and four touchdowns against one of the leading defences in the league.
In contrast, the Jets ranked 31st in passing offence as rookie quarterback Geno Smith struggled to adapt to life in the NFL after a successful college career.
Jeremy Kerley was the only Jets wideout to record more than 40 receptions last season as the team averaged only 183.2 yards in the air per game.
Holmes released
The Jets released veteran wide receiver Santonio Holmes on Monday and are now determined to give Smith an accomplished array of offensive weapons to work with.
Decker, widely considered to be the top receiver on the free-agent market, arrived in New York on Tuesday and agreed to the move after two days of talks with Jets officials.
In an interview with the Denver Post on Wednesday, Decker insisted he was looking forward to working with Smith after enjoying two stellar years with Manning.
Decker said he's not concerned about the prospect of going from Manning to the unproven Smith.
"When you go from a Hall-of-Fame quarterback, no one else - no matter who it is - can be on the same level," he said.
"Talking to the offensive coordinator Marty Mornhinweg, who has had a good track record in San Francisco and Philadelphia, he really believes in this kid.
"When you look at the statistics, yeah, he got off to a slow start, but he was hurt early on and he finished the season strong. He improved all season long in a tough market. That's pretty impressive."