NFL: Hakeem Nicks leaves New York Giants for Indianapolis
Indianapolis have signed former New York Giants wide receiver Hakeem Nicks, the Colts have confirmed.
Last Updated: 15/03/14 10:55am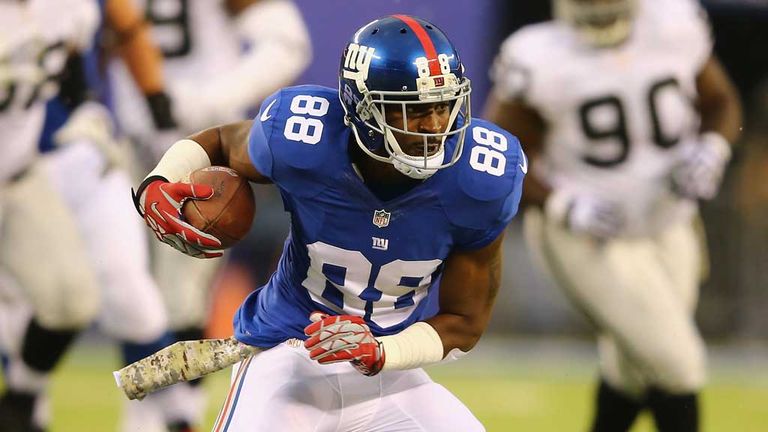 The 26-year-old has agreed terms on a one-year contract believed to be worth $3million as he looks to revive his NFL career following a disappointing last two seasons with the Giants.
The move to the Colts sees him reunited with his former college wide receivers coach Charlie Williams, who was one of the Colts officials involved in talks with Nicks during the week.
"We went back down memory lane," said Nicks after completing the deal on Friday evening.
"He taught me some of the basics back in college so it'll be good to get back out on the field and work with him."
Nicks had been linked with a number of teams before opting to link up with Andrew Luck in Indianapolis, and he added: "I feel like the Colts were the most Super Bowl ready and I'm in this game to win Super Bowls. I can't wait."
Colts general manager Ryan Grigson said: "Hakeem is a big, tough, and highly competitive wide receiver who knows what it takes to win.
"His big-play potential requires attention from the defense every time he's out on the field. He adds another highly talented playmaker to our offense and we are happy to announce he is now an Indianapolis Colt."
Nicks, who struggled with foot and knee injuries in 2012, failed to score a single touchdown last season despite being targeted over 100 times overall by Giants quarterback Eli Manning.
The North Carolina University graduate was tipped for a glittering NFL career when he was drafted in the first round in 2009 by the Giants to replace Plaxico Burress.
Rookie season
Nicks became the first Giants rookie in almost 50 years to score a touchdown in four consecutive games, and he went on to record over 1,000 yards receiving in both the 2010 and 2011 seasons.
He played a major role in the Giants winning the Super Bowl in 2011 before injuries hampered his rapid progress.
After scoring 24 touchdowns in his first three seasons, he managed only three in 2012 before being shut out last term as the Giants missed out on the play-offs with a 7-9 record.
Meanwhile, fellow wide receiver Steve Smith has ended his 13-year career with Carolina after signing a three-year contract at Baltimore.
Like Nicks, Smith had a torrid 2013 season as he was limited to only 745 receiving yards and four touchdowns.
The 34-year-old was scheduled to have talks with the New England Patriots after meeting with Ravens officials, but he cancelled his trip to Boston after being persuaded to sign by Baltimore coach John Harbaugh.
"I love the coach. I like the offensive scheme," Smith said. "There is a lot of familiarity in some regards. But then also have a fresh new perspective. Everything seemed to gel."
In other free agency moves, Tennessee have signed former Ravens right tackle Michael Oher to replace recently departed veteran David Stewart.
Former Patriots linebacker Brandon Spikes has joined Buffalo on a one-year deal, while Oakland have signed ex-Houston defensive end Antonio Smith following the earlier additions of Justin Tuck and LaMarr Woodley.