NFL: Philadelphia Eagles cut DeSean Jackson after six seasons
The Philadelphia Eagles made one of the biggest moves in this off-season by cutting wide receiver DeSean Jackson.
Last Updated: 28/03/14 6:36pm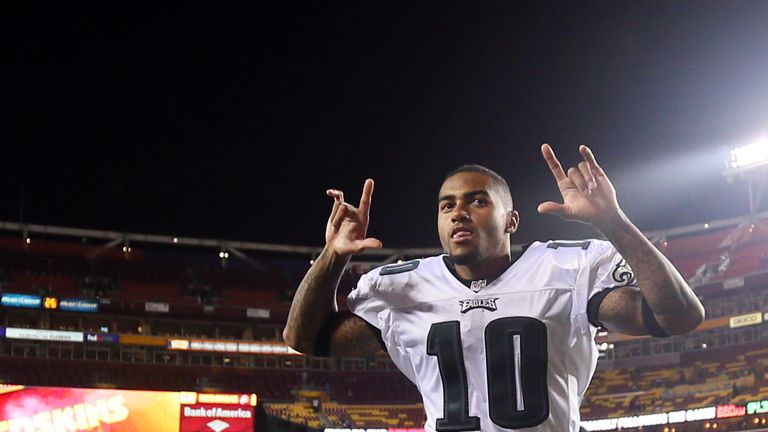 Jackson had a career year last season and was set to make $10.5 million after signing a new five-year deal just two years ago, but it had been widely known that the Eagles were looking to trade him this off-season.
Despite the 27-year-old taking in 82 catches for 1,332 yards and nine touchdowns under new coach Chip Kelly, the Eagles did not want to take the big hit of his salary and Jackson had not wanted to budge on restructuring.
Throw in some reports of an attitude problem in training and an alleged gang links and Philadelphia thought it was all too much of a risk to hand out the big money to keep him in green.
The team handed Riley Cooper a new contract and with Jeremy Maclin returning from injury, and Kelly's new offence offering plenty of players chances of making an impact, Philly think they can get by just fine without him.
The team had tried to find a trading partner but the price was just too high, and although he will have no trouble finding a new home he may have to temper his expectations as Jackson surprisingly hits free agency.
"After careful consideration during this off-season, the Philadelphia Eagles have decided to part ways with DeSean Jackson. The team informed him of his release today," said the team's statement.
Dangerous
Three-time Pro Bowler Jackson has been one of the most dangerous wideouts in the game in recent years, but he is now looking for a new team after catching 356 passes for 6,117 yards in his six seasons with the Eagles, and he insisted he had no criminal gang links as he released a statement.
"First I would like to thank the Eagles organisation, the Eagles fans and the city of Philadelphia for my time in Philly," Jackson said. "Secondly, I would like to address the misleading and unfounded reports that my release has anything to do with any affiliation that has been speculated surrounding the company I keep off of the field.
"I would like to make it very clear that I am not and never have been part of any gang. I am not a gang member and to speculate and assume that I am involved in such activity off the field is reckless and irresponsible. I work very hard on and off the field and I am a good person with good values.
"I am proud of the accomplishments that I have made both on and off the field. I have worked tirelessly to give back to my community and have a positive impact on those in need. It is unfortunate that I now have to defend myself and my intentions. These reports are irresponsible and just not true. I look forward to working hard for my new team. God Bless."
There should be no shortage of interested parties for a player of Jackson's speed and big-play ability, but questions will be raised about his off-field character after his release from Philadelphia.