NFL: Seattle Seahawks hand cornerback Richard Sherman four-year contract extension
Cornerback Richard Sherman has signed a four-year extension with the Seattle Seahawks that guarantees him $40 million.
Last Updated: 14/05/14 11:08am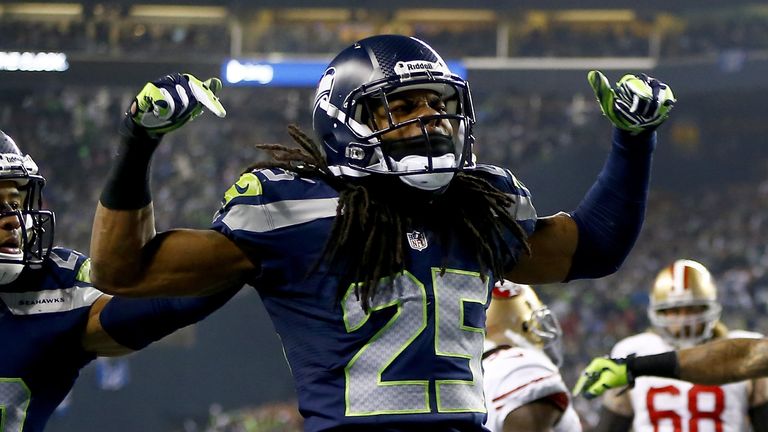 The 26-year-old was entering the final year of his rookie deal having been drafted by the Seahawks in the fifth round back in 2011.
Sherman - who led the NFL last season with eight interceptions - is now tied to Seattle through 2018, with the player himself revealing on his personal blog that the contract pays $40 million in guaranteed money.
"New contract signed! Great moment for my family & foundation," the player wrote on his Twitter account before the team staged made it official at a news conference.
The announcement comes after Seattle had already handed new deals to safety Earl Thomas and defensive end Michael Bennett, keeping hold of the cornerstones of a defence that helped them to glory last season.
Sherman had three tackles and a pass deflection as they defeated the Denver Broncos 43-8 in Super Bowl XLVIII in New York.
He was selected in the fifth-round of the 2011 draft and was entering the final year of a relatively cheap rookie deal, but is now the highest-paid cornerback in the league.
"I don't think you could ever plan this as part of any journey, it's kind of fairytale ending - or fairytale beginning," Sherman told the Seahawks' official website.
"So I don't think this part was ever planned. This is one of those things you have to accept and appreciate. But still have the same hunger and you have to put it aside. Just like the Super Bowl win.
"We won a Super Bowl, but you have to put it aside and understand it for what it is. But also get back to duty."