NFL: New Orleans Saints sign paralysed former safety Devon Walker
The New Orleans Saints have realised the dreams of Devon Walker after signing the paralysed former safety.
Last Updated: 18/05/14 12:46pm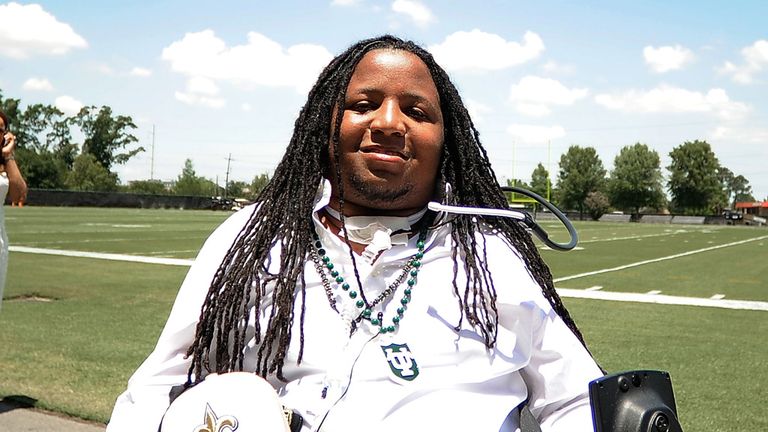 The safety was tipped for NFL stardom until he suffered a career-ending spinal injury after a freak collision with a team-mate during a game in his senior season in September 2012.
The injury left Walker paralysed below the neck and he spent three months in hospital before returning to his studies.
Walker defied the odds to earn a degree in cellular and molecular biology, and he now intends to stay on at Tulane to study for a doctorate.
The 23-year-old took part in graduation ceremonies at the university, which is based in New Orleans, before being taken to the rookie minicamp at the Saints' training base.
Walker was then introduced to Saints head coach Sean Payton, who announced that he was being offered a contract.
Character
Payton said: "When Devon got hurt, his football career was just starting to take off after three years of hard work.
"Despite the devastating injury he suffered, Devon refuses to let that define him. He is an outstanding young man, who is not only an inspiration to his coaches and teammates at Tulane, but to all of us.
"Devon's character, determination, intelligence and work ethic are everything that we look for in a New Orleans Saint when we sign a player.
"This is the least we can do to recognize Devon and these attributes that we want all of our players to have."
Walker, who was unaware that he would be signed by the Saints, added: "For me, this is one of my dreams come true.
"I've been a Saint since before I was walking. Just to be a part of the team and be around the players is more than I could have hoped for."
Walker's bravery has been honoured by an award in his name issued by the New Orleans Fellowship Foundation.
He was also named the Brand Burlworth Courage Award winner in 2012 before receiving the Disney Spirit Award the following year.