NFL at Wembley: A look at the key players for New England Patriots and St Louis Rams
We take a look at the key players for the New England and St Louis ahead of their Wembley meeting.
Last Updated: 25/10/12 7:15pm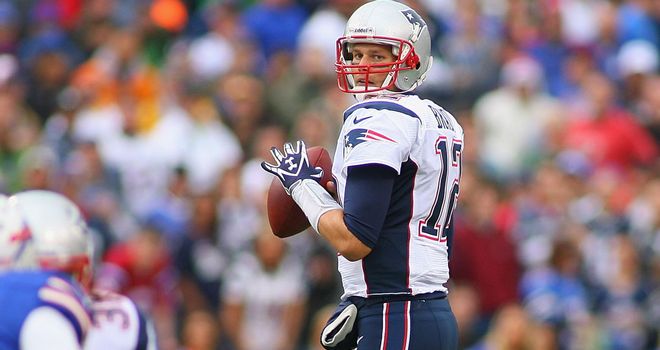 The Wembley fixture provides an opportunity to see the biggest names in the sport for gridiron fans in Britain, many of whom make it an annual pilgrimage.
To get you in the mood for this year, we take a look at some of the players worth watching out for.
Sam Bradford, St Louis Rams quarterback
Billed as the Rams' saviour when he was drafted first overall in 2010, Bradford's career in St Louis has been mixed. A combination of injury, a woeful offensive line and lack of receiving talent prevented him building on a promising rookie campaign. The 2008 Heisman Trophy winner missed six starts with an ankle injury last season and has been sacked 91 times in his NFL career, including 21 times already this season.
Tom Brady, New England Patriots quarterback
The quarterback's place among the NFL greats is already assured after more than a decade pulling the strings for the New England Patriots. Since getting his chance in the 2001 season, Brady has won three Super Bowls and five AFC championships. The seven-time Pro Bowler prefers to stay in the pocket and carve up defences with his precision passing and has played at Wembley before, throwing three touchdowns in the Patriots' 35-7 win over the Tampa Bay Buccaneers in 2009.
Cortland Finnegan, St Louis Rams cornerback
Finnegan was brought to St Louis via free agency last summer to stiffen the Rams' secondary and the initial signs are that he has made a difference. He is not the most popular player in the league due to his confrontational approach but his cover skills and eye for an interception earned a trip to the Pro Bowl in 2008 and make him the standout cornerback on show at Wembley.
Rob Gronkowski, New England Patriots tight end
The Patriots picked two tight ends, Gronkowski and Aaron Hernandez, inside the first four rounds of the 2010 draft and both have become important parts of head coach Bill Belichick's offence. The 6ft 6in Gronkowski provides match-up problems for opposition defences and is a particular threat in the red zone as evidenced by his prolific touchdown ratio - he already has 32 in his brief NFL career.
Steven Jackson, St Louis Rams running back
Jackson is one of the league's great survivors, now into his ninth season in one of the game's most physically punishing positions. Drafted in the first round in 2004, Jackson has topped 1,000 yards on the ground in each of the last seven seasons and is 29th on the NFL all-time list for rushing yards. The one blot on his career is the lack of play-off action, he has not appeared in a post-season match since his rookie year.
Robert Quinn, St Louis Rams defensive end
Quinn will be tasked with getting in Brady's face at Wembley and, with seven sacks already this season, the Patriots' offensive line will have their hands full. The defensive end, who underwent brain surgery to remove a benign tumour when he was in high school, was a first-round pick in the 2011 draft and has started to make a big impact impact in his second season, most notably with a three-sack display in the week five win over Arizona.
Stevan Ridley, New England Patriots running back
Ridley, a third-round draft pick in 2011, has emerged as the Patriots' premier running back. The 23-year-old has three 100-yard rushing games and four touchdowns already this season, including a career-high 151 in the win over Denver but he has cooled off somewhat in the last couple of weeks.
Wes Welker, New England Patriots wide receiver
In the land of the giants that is the NFL, Welker is an undersized anomaly. The 5ft 9in receiver lacks both size and speed and took a while to find his niche, eventually landing in New England after stints at San Diego and Miami. Working out of the slot, Welker quickly established himself among Brady's favourite targets and has led the league in receptions in two of the last three seasons.