What they said
As the dust settles on Baltimore's stunning Super Bowl success, we look back at who said what...
Last Updated: 04/02/13 8:06am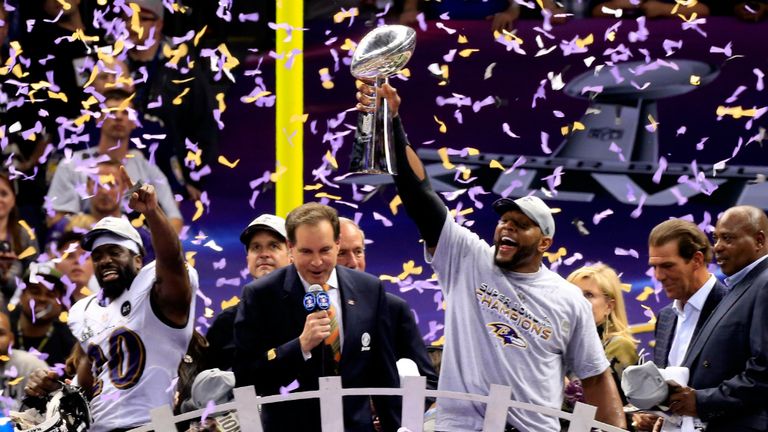 Terrell Suggs
"Well, Colin Kaepernick started making some throws that we didn't think he could make. He started making plays with his arm. We thought if we made him throw the ball, they'd have a hard time of beating us, but he got going, he got in a rhythm, and the kid's special. I take my hat off to him. The kid can play, and I hate quarterbacks."
Ray Lewis
We heard that we couldn't beat Denver. We heard that we couldn't beat New England. We heard that we couldn't beat San Fran. And, we overcame all odds. For us to be here as world champs right now, it shows you that if you believe in something, as men and as a team, what wins is chemistry. What wins is togetherness. That's what we had through this journey, was togetherness. We never wavered one time, and it showed what our team is built on. Our team is built on true men, true leaders and true winners. And no matter what we've been through, we found a way to stick together as a team."
John Harbaugh on brother Jim
"The meeting with Jim in the middle was probably the most difficult thing I have ever been associated with in my life. I am proud of him. It's tough. It's very tough. It's a lot tougher than I thought it was going to be. It's very painful."
Ed Reed on winning in his home town
"To do it for the hometown, in the hometown, to do it for Baltimore: there can't be a better feeling than that. This is my city man, Louisiana, the city I'm from. I grew up five minutes from here. Forgive me for my pronunciation man. I've never been so happy to do interviews. It could have gone either way. It's probably one of the better Super Bowls that you will all ever see. I'm just glad to be a part of it and glad to be right here."
MVP Joe Flacco on his contract situation
"It's cool. We just won a Super Bowl. That's the last thing I'm concerned about, but he did let me know that if the day came, I could go beat on his desk and really put it to him. So that's exactly what I'm going to do."
Patrick Willis
"It's one of those things where you work all season long. You start at training camp, and then OTAs, spring football, then training camp and the regular season. To get to this point, it's unfortunate that we came up short. The other team, they won and you can't take anything away from them. They are champions and we lost."
Vernon Davis
"I just thought that we would win this game. We started making plays, he defence got the turnover, we came back out and we had a great drive. At that moment I just said, 'We got this. I got this. All we have to do is get the ball back in our hands and we can make it happen.'
Joe Staley
"My emotions are very all over the place right now. I'm very proud of our football team and I'm really proud of our guys. You don't know how many times this opportunity is going to come around. Definitely, right now, I'm disappointed, very frustrated we couldn't get the job done. For all the guys, it's been a special year, but you don't know how many times you will get this opportunity. To come up short, it hurts."
LaMichael James who lost a fumble
"I think this one hurts a little more, you know? It stings a little bit more, especially because it felt like my fumble led to their points. It stings a little bit, but you have to get over it and just keep fighting. I think everybody counted us out when we were down. I don't know what the score was and it didn't really matter, but everybody on this side of the ball and on this team just kept fighting, and kept battling. Nobody pointed any fingers, no matter what went wrong or who made mistakes. Everybody just kept fighting."