NFC East - Guide to the off-season
We take a look at how each team is preparing for the new campaign
By Alex Williams
Last Updated: 08/03/13 8:19am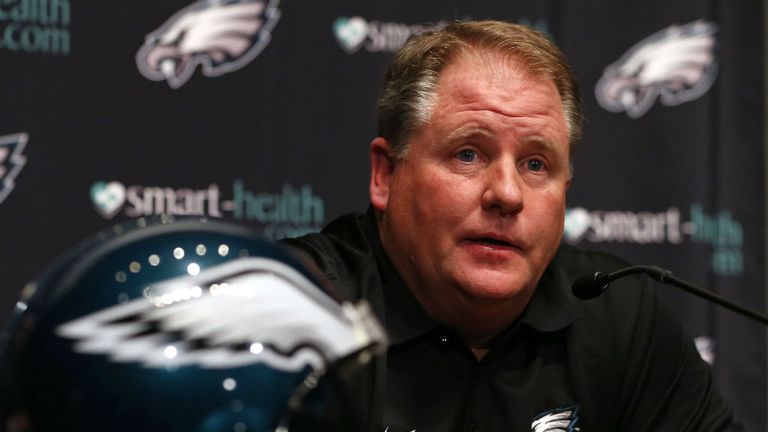 The draft takes place at Radio City Music Hall in New York from April 25-27 and prior to that there are lots of decisions to be made in front offices around the league.
Ahead of the draft, we're taking a division-by-division look at how things are shaping up, this time it's the turn of the NFC East.
Washington Redskins
Last season: Washington finished top of the division after ending the regular season with a seven-game winning streak. However, they lost out in wildcard round of the play-offs to Seattle after rookie quarterback Robert Griffin III, who had been a revelation throughout the campaign, suffered a torn ACL.
Coaching changes: Head coach Mike Shanahan returns for his fourth season at the helm after his most successful campaign in Washington so far. His son Kyle is still in charge of the offence despite stating his interest in pursuing a career as a head coach elsewhere. Jim Haslett stays on as the defensive co-ordinator, with the only notable change seeing Keith Burns brought in as special teams co-ordinator in place of Danny Smith, who has joined the Steelers.
Unrestricted free agents: DT Lorenzo Alexander, DT Kentwan Balmer, OL Jordan Black, OL Jammal Brown, TE Chris Cooley, TE Fred Davis, DE Kedric Golston, CB Cedric Griffin, QB Rex Grossman, S Tanard Jackson, LB Bryan Kehl, OL Kory Lichtensteiger, OL Tyler Polumbus, P Sav Rocca, S; Madieu Williams, DE Chris Wilson.
Salary cap: $4.7m over
Strategy: The off-season started with fears over Griffin's career after tearing the ACL in his right knee for a second time at just 23 years old, but the latest reports indicate the dynamic quarterback is making good progress. Griffin and sixth-round running back Alfred Morris give the offence a young foundation at a relatively low price. However, the Redskins are struggling to reach salary cap requirements meaning some established names may have to be cut or have their contracts restructured, with Washington forced to look to the mid rounds of the draft for replacements.
Draft: Last year's trade to move up for Griffin means Washington do not have a first-rounder, with their first pick being the 51st overall selection. They have one pick in all the remaining rounds bar the fifth, where they have two.
New York Giants
Last season: After going into the season as defending Super Bowl champions, the Giants stuttered to a 9-7 record and did not qualify for the play-offs.
Coaching changes: Tom Coughlin stays on as head coach with all three co-ordinators - Kevin Gilbride on offence, Perry Fewell on defence and Tom Quinn on special teams - returning to their positions as well. Sean Ryan will tackle a second season as quarterbacks coach after last year struggling to get the same results out of Eli Manning as his predecessor Mike Sullivan did.
Unrestricted free agents: WR Ramses Barden, OL William Beatty, TE Travis Beckum, TE Marty Bennett, DT Rocky Bernard, LB Chase Blackburn, OL Kevin Boothe, QB David Carr, WR Domenik Hixon, CB Bruce Johnson, OL Sean Locklear, RB Kregg Lumpkin, S Kenny Phillips, LB Keith Rivers, CB Justin Tryon, K Lawrence Tynes, DE Osi Umenyiora, CB Brian Witherspoon.
Salary cap: $2.5m under
Strategy: Despite a dramatic collapse at the end of the 2012 season, the Giants have opted against wholesale changes. And it is easy to see why as the same core of players and staff were Super Bowl champions just one year previously. Left tackle Will Beatty was due to hit free agency but has been re-signed while star receiver Victor Cruz, who will be a restricted free agent, is still awaiting a new deal. The biggest change sees running back Ahmad Bradshaw cut, with David Wilson stepping up to replace him.
Draft: The Giants have no extra picks to give or take, meaning they have one selection around the middle of each round.
Dallas Cowboys
Last season: Despite a poor start Dallas headed into the regular season finale against arch-rivals Washington with a chance of making the play-offs. They lost to the Redskins, however, meaning they missed the post-season for a third straight year.
Coaching changes: Head coach Jason Garrett survived with his job intact despite a second straight season without play-off football, but the issue of whether or not he has lost play-calling duties to offensive co-ordinator Bill Callahan has been a source of intrigue over the off-season. Defensive co-ordinator Rob Ryan did not escape Jerry Jones' wrath and was shown the door, with iconic defensive mind Monte Kiffin taking his place. With Joe DeCamillis leaving for the Chicago Bears, Rich Bassacia becomes the new special teams co-ordinator.
Unrestricted free agents: DE Victor Butler, CB Michael Coe, DE Kenyon Coleman, OL Derrick Dockery, S Eric Frampton, CB Mike Jenkins, RB Felix Jones, OL LP LaDouceur, P Brian Moorman, WR Kevin Ogletree, S Charlie Peprah, TE John Phillips, LB Brady Poppinga, LB Ernie Sims, LB Anthony Spencer.
Salary cap: $21.1m over
Strategy: The Cowboys are in dire salary cap trouble and, although the exact number is not certain, it is widely accepted that some serious work needs to be done to get them under the limit. Safety Gerald Sensabaugh has already been cut to save some space and more could follow in his wake. Pass rusher Anthony Spencer has been franchised tagged, while centre Phil Costa has been re-signed. The cap restrictions mean Dallas will go on with tried and sometimes trusted offensive figureheads Tony Romo, Dez Bryant, Jason Witten and DeMarco Murray. The pressure will be on for Romo and coach Garrett in what is a critical year for their legacies with the Cowboys.
Draft: The Cowboys have a pick in each round except the seventh, a selection they gave up in a trade with Miami.
Philadelphia Eagles
Last season: In their second year, the 'Dream Team' truly crashed and burned, posting just a 4-12 record which ultimately cost long-serving head coach Andy Reid his job.
Coaching changes: The Eagles are the only team in the NFC East to perform a total coaching clear-out. Reid is gone after 14 seasons at the helm. He is replaced by Chip Kelly, who is set to attempt to bring his innovative 'blur' offence to the NFL from the University of Oregon. Former Browns head coach Pat Shurmur becomes the new offensive co-ordinator, Billy Davis also comes over from Cleveland to take charge of the defence and Dave Fipp moves from Miami to become special teams co-ordinator.
Unrestricted free agents: OL Jon Dorenbos, OL King Dunlap, LB Akeem Jordan, DT Derek Landri, CB Dominique Rodgers-Cromartie, OL Jake Scott, DE Darryl Tapp.
Salary cap: $14.8m under*
Strategy: Despite spending lavishly on free agents two years ago the Eagles are not in salary cap trouble after cutting the likes of Mike Patterson and Cullen Jenkins. Offensive tackle Demetress Bell is also gone just one year after signing a five-year contract, while cornerback Nnamdi Asomugha will be on his way unless he agrees a restructured deal. Jason Peters should slot back in at left tackle after missing 2012 through injury. Michael Vick, blighted by turnovers last year, will be given one last chance at quarterback after signing a restructured one-year deal. The Eagles will pick fourth overall in the draft, a selection they may use to bolster the defensive line or defensive backfield, two areas in need of some major attention.
Draft: The Eagles' miserable 2012 season means they will pick towards the top of each round, except for the sixth when they will pick 28th due to trades. They have three seventh-round picks.
Salary cap figures from the NFL's official website
*Does not include Michael Vick's restructured deal