NFL Preview: Sky Sports picks the best of the NFC West
The NFC West has become one of the strongest in the league - boasting two genuine contenders.
Last Updated: 30/08/13 3:13pm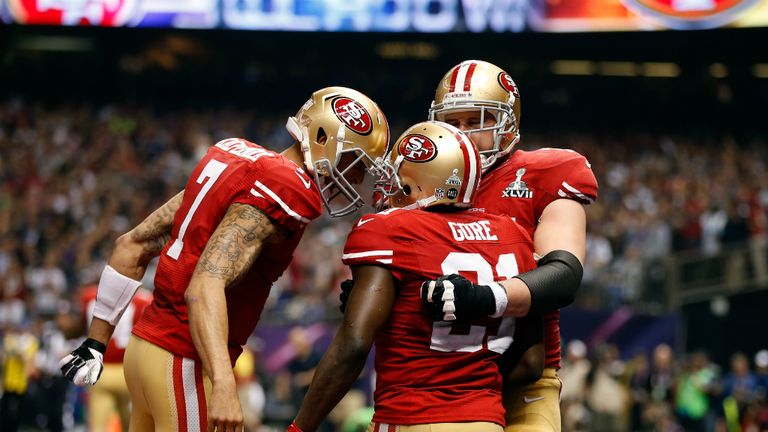 Seattle and San Francisco both made the play-offs with 11 wins last season and there is a good chance they will both make the post-season once again after strengthening during the summer.
They shouldn't overlook the ever-improving St Louis Rams though, who actually topped the divisional standings after going 4-1-1 and remaining unbeaten in two games against the Super Bowl runners-up San Francisco.
SAN FRANCISCO 49ERS (11-4-1)
Ins: WR Anquan Boldin, WR Jonathan Baldwin, S Craig Dahl, K Phil Dawson, QB Colt McCoy, QB Seneca Wallace, CB Nnamdi Asomugha, S Eric Reid, TE Vance McDonald.
Outs: QB Alex Smith, S Dashon Goldson, TE Delanie Walker, K David Akers, WR Randy Moss, DL Isaac Sopoaga, DL Ricky Jean Francois.
Star Man: Colin Kaepernick - Great arm, lightning pace and strength all combine to make Kaepernick one of the best dual threats around - and with a full pre-season under his belt and a trip to the Super Bowl on his CV he could be frighteningly good this year, as long as he proves he is no one-season wonder.
Season outlook: Having Kaepernick as good, or better than last year will keep the 49ers as a serious contender, perhaps keeping him on the field and clear of injury might be the biggest issue given his brave style of running and the targeting he's sure to get. Anquan Boldin from champions Baltimore is a great addition at receiver, but that is negated somewhat by injury to Michael Crabtree who had just started to flourish.
Defence will be strong again and only a return to the Super Bowl - and this time a sixth Vince Lombardi trophy - will be classed as a success for Jim Harbaugh's side, although they face a tough schedule and not least in their own division, where they went 3-2-1 last year and got just a tie out of the Rams.
SEATTLE SEAHAWKS (11-5)
Ins: WR Percy Harvin, DE Cliff Avril, DE Michael Bennett, DT Tony McDaniel, CB Antoine Winfield, DT Jesse Williams, DT Jordan Hill, RB Christine Michael, QB Tarvaris Jackson.
Outs: DT Alan Branch, OL John Moffitt, KR/RB Leon Washington, QB Matt Flynn, LB Leroy Hill, CB Marcus Trufant, TE Anthony McCoy.
Star Man: Marshawn Lynch - Ranked third in rushing yards last year and averaged just under 100 yards per game, Lynch was at his Beast Mode best and again he will be given a boatload of touches to lead the team on.
Season Outlook: Bringing in Percy Harvin was Pete Carroll's big move as it cost him a first round pick, but that has back-fired with the receiver needing hip surgery that rules him out until Week 7 at the earliest. Harvin was supposed to be the 'missing piece' to add that spark to a strong and powerful team that went pretty close last year.
They should still push the 49ers all the way with Russell Wilson a star at QB and the additions of pass rushers Cliff Avril and Michael Bennett adding the only upgrade the defence needed. They went 8-0 at home last year and that form at CenturyLink Field will keep them in the shake-up.
ST LOUIS RAMS (7-8-1)
Ins: WR Tavon Austin, WR Stedman Bailey, OT Joe Barksdale, TE Jared Cook, OL Barrett Jones, OT Jake Long, S T.J. McDonald, CB Brandon McGee, LB Alec Ogletree, RB Zac Stacy, LB Will Witherspoon.
Outs: WR Danny Amendola, S Craig Dahl, RB Steven Jackson, LB Rocky McIntosh, S Quintin Mikell.
Star Man: Sam Bradford - an obvious choice, but now is the time for the No 1 overall pick to really prove himself, with a talented weapon out wide and a much more solid O-line he really needs to step up in 2013 and show he is the real deal.
Season Outlook: They're still a young team, one of the youngest in the league, and Jeff Fisher made an immediate impact as head coach last year winning seven games when they'd only managed a league-worst 15 in five previous seasons. Plus they've lost running back Steven Jackson who single-handedly carried the offence on his broad shoulders for years, while their best receiver Danny Amendola moved to the Patriots.
Their stout defence will miss second leading tackler Jo-Lonn Dunbar for the first four games but will still be good enough to keep them in games, and with Jake Long signed on to help keep Bradford upright, and with hugely talented wideout Tavon Austin picked up in the Draft they should keep on improving - but it won't be easy in this division so a winning record would be a huge achievement.
ARIZONA CARDINALS (5-11)
Ins: Coach Bruce Arians, QB Carson Palmer, RB Rashard Mendenhall, OT Eric Winston, CB Jerraud Powers, ILB Karlos Dansby, ILB Jasper Brinkley, OLB John Abraham, S Yeremiah Bell, OLB Lorenzo Alexander, OG Jonathan Cooper, S-CB Tyrann Mathieu, ILB Kevin Minter.
Outs: QB Kevin Kolb, QB John Skelton, S Adrian Wilson, CB William Gay, S Kerry Rhodes.
Star Man: Larry Fitzgerald - Veteran QB Carson Palmer is not exactly an elite triggerman, but compared to the situation under centre in the last few years it will feel like Payton Manning to Fitz and the receiving corps. Palmer can still throw the ball and his arm strength and experience should see a big resurgence in one of the league's best receivers.
Season Outlook: New coach Bruce Arians will get more out of Palmer than the Raiders did last season, especially with Fitzgerald to throw to along with improving tight end Rob Housler, and two of their biggest moves could be getting rid of QBs Kevin Kolb and John Skelton.
A raft of departures in their secondary could cause problems, but it will be good to see how the Honey Badger Tyrann Mathieu gets on. They need to get cornerback Patrick Peterson involved as much as possible with his dynamic skills on offence and in the return game, and could do with another receiver such as Andre Roberts or Michael Floyd stepping up, but the Cards should certainly improve although that will be hard to see in their ultra-tough division.
Verdict:
Just one tie separated the top two last season, and it should be another close call between the Niners and Hawks, maybe the head-to-head will decide who takes it but both should be returning to the play-offs with such strong teams. You have to feel for the Rams and Cards who have both improved but it is now such a tough division - fancy St Louis to earn a winning record but even the Cards could come close.