AFC East preview: New England Patriots set to rule the roost once again
Can anyone stop the New England Patriots from continuing their domination of the AFC East?
Last Updated: 04/09/13 7:26pm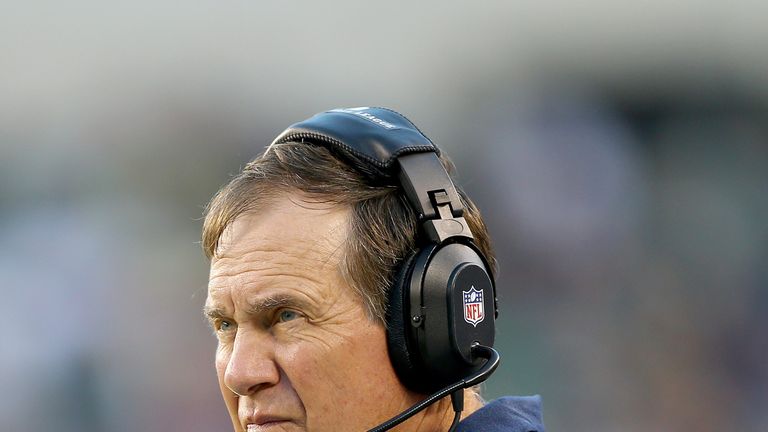 Miami Dolphins (7-9) finished second in the division last season led by rising star quarterback Ryan Tannehill, followed by the disappointing New York Jets (6-10) and Buffalo Bills (6-10) propping up the pile.
Let's take a look at how we see things shaping up in the AFC East this season...
NEW ENGLAND PATRIOTS (12-4)
Ins: WR Danny Amendola, RB LaGarrette Blount, WR Josh Boyce, LB Jamie Collins, WR Aaron Dobson, DT Tommy Kelly, TE Zach Sudfeld, OL Will Svitek, WR Kenbrell Thompkins, RB Leon Washington, S Adrian Wilson
Outs: TE Aaron Hernandez, WR Brandon Lloyd, DT Kyle Love, WR Wes Welker, RB Danny Woodhead
Star Man: In Tom Brady the Patriots have one of the best quarterbacks in the NFL. It's hard to look past the 36-year-old Californian leading New England to yet another AFC East title. Brady is a two-time MVP, eight-time Pro Bowler, and helped the Patriots win the Super Bowl three times.
Outlook: Quite simply New England are the team to beat in the AFC East, however, this season their line-up has changed somewhat. Go-to receiver Wes Welker has left and been replaced by Danny Amendola from St Louis Rams. Amendola is a like-for-like replacement for Welker and how he settles into the Patriots' offence could dictate their season. Belichick has also lost tight end Aaron Hernandez. He was cut after being arrested on a murder charge.
MIAMI DOLPHINS (7-9)
Ins: WR Mike Wallace, DE Dion Jordan, CB Brent Grimes, LB Dannell Ellerbe, LB Philip Wheeler, WR Brandon Gibson, T Tyson Clabo, PK Caleb Sturgis, G Danny Watkins
Outs: T Jake Long, RB Reggie Bush, LB Karlos Dansby, LB Kevin Burnett, CB Sean Smith, WR Davone Bess, TE Anthony Fasano, K Dan Carpenter
Star Man: All eyes will be on Tannehill this season. The 25-year-old Texan is entering his second season in the NFL following a promising rookie season. Tannehill is the key man for the Florida franchise. A winning season and the Dolphins' first play-off appearance in five years are riding on his displays.
Outlook:Miami have made some excellent moves to better equip Tannehill and transition their defence to a younger, more aggressive unit personnel-wise. Mike Wallace provides the necessary field-stretcher for this offence while players like Dannell Ellerbe and Philip Wheeler should give their defence more flexibility in attacking the passer. However, it might take more than a season for Joe Philbin's team to post a positive record.
NEW YORK JETS (6-10)
Ins: QB Geno Smith, RB Chris Ivory, CB Dee Milliner, TE Kellen Winslow Jr., S Dawan Landry, LB Antwan Barnes, DT Antonio Garay, G Willie Colon, DL Sheldon Richardson, WR Mohamed Massaquoi
Outs: CB Darrelle Revis, S LaRon Landry, RB Shonn Greene, DL Mike DeVito, QB Tim Tebow, RB-KR Joe McKnight, TE Dustin Keller, WR Braylon Edwards, LB Bart Scott, NT Sione Po'uha, G Brandon Moore, G Matt Slauson, S Yeremiah Bell, LB Bryan Thomas
Star Man: Bilal Powell. With the running back pool whittled by injury and absence, Powell has risen to become an essential component in the team's offence and a leader in the locker room. Powell carried the ball 110 times last season for 437 yards. Signs have pointed to an expanded role in Marty Mornhinweg's offence this time around, which is well-suited for Powell's adaptable skill set.
Outlook: Consistency is the Jets' problem. Rex Ryan's teams are known for their ability to grind out results, but expect a season of struggle for New York. However, there is every chance they could muster at least six victories. The Jets recently signed veteran quarterback Brady Quinn to give the team an experienced back-up behind rookie Geno Smith. Quinn's arrival also clouds the future of Mark Sanchez, who is sidelined with a shoulder injury and could miss at least the first few weeks of the season.
BUFFALO BILLS (6-10)
Ins: QB EJ Manuel, QB Kevin Kolb, QB Matt Leinart, LB Manny Lawson, LB Jerry Hughes, LB Kiko Alonso, WR Robert Woods, WR Marquise Goodwin, DT Alan Branch, K Dustin Hopkins
Outs: LG Andy Levitre, LB Nick Barnett, LB Shawne Merriman, S George Wilson, CB Terrence McGee, DE Chris Kelsay, WR David Nelson, WR Donald Jones, K Rian Lindell
Star Man: CJ Spiller. The running back is aiming to become the league's best this season and surpass Minnesota MVP Adrian Peterson. He is quick, dynamic and can break tackles.
Outlook: Don't judge this team by their record in 2013. They are not ready for a full-blown turn around. Rookie quarterback EJ Manuel could impress this season, but they are unlikely to have a winning season after being 6-10 in 2012/13.