AFC West preview: Denver Broncos out in front as rest of division looks to rebuild
Many have given the division title to the Denver Broncos before the season has even started.
By Alex Williams
Last Updated: 05/09/13 9:12am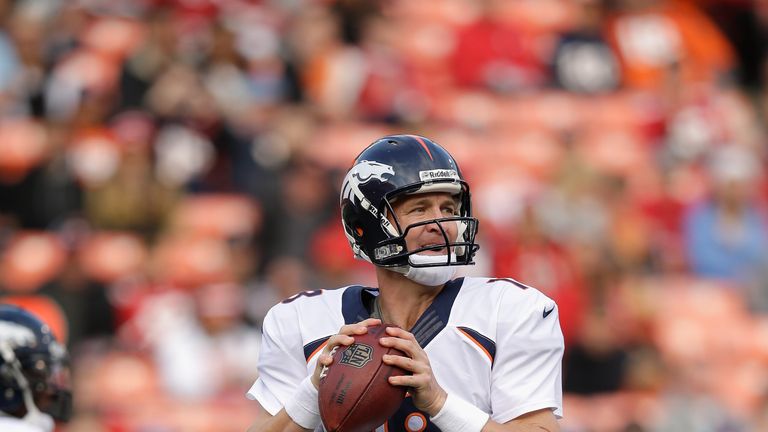 The San Diego Chargers, Kansas City Chiefs and Denver Broncos have all won the AFC West in recent years, but it looks as though the latter of those teams are now the undisputed top dogs.
Future Hall of Fame quarterback Manning, acquired through free agency after being cut by the Indianapolis Colts, led the Broncos to the AFC's No 1 seed before Denver lost to eventual Super Bowl champions the Baltimore Ravens.
With the Chiefs, Chargers and Oakland Raiders all in the midst of rebuilding projects, Denver are huge favourites to retain their spot atop the division.
DENVER BRONCOS (13-3)
Ins: CB Quentin Jammer, DT Terrance Knighton, DE Shaun Phillips, CB Dominique Rodgers-Cromartie, G Louis Vasquez, WR Wes Welker, DT Sylvester Williams
Outs: C CJ Davis, DE Elvis Dumervil, QB Caleb Hanie, RB Willis McGahee.
Star Man: Peyton Manning. The decision to end the Tim Tebow era in Denver was a controversial one, but nobody will be able to argue with the end result if last season is anything to go by. Manning threw for 4,659 yards, 37 touchdowns and 11 interceptions in 2012, maintaining a passer rating of 105.8 - the second best in the league. Even at 37 the four-time MVP looks set to continue his regular-season dominance for a few more years yet.
Outlook: The Broncos are odds-on to retain the AFC West crown, meaning the major question heading into the current campaign is whether or not they can make a run at the Super Bowl. If there is one weakness in Manning's game, it is his less-than-brilliant play-off record, which stands at 9-11.
There also may be some concern over last year's dominant defence after star pass rusher Elvis Dumervil was released in extraordinary circumstances when a renegotiated contract was faxed too late and Denver decided to cut him rather than pay a $12 million roster bonus. That departure has been balanced out by the recruitment of wide receiver Wes Welker and defensive back Dominique Rodgers-Cromartie. Overall, the roster is as at least strong as last year and a deep play-off run is expected.
SAN DIEGO CHARGERS (7-9)
Ins: CB Derek Cox, OT King Dunlap, DE Dwight Freeney, G Chad Rinehart, CB Johnny Patrick, RB Danny Woodhead.
Outs: DE Antwan Barnes, S Atari Bigby, CB Antoine Cason, DT Aubrayo Franklin, DT Antonio Garay, OT Jared Gaither, G Tyronne Green, CB Quentin Jammer, DE Shaun Phillips, LB Takeo Spikes, G Louis Vasquez.
Star Man: Eric Weddle. San Diego's defence looks set to struggle in 2013 but free safety Weddle is the clear pick of a poor bunch. The 28-year-old has been selected to just one Pro Bowl but interestingly has been a first-team All-Pro for the past two seasons. Despite his talent, it will be hard for Weddle to lead any potential challenge for the division title as he plays in one of the least influential positions on the field.
Outlook: Injuries, departures and a rookie head coach in Mike McCoy mean that expectations are at the low end of the scale in San Diego this year. On offence, quarterback Philip Rivers is looking to rebound from a down year, but may find that difficult given his No 1 receiver Danario Alexander is out for the season with a torn ACL. A porous offensive line did not help Rivers last year, and the good news is that the trenches have been bolstered by free agent King Dunlap and first-round draft pick DJ Fluker.
Things are looking even bleaker on defence. The departures of Antoine Cason, Atari Bigby and Quentin Jammer left a threadbare secondary which has not really been stocked back up. The defensive line was also gutted during the off-season and although veteran defensive end Dwight Freeney has been added, San Diego's stop unit is looking very weak as a whole.
OAKLAND RAIDERS (4-12)
Ins: LB Kevin Burnett, QB Matt Flynn, DE Jason Hunter CB Mike Jenkins, RB Rashad Jennings, LB Kaluka Maiava, CB Tracy Porter, DT Vance Walker, S Charles Woodson.
Outs: DT Desmond Bryant, G Cooper Carlisle, RB Mike Goodson, WR Darrius Heyward-Bey, S Michael Huff, DT Tommy Kelly, P Shane Lechler. LB Rolando McClain, S Michael Mitchell, TE Brandon Myers, QB Carson Palmer, DT Richard Seymour DE Matt Shaughnessy.
Star Man: Darren McFadden. The explosive running back has encountered two major problems throughout his NFL career - failing to grasp blocking schemes and staying healthy. Either one could derail him again this year but the fact remains that if he can overcome the issues, he is still one of the most exciting playmakers in the NFL.
Outlook: This season has all the hallmarks of a rebuilding job for the Raiders. Their 11-year wait for a winning season is almost certain to be extended and a top-three pick in the 2014 NFL Draft is also a strong possibility. The roster has been depleted by the dire need to free up cap space, with quarterback Carson Palmer traded to the Arizona Cardinals and Matt Flynn coming in as his replacement, although a poor pre-season showing has handed the starting job to Terelle Pryor.
The defence has been dismantled to such an extent that it would be easier to name the starters who have stayed - Lamarr Houston and Tyvon Branch - rather than those who have left. New recruits such as Tracy Porter and Mike Jenkins have probably given the Raiders an upgrade in the secondary, while Charles Woodson returns to Oakland to play at safety. But ultimately there is no hiding the holes in Oakland's roster and they are expected to struggle mightily.
KANSAS CITY CHIEFS (2-14)
Ins: WR Donnie Avery QB Chase Daniel, DE Mike Devito, TE Anthony Fasano, LB Akeem Jordan, CB Dunta Robinson, QB Alex Smith, CB Sean Smith.
Outs: CB Javier Arenas, TE Kevin Boss, WR Steve Breaston, QB Matt Cassel, DT Glenn Dorsey, S Abram Elam, RB Peyton Hillis, G Ryan Lilja, QB Brady Quinn, OT Eric Winston.
Star Man: Jamaal Charles. The dynamic running back is one of the most exciting players in the NFL and is capable of going the distance every time he gets the ball in his hands. His blazing speed combined with his elusive running have made him Kansas City's most potent offensive weapon. Charles consistently ranks among the league's best tailbacks in yards per carry (third last year) and will be relied upon heavily in 2013.
Outlook: The Chiefs posted a league-worst 2-14 record last year but their struggles were clearly not down to a lack of talent as they sent six players to the Pro Bowl. Kansas City have some of the most fearsome defensive players in the league and their stop unit could well be ranked among the NFL's best this season.
Matt Cassel has now gone and new head coach Andy Reid has brought in former San Francisco 49ers quarterback Alex Smith to replace him. No 1 overall draft pick Eric Fisher will help protect the Chiefs' new investment from right tackle while Charles and Dwayne Bowe are expected to produce fireworks in the skill positions. With the added impetus of a new boss and the raw talent at their disposal, the Chiefs will be looking for a significant improvement on their dismal 2012 campaign.