NFL previews: NFC North presents a problem to predict the winners
Another on the shortlist for toughest division in the league, the NFC North will again be hard-fought.
Last Updated: 05/09/13 7:03pm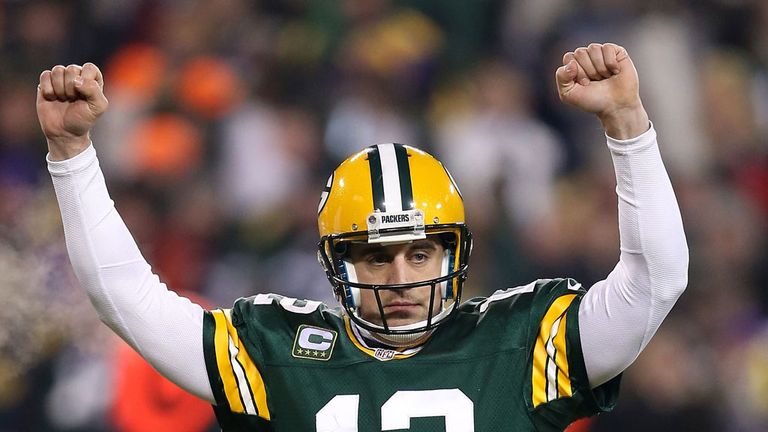 These Midwestern rivals play hard, tough football and last season three of them had 10 wins or more - the best record in the league - and for the fourth year in a row two teams went to the play-offs.
Superstars Aaron Rodgers and Adrian Peterson give Green Bay and Minnesota an edge, but can new coach Marc Trestman get Chicago back into the post-season? And how can Detroit bounce back from a four-win season?
Let's take a look at the NFC North in more detail...
GREEN BAY PACKERS (11-5)
Ins: RB Eddie Lacy, DE Datone Jones, QB Vince Young, LT David Bakhtiari, DL Johnny Jolly, CB Micah Hyde, RB Johnathan Franklin.
Outs: WR Greg Jennings, S Charles Woodson, LT Bryan Bulaga.
Star Man: Aaron Rodgers - Look no further than arguably the best quarterback in the league. O-Line issues could hamper him at times this year but his elusiveness helps out and with a solid set of receivers, and maybe even a running back to rely on, it will again be a case of this team goes as far as he can take them.
Outlook: It looked like another Super Bowl appearance last year when they sent the Vikings packing in the wildcard round, but the Packers were then stumped by Colin Kaepernick and the 49ers in San Francisco. They get an early chance of revenge in their first game of the season so that should be a sign of how their defence has read up on the read option.
Rookie David Bakhtiari has one of the biggest jobs in football in protecting Rodgers' blind side after Brian Bulaga's injury, and the O-line needs to make sure their QB can stay upright after giving up 51 sacks last year. Rookie running back Eddie Lacy could give them a long-awaited ground game, and despite Greg Jennings leaving their aerial attack is as good as any other.
<,H4>MINNESOTA VIKINGS (10-6)
Ins: WR Greg Jennings, WR Cordarrelle Patterson, LB Desmond Bishop, DT Sharrif Floyd, CB Xavier Rhodes, P Jeff Locke, QB Matt Cassel.
Outs: WR Percy Harvin, CB Antoine Winfield, P Chris Kluwe, LB Jasper Brinkley.
Star Man: Adrian Peterson - You'd like to be different but the reigning MVP has to be the star of any team - and last year he was THE Minnesota Vikings, so this year will be no different, although he may just get a bit more help along the way in 2013.
Outlook: It's a big year for the Vikings after grabbing three first-round draft picks, particularly after improving by seven wins last season and making the play-offs. Peterson will have some job repeating his memorable 2,097-yard performance from last year, but signing Greg Jennings helps in giving QB Christian Ponder options.
Tight end Kyle Rudolph should be even better and first-rounder Cordarrelle Patterson offers great size at receiver. Fellow rookies Sharrif Floyd and Xavier Rhodes add more talent to a pretty solid defence, again led by Jared Allen who had 12 sacks last season, ten less than the year before. An improvement in Ponder's play is the big need for the team to progress though.
DETROIT LIONS (4-12)
Ins: RB Reggie Bush, S Glover Quin, DE Jason Jones, DE Ziggy Ansah, CB Darius Slay, DE Israel Idonije, K David Akers, RB Montell Owens, DT C.J. Mosley, OG Leroy Harris, OG Jake Scott.
Outs: OT Jeff Backus, OT Gosder Cherilus, OG Stephen Peterman, LB Justin Durant, DE Cliff Avril, DE Kyle Vanden Bosch, DE Lawrence Jackson, K Jason Hanson, WR Titus Young.
Star Man: Calvin Johnson - Megatron is a beast of a receiver but he badly needs some help on the other side of the field and from a running game the Lions have never quite got going - if they can do that then Johnson can be the difference.
Outlook: It's a big year for head coach Jim Schwartz after just four wins last year and with recognised stars on both sides of the ball. Matthew Stafford needs a solid second receiver to step up alongside Johnson - but the signing of Reggie Bush might help with both that and the ground game the Lions badly need after a string of injured backs.
On defence, Ndamukong Suh and Nick Fairley are a gruesome twosome of defensive tackles to rival any in the league, and rookie Ezekiel 'Ziggy' Ansah looks a good prospect at defensive end, but these guys up front will have to play well with worries over the strength of the secondary.
CHICAGO BEARS (10-6)
Ins: LT Jermon Bushrod, TE Martellus Bennett, G Matt Slauson, G Kyle Long, LB James Anderson, LB D.J. Williams.
Outs: LB Brian Urlacher, DE Israel Idonije, LB Nick Roach.
Star Man: Matt Forte - It's a sixth NFL season for Forte, and although Brandon Marshall is Jay Cutler's favourite receiver this dual-threat running back could be the star of the show if he gets a few more balls thrown his way. He is an almost certainty to get 1,000 rushing yards if he plays the full season.
Outlook: A flying start last season was followed by a whimpering finish which cost them a play-off spot and made it just one post-season berth in six years, signalling an end to Lovie Smith's tenure as head coach. Now Marc Trestman has the task of getting the Bears back in the big time and bringing the best out of Cutler.
An expiring contract could spark a surge in Cutler's form, but he has the talent himself and around him - Brandon Marshall, Matt Forte and new tight end Martellus Bennett could shine, and there's also an upgrade in offensive line. If Cutler can be coaxed into playing well the Bears have a chance, but their defence is now starting to age.
Verdict
It's so tough to call this one, with four tough teams and divisional games being such brutal affairs at times. Preference is for the Packers to make it a hat-trick though; they have the best QB, maybe the best in the league, and a talented set of wideouts.
The Vikings should be better for three first-round picks and a veteran receiver in Jennings, but the jury is still out on Ponder. The gap between these three could be tiny but the Lions are backed to just pip the Bears to third with a big improvement from last year.