Sky Sports Fantasy Football: Big players and tips for NFL game to win Super Bowl trip
We look at the big stars and look ahead to Week 2 in Fantasy NFL. Enter to win a trip to the Super Bowl.
Last Updated: 11/09/13 7:27pm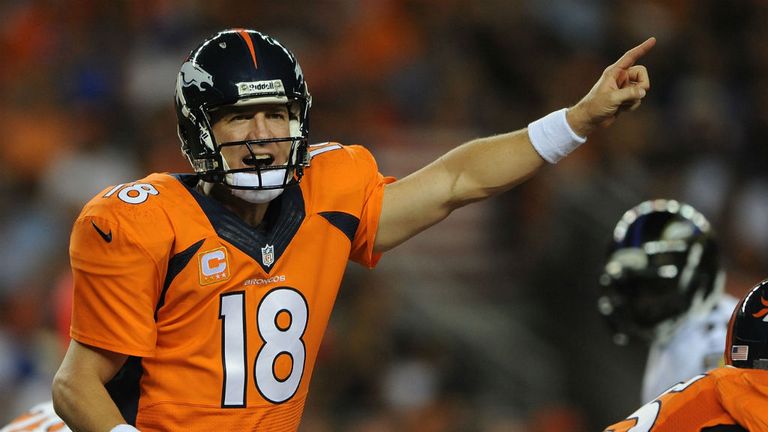 Our Fantasy Football game in association with the NFL UK is a simpler budget-based game, and you can enter at any time during the season and still be in with a chance of going to the Big Apple.
Click here to enter our Fantasy Football competition
Weekly winners will all go into the draw for the superb first prize, while the overall winner of the wildcard league will also stand a chance. Pick a wildcard player every week from the two games shown live on our Sky Sports Sunday double-header.
We had some brilliant performances in Week One - Payton Manning threw seven TDs for Denver as he looked as good as ever and that drew in a whopping 46 points for those owners who started him in their teams.
Adrian Peterson burst out for a 78-yard TD run on his first play and went on for two more as he bagged 28 points as the lead running back in Fantasy, although Reggie Bush and LeSean McCoy were not too far behind.
Demaryius Thomas and AJ Green proved worthy of their $4m price tag with 28 points apiece, but that was one less than Victor Cruz, who also cost $1m less, while Anquan Boldin was a bargain at $2m which got you 26 points in return.
Star Man: Peyton Manning
You really can't ask for more than seven touchdown passes from your quarterback, it was a record-equalling effort and fully justified selection, especially when facing the Super Bowl champions as well, although he was at home. He takes the trip to New York this week to face baby brother Eli and the Giants - he'll be desperate to produce another big performance.
Bargain of the Week: Julius Thomas
At just $1m the big tight end produced a superb haul, and although the ravens looked in disarray, the Giants are not too much better and the former Portland State basketball star has all the physical tools to become a beast both on the field and in fantasy - no reason to to get him in your team for week two.
Team of the Week: bradb7
Congratulation to our first weekly winner and early overall leader who will be in the hat for a trip to the Super Bowl next year thanks to a superb performance from the following team.
QB Colin Kaepernick $3m
RB Adrian Peterson $4m
RB LeSean McCoy $3m
WR Anquan Boldin $2m
WR Julian Edelman $2m
TE Owen Daniels $2m
D Arizona Cardinals $1m
K David Akers $1m
Wild card: Aaron Rodgers 24pts
Total 189 pts
Week Two:
We've got another two games to pick your wildcard selection from this week - and with Denver playing the Giants in one of them, then why not ride the hot hand that is Peyton Manning and grab him for your team - you can then go back into the quarterback market for your proper team.
I'm sticking with Andrew Luck for $3m after a decent display on Sunday. Luck is at home against Miami - who he shredded to the tune of 433 yards last season and with 14 TDs and five interceptions in nine home game he's well worthy of selection.
You've got your elite $4m men who need no introduction, but if you're trying to save some cash Larry Fitzgerald would be the pick of the $3m bunch as he has finally found somebody to throw him the ball in Carson Palmer.
Vincent Jackson should also get plenty of opportunities for Tampa Bay against New Orleans, while Julian Edelman scored two TDs last week and is the only receiver worthy of the name available for Tom Brady and the Patriots, and at just $2m he is great value this week.
Think you can do better? Let us know your Fantasy Football tips, picks of success stories view the feedback below. Remember you can still join and win a Super Bowl trip by entering Here.