Fantasy Football: Sky Sports picks out the top players and picks for week four
As bye weeks become an issue, we pick out the players to watch out for in fantasy this weekend.
Last Updated: 27/09/13 6:12pm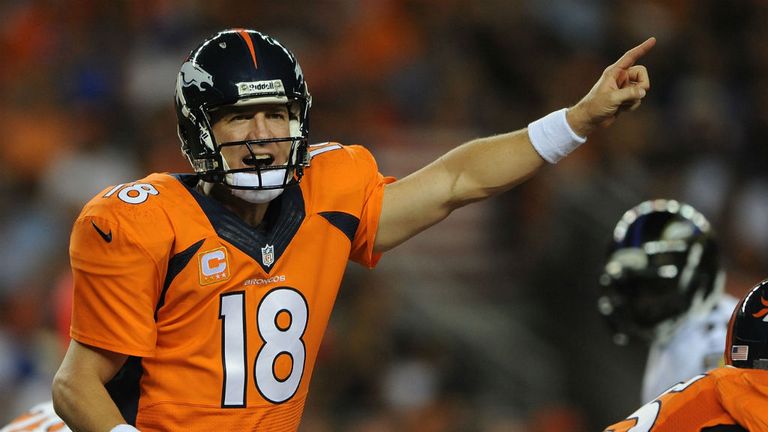 Our game in association with the NFL UK is all about spending wisely, and you can enter at any time during the season and still be in with a chance of going to the Big Apple.
Click here to enter our Fantasy Football competition
Weekly winners will all go into the draw for the superb first prize, while the overall winner of the wild card league will also stand a chance. Pick a wild card player every week from the two games shown live on our Sky Sports Sunday double-header.
Team of the week: NoelyG
NoelyG was certainly rolling with it in week three, putting his name in the frame to win a trip to New York thanks to a 146-point haul. His cause was helped by not one but two quarterbacks, Peyton Manning 24 points as his starter at the position while wild card Matt Stafford contributed 21. He had useful contributions from both tail-backs, including a 15-point haul from Cincinnati Bengals rookie Giovani Bernard. And as for tight end, well, Jordan Cameron was a star performer for the Cleveland Browns in their win over the Minnesota Vikings.
QB Peyton Manning ($4m) 24pts
RB LeSean McCoy ($3m) 21pts
RB Giovani Bernard ($2m) 15pts
WR Calvin Johnson ($4m) 17pts
WR Eddie Royal ($1m) 3pts
TE Jordan Cameron ($2m) 24pts
D Vikings Def ($1m) 10pts
K Caleb Sturgis ($1m) 11pts
Wildcard Matthew Stafford 21pts
Total Points 146 pts
Top performers
Seeing Peyton Manning have another big week is hardly surprising - in fact, some might have thought he would go even better than 374 yards and three touchdowns against the rather porous Oakland Raiders (mind you, when you're paying plenty of millions to defensive players who are no longer on your roster, it's hard to be competitive against Manning). Ben Roethlisberger also had a big week, with Antonio Brown the Pittsburgh quarterback's favourite target. Receiver Brown managed just the 196 yards and two touchdowns in a losing cause for the Steelers.
As for other receivers to shine; Josh Gordon marked his comeback from a two-game suspension with 146 yards and a score for the Browns, which either proved his value to the new management team in Cleveland or just upped his value for when they trade him away. Santonio Holmes showed he's still around with a big day for the New York Jets, while team-mate Bilal Powell rushed for 149 yards on 27 carries. However, DeMarco Murray was the leading running back in week three, torching the St Louis Rams for the second straight season. The Dallas Cowboy had 175 yards and a score - yeeehaaah!
Week four picks
Bye weeks now become an issue in the NFL, so with Green Bay and Carolina getting a week off there's no point considering either Aaron Rodgers or Cam Newton at QB. Likewise, the Packers' receiving combination of Jordy Nelson and James Jones are non-starters.
If you're looking to spend big on a starter under centre, look no further than Peyton Manning. Yes, he's an obvious pick, but he leads the most potent offense in the league up against the Philadelphia Eagles and their 30th-ranked defense. For that reason, tight end Julius Thomas is also a strong play.
Terrelle Pryor is currently listed as questionable on Oakland's injury report after suffering with concussion in the Raiders' loss to Denver last Monday. However, if he's passed fit to start, expect the Washington Redskins to end up with some headaches as well. Don't expect huge numbers out of Pryor, but at $1m his selection would free up funds for elsewhere on your squad.
As for tail-backs, the New York Giants' lack of depth at linebacker suggests Jamaal Charles could have success on Sunday afternoon for the Chiefs in Kansas City, particularly if their impressive defense can heap more misery on Eli Manning. He mustered just 119 yards through the air last time out and was sacked seven times in a rather embarrassing loss to the Panthers.
Picking out wide receivers is a little tricky - big-money buys like Calvin Johnson and AJ Green go up against tough defenses, in Chicago and Cleveland, respectively in divisional dust-ups. If you fancy Gordon to repeat last week's heroics for the Browns then he looks a bargain at $2m, while the similarly-priced Brian Hartline could be involved in a Monday night shoot-out when the Miami Dolphins travel to New Orleans to take on the Saints.
Now to your wild-card options: Sunday's opening Sky live game sees the 0-3 Pittsburgh Steelers take on the 0-3 Minnesota Vikings. Somebody apart from football has to be the winner, right? The Vikings have Matt Cassel starting at QB instead of the injured Christian Ponder, so let's hope he too is capable of turning around and handing off to Adrian Peterson. Expect to see 'All Day' for, well, a lot of the evening at Wembley.
The second televised match-up sees the San Diego Chargers host the Dallas Cowboys. The Chargers have given up an average of 357.7 yards through the air so far this year, the most in the NFL. With quarterbacks popular as wild cards, Tony Romo will feature in plenty of line-ups this weekend.
Think you can do better? Let us know your Fantasy Football tips, picks of success stories and anything else NFL related via the feedback section below. Remember you can still join and win a Super Bowl trip by entering Here.