NFL Fantasy Football: Sky Sports picks out the best bets for this week
Get some tips for this week and enter now for a chance to win a trip to the Super Bowl in New York.
Last Updated: 11/10/13 4:34pm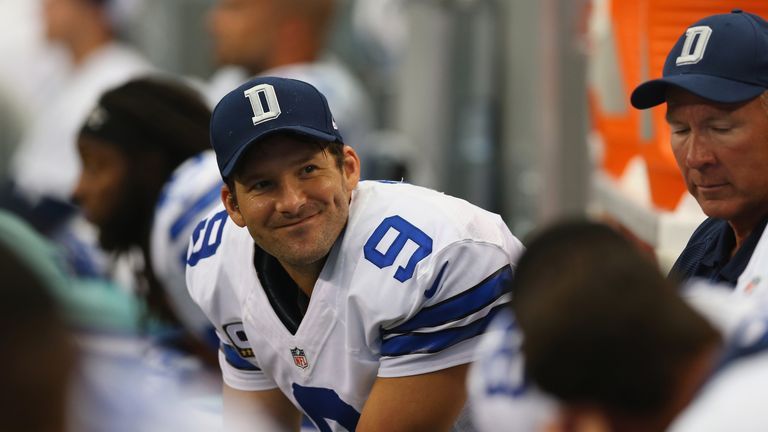 Our game in association with the NFL UK is all about spending wisely, and you can enter at any time during the season and still be in with a chance of going to the Big Apple.
Click here to enter our Fantasy Football competition
Weekly winners will all go into the draw for the superb first prize, while the overall winner of the wild card league will also stand a chance. Pick a wild card player every week from the two games shown live on our Sky Sports Sunday double-header.
Team of the week: all you need is A little Luck
The name is a bit of a handful, but so was the winning team this week with a monster haul of 191 points coming mainly thanks to that wonderful Texas shootout between the Cowboys and the Broncos with five of the nine-man team performing in that game.
Plumping for McGahee and Gordon from the surprising Browns was also a nice little touch as that duo weighed in with some welcome points, and despite their thumping in San Francisco at least Houston's Arian Foster ploughed on to get a vital 11 points and send our winner into the draw for the Super Bowl trip.
QB: Tony Romo - 40pts
RB: Willis McGahee - 13
RB: Arian Foster - 11
WR: Josh Gordon - 14
WR: Dez Bryant - 24
TE: Julius Thomas - 24
Def: Dolphins - 12
K: Matt Prater - 17
Wild card: Peyton Manning - 36
Total 191 pts
Top performers
We expected Peyton Manning to stack up the points in Dallas, we expected Tony Romo to have a nice day too, but in this 99-point epic they both went crazy. And Romo was able to eclipse Manning in Fantasy points despite his late interception seeing Denver edging a thriller.
Everyone had huge games in this shootout, with tight end Julius Thomas back to his best and Dez Bryant and rookie Terrance Williams enjoying monster games for the Cowboys out wide while Knowshon Moreno also starred as the Broncos running back.
Away from Texas, Colts receiver TY Hilton had his best game of the season with 140 yards and two TDs, Fred Jackson was the stand-out running back with a brilliant game for Buffalo and the Arizona Cardinals defence came up big against the Panthers.
Week six picks
We've got another good couple of games coming your way live on Sunday, with the Packers in Baltimore and Saints in New England giving us a look at four Super Bowl winning quarterbacks - so that is probably the place to look for your wildcard.
Aaron Rodgers is a star but the Ravens defence will be tough, likewise with Joe Flacco who does not have too many weapons at his disposal this year, so Drew Brees has to get the nod after a superb season. The Pats have a decent record against QBs this season but the best they've faced is Matt Ryan for the stuttering Falcons.
For your team proper, it's hard not to pick Peyton Manning as he gets the dream match-up at home against the Jaguars, but if there is one note of caution it could be that Denver could, and should, be so far ahead so quickly that Manning could be pulled out of the game before he has had time to do maximum damage.
For that reason maybe go with Tony Romo, who managed to outdo Manning in fantasy terms if not in reality last week, and he gets a friendly home tie with the Redskins up Sunday, and with Dallas themselves being quarterback friendly it could be another shoot out.
If we're in for another Texas shootout, then the likes of Dez Bryant, Jason Witten, and Pierre Garcon should all be in consideration - even Cowboys rookie Terrance Williams who is only $1m and with Miles Austin still struggling with a hamstring injury he could still see enough targets to do some damage.
Think you can do better? Let us know your Fantasy Football tips, picks of success stories and anything else NFL related via the feedback section below. Remember you can still join and win a Super Bowl trip by entering here.