Sky Sports Fantasy Football: Win a trip to Super Bowl with our NFL game
Check out our best picks for this week and win a trip to New York with our Fantasy Football competition.
Last Updated: 01/11/13 2:19pm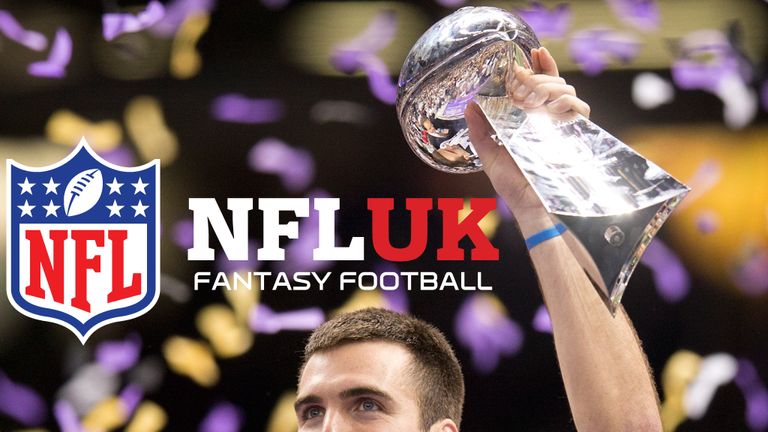 Our game in association with the NFL UK is all about spending wisely, and you can enter at any time during the season and still be in with a chance of going to the Big Apple.
Click here to enter our Fantasy Football competition
Weekly winners will all go into the draw for the superb first prize, while the overall winner of the wild card league will also stand a chance. Pick a wild card player every week from the two games shown live on our Sky Sports Sunday double-header.
Week Eight winner - barnies army
After another exciting week in the league, barnies army came out on top with a very good haul thanks to some of the top performers, including a truly remarkable performance from Detroit's Calvin Johnson with his 329-yard receiving game against Dallas.
Tony Romo and wildcard Peyton Manning produced 42 points between them, while Green Bay duo Eddie Lacy and Jordy Nelson carried the Packers' offence and rewarded our weekly winner handsomely - as did the dominant Bengals defence with 24 points in their beatdown on the New York Jets.
QB: Tony Romo 20
RB: Knowshon Moreno 18
RB: Eddie Lacy 16
WR: Jordy Nelson 24
WR: Calvin Johnson 36
TE: Jordan Cameron 8
Def: Bengals 24
K: Nick Folk 11
Wildcard: Peyton Manning 22
Total Pts: 179
Top Performers
The most remarkable thing about Johnson was that it could have been an even bigger day had he not been tackled twice at the one-yard line which would have made it three TDs instead of one. Even that display was overshadowed to some degree by Cincinnati's Marvin Jones as the receiver found the end zone four times as he bamboozled the Jets secondary.
Andy Dalton threw five TDs but he was eclipsed by Drew Brees who matched that feat and piled up 332 yards as the Saints beat Buffalo - also thanks to a nice game from rookie wideout Kenny Stills who turned three catches into 129 receptions yards and two touchdowns.
Colin Kaepernick was the star of the show at Wembley as the San Francisco 49ers battered the Jaguars, as he threw a touchdown and ran in two more, while Frank Gore also found the end zone twice.
Our old friend Jimmy Graham was up to his old tricks again with two more touchdowns for the Saints, despite a limited game, while Matt Stafford was at his gun-slinging best with 488 yards if just the one touchdown pass.
It says a lot about Peyton Manning's production this season that he only gets a mention now despite throwing four TDs and 354 yards - but he did have a season-high three interceptions against the Redskins which will give him something to think about on his bye week this week.
Week Nine picks
Some big-name absentees this week thanks to byes, with Denver and Detroit taking a break meaning the likes of Manning, Stafford, Moreno, Johnson, Demaryius Thomas and Reggie Bush are all unavailable for Fantasy owners.
Let's look at our live games on Sunday first, and the wildcard looks a reasonably easy shout in the first game between the Saints and Jets offering Drew Brees the chance to maintain his flying season against a team that let Andy Dalton run riot last week.
Only once this season has Brees failed to throw multiple TD passes, and with a question mark over Jimmy Graham maybe rookie Kenny Stills is worth a punt at just $1m and on the back of a huge game against Buffalo.
Stills also played well in New England so has the trust of Brees, who does have plenty of options but the rookie's big-play ability give him a great chance of more top-end production.
No reason to change Tony Romo as your QB if you have him as he is back at home to face a generous Vikings defence coughing up the fourth most fantasy points to opposing triggermen this season.
Romo loves it on home turf in Dallas, with 287 yards passing per game and with 11 TDs versus just three picks the stage is set for another big game - so tag in Dez Bryant if you have salary cap room as Romo's main target man.
Believe it or not, Ryan Mathews is the only rusher to have back-to-back 100-yard games this season, and has a great chance for the hat-trick against the Redskins' woeful rush defence - while Green Bay's running back Eddie Lacy gets another nice match-up against Chicago.