Sky Sports Fantasy Football: Win a trip to New York for the Super Bowl
We've got your best options for Week 11 of our competition where you can still win a Super Bowl trip.
Last Updated: 14/11/13 4:51pm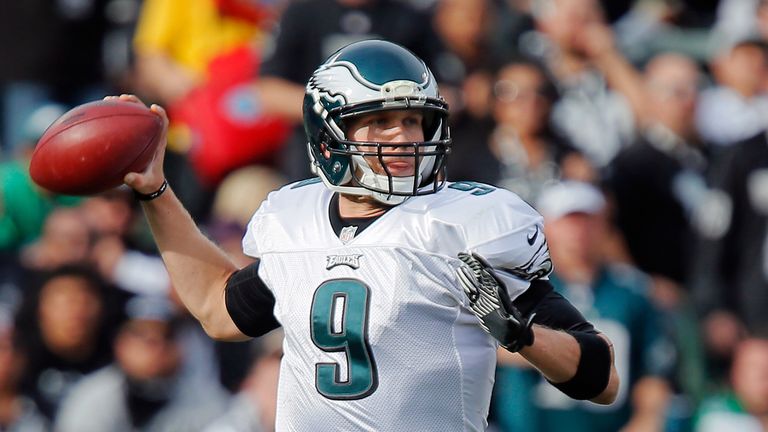 Our game in association with the NFL UK is all about spending wisely, and you can enter at any time during the season and still be in with a chance of going to the Big Apple.
Click here to enter our Fantasy Football competition
Weekly winners will all go into the draw for the superb first prize, while the overall winner of the wild card league will also stand a chance. Pick a wild card player every week from the two games shown live on our Sky Sports Sunday double-header.
Team of the week: Butt Fumble
Comical name on our weekly winner but they are by no means bringing up the rear in our Fantasy Football ranks and are the butt of nobody's jokes as they top the table on the back of a Denver treble with the ever-reliable Peyton Manning, Demaryius Thomas and Julius Thomas trifecta doing the damage again. Houston's back-up quarterback Case Keenum weighed in with a decent 19 points, Adrian Peterson was his usual self and St Louis' Zac Stacy did a pretty good Peterson impression himself, while Calvin Johnson was taking spectacular catches again as Detroit beat Chicago.
QB: Case Keenum 19
RB: Adrian Peterson 19
RB: Zac Stacy 12
WR: Demaryius Thomas 28
WR: Calvin Johnson 20
TE: Julius Thomas 15
Def: Cardinals 11
K: Steven Hauschka 17
Wildcard: Peyton Manning 27
Total pts: 168
Top performers
No surprises to see the top two in the league producing the top two Fantasy performances of the week with our old friends Peyton Manning and Drew Brees doing the business with four TD throws apiece - the Saints triggerman just managed to eclipse the Broncos star with more yardage.
For a team that has been so good at throwing the ball and so bad at running it - New Orleans had two running backs putting up huge numbers in their blowout over Dallas, with Pierre Thomas scoring twice and mark Ingram once to go along with 145 yards of rushing - and he was only on the field for 21 plays!
Marshawn Lynch matched Ingram's totals as the Seahawks bullied the Falcons, perhaps we shouldn't be using the B-word this week, while Adrian Peterson and LeSean McCoy did their thing and Andre Brown came back with a bang for the Giants.
Philly wideout Riley Cooper continues to benefit from the surprise form of quarterback Nick Foles, while there was a surprising breakout from Miami slot receiver Rishard Matthews and a devastating display of speed from Tavon Austin.
The Rams speedster scored on 57 and 81-yard touchdown receptions, and added a 98-yard punt return for a TD for good measure! But before you go adding him to your line up remember he's on a bye this week sadly.
Week 11 picks
Could this be the week to sit Peyton? Well if there ever was going to be one it is this one - as Manning has a bad ankle and faces the fearsome Chiefs defence on the road in Kansas City. Don't be too scared about the match as even in a loss he's still found plenty of points, but if you're strapped for cash you do have options.
Russell Wilson could get three of his first-choice offensive line back this week against a particularly porous Vikings defence and even in the process of being sacked 28 times this season he's managed nine TDs in the last four games - plus he has great running ability - and he's $3m.
Nick Foles has been slicing and dicing the last couple of weeks with ten TD passes in the last two games and gets the flimsy Redskins secondary this week, he's not a back-up any longer and he's only $2m. If you want even more savings use just $1m on Houston's Keenum, who will throw the ball 40 times with Arian Foster out, has six TDs in two games and has gone 102 passes without an interception.
For your wildcard, we're showing New Orleans, at home on Sunday, you're starting Drew Brees - he loves playing at home and even facing the 49ers he should still be producing the big numbers on the day.
You can run on the Saints though, so Frank Gore is a good option, as is Marshawn Lynch and Reggie Bush, while 42m-rated Andre Brown returned with a bang for the Giants last week and has walked back into the starting job.
There are just three other names you need - Johnson, Jackson and Thomas - to fill out your roster. Julius is still a starter at tight end, while Andre and Calvin Johnson and DeSean and Vincent Jackson are all starters in their respective match-ups.