NFL Power Rankings 11: Denver go top, Detroit slide
Denver go top with their impressive win over Kansas City - but Detroit slide after Steelers slip-up.
By Simon Veness
Last Updated: 19/11/13 3:35pm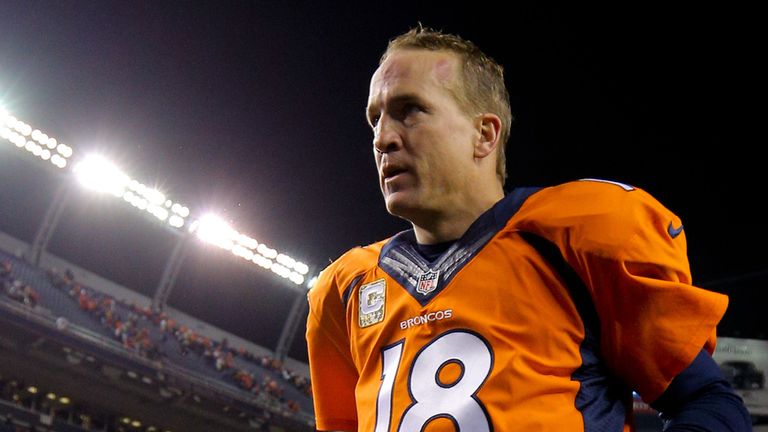 Each week Simon Veness runs the rule over all 32 teams to decide if they are Champions League material, Premier League, Championship quality or down among the Conference dead men, with 'relegation' and 'promotion' between the four divisions.
Chicago, Philadelphia and Indianapolis are back in the picture - and Detroit, Green Bay and the Jets all took big backward steps.
Champions League - The Elite Eight
1. Denver (up 1): There's no doubting the heirs apparent this week. The Broncos used a wrecking Ball (Montee by name) to hammer home their advantage against the Chiefs. Ball's scoring double gives Peyton Manning six weapons with multiple TDs this season, and that's just too many to try to stop.
2. Seattle (up 1): The Seahawks are about to move from Easy Street (six straight games against the NFL patsies) to Dogfight Alley, with four successive tests against fellow contenders following their bye. With their O-line getting healthy again, they could take some stopping.
3. New Orleans (up 1): Offensive victory (against Dallas)? Check. Defensive victory (against the 49ers)? Check. Winning ugly (despite three turnovers)? Check. The NFC's big head-to-head battle is now set for December 2 at the CenturyLink.
4. Carolina (up 2): The Defensive King is dead - long live the Defensive King. The Panthers are the new Chiefs, only they are backing up a killer 'D' with the kind of 'O' Kansas currently lack.
5. Kansas City (down 4): The debate is over (for now), the Broncos have the Chiefs' number, and that number is 198.5, which is the average passing yardage for Andy Reid's team (good for only 26th in the league). Either Alex Smith can't, or won't, throw downfield and the Chiefs are hog-tied by that one glaring deficiency.
6. New England (down 1): Tough game, on the road, balanced offence. Just came up a tad deficient against Cam and Co thanks to a strange non-call by the officials. Nothing to worry about here, Pats fans; this team can still knock heads with the best and be competitive.
7. Indianapolis (PROMOTED - up 2): They stopped the offensive bleeding against Tennessee, even if victory had a few large dollops of luck (and not the Andrew kind) about it. But can Donald Brown continue to carry the running game virtually single-handed?
8. San Francisco (down 1): It's possible to argue that, but for an Ahmad Brooks penalty on Drew Brees that gave the Saints a crucial fourth-quarter life, the 49ers had their measure. But that merely papers over the cracks of another worrying Colin Kaepernick passing performance as the team now ranks DEAD LAST in their quarterback's most important role.
Premier League - The Play-Off Hopefuls
9. Chicago (up 3): During that thunderstorm-hit, long-delayed, mud-ridden overtime victory against the reigning champs, an official had to replace a chunk of rain-sodden turf the size of a suitcase. Now if only the Bears could call up those conditions every week, this team could wallow its way to the post-season.
10. Cincinnati (no change): A 21-point victory over deadly division rivals, but why am I not impressed? Because of another shaky performance from Andy Dalton. Sure, he threw three TDs, but he had another two INTs (making eight in the past three games) and his yards-per-attempt average has dropped from 10.8 to 3.4 in that spell.
11. Detroit (RELEGATED - down 3): Pittsburgh must have drafted Optimus Prime and Bumblebee in the second half of their victory over the Lions. That's the only way you can explain Megatron being blanked (zero catches in the final 30 minutes) after his all-conquering display in the second quarter (six for 179 yards and two TDs).
12. Philadelphia (up 2):Will the REAL Eagles please stand up? Is it the all-conquering team that breezed into a 24-0 lead at home to the Redskins or the back-pedalling unit that all but collapsed in the fourth quarter? It's probably both in these murky-as-heck NFC East waters, but they've certainly earned their bye-week division lead.
13. Arizona (PROMOTED - up 4): OK, so the Cardinals are feasting on the league's bottom-feeders, with three wins against teams with a combined 5-25 record, and their offence ranks 23rd in points-per-game, 25th in rushing - and fourth for INTs (with 15). But who else is racking up the W's right now?
14. Dallas (up 2): A two-place jump just by not losing (OK, so it was their bye week)? Yup, that's how desperate this middle-ranking bunch are getting.
15. NY Giants (PROMOTED - up 4): Ditto what I said last week.
16. Baltimore (down 1): Ray Rice finally returns from the MIA list and the passing game goes into the tank in the Soldier Field slop. John Harbaugh must feel like his bandwagon keeps losing a different wheel every time it comes back out of the mechanics' shop.
Championship - Going Nowhere Just Yet
17. Green Bay (RELEGATED - down 6): There's only one question on the lips of most of Wisconsin football fans right now - how soon can Aaron Rodgers come back?
18. NY Jets (RELEGATED - down 5): No he can't. (See last week).
19. Pittsburgh (up 4): Well, the Steelers certainly LOOKED like Bumblebees (see also No.11).
20. Miami (up 4): Somehow the Dolphins are tied for the AFC's final Wild Card spot. But it's asking a lot for the defence to keep bailing the 24th-ranked offence out. Just ask the Chiefs.
21. Tennessee (down 1): The Titans laid an egg - a Curate's Egg - at home to the Colts. For at least half the game they out-played Indy, but the other parts were so bad, they positively stank.
22. San Diego (down 1): They out-gained the Dolphins by almost 100 yards but 10 penalties gave almost all of it back. But they remain one of SEVEN four-win AFC teams that can still mount a challenge. See what I mean about concertina?
23. St Louis (down 1): Four wins is still two full games out of the Wild Card places in the NFC, but the fact five of the Rams' final six games are against genuine contenders does not augur well for much progress.
24. Oakland (PROMOTED - up 1): Who was that masked man? Well, Matt McGloin went undrafted out of Penn State this year, where he was a walk-on in 2009. And he now has a 92.9 quarterback rating, good enough for ninth in the list of current NFL starters. Just don't tell a Texans defence that just got strafed by the Unknown Man.
Conference - The Current No-Hopers
25. Cleveland (RELEGATED - down 7): (With apologies to poet Elizabeth Barrett Browning) How do I lose, thee? Let me count the ways. On offence, with three INTs. On defence, giving up three TD passes in just 13 to Andy Dalton. On special teams, on a blocked punt return. And on a display of all-round incompetence that could be hard to beat this season.
26. Buffalo (up 3): Was it just the fact it was the Jets continuing to alternate wins with head-scratching losses, or did the Bills finally turn a corner? Well, EJ Manuel played an error-free game, they out-gained New York 313 yards to 267 and they didn't turn the ball over, while the defence looks better each week. But it WAS the same old Jets.
27. Tampa (up 4): At the start of the season, a 41-28 shellacking of division rivals Atlanta would have been cause for major celebration. After the way things have gone for both teams, not so much.
28. Minnesota (down 2): And the Vikings' crazy quarterback carousel spins on. Christian Ponder finally looks out of last chances after another turnover-filled display at Seattle, but who does Leslie Frazier now choose out of equally woeful Matt Cassel or Josh Freeman?
29. Atlanta (down 2): Bobby Rainey began the season as a kick returner for Cleveland and the Falcons probably wish he had stayed there after the Buccaneers' new running back sensation gashed them for 163 yards and three TDs in their latest collapse. Atlanta are now giving up more than 130 rushing yards per game; only Chicago and Jacksonville are worse.
30. Washington (down 2): Shut out for three quarters of the game at Philly, RGIII took another pounding and is in danger of ending up like someone from the opposition line-up; Michael Vick - all promise and no end product.
31. Houston (down 1): Let me see. A supposedly top-ranked defence just got taken behind the woodshed by Matt McGloin? And now Gary Kubiak has no idea who to start at QB, either. Houston, we have a BIG problem.
32. Jacksonville (down 1): After giving the Jags the benefit of the doubt last week in a joint-31 ranking with Tampa, they reverted to form at home to Arizona, giving up 419 passing yards to Carson Palmer. It was also the first time the NFL's turnover machine didn't throw an INT this season. If Gus Bradley ever left the drawing board, it was a big-time mistake.