NFL: Seattle Seahawks now in pole position for Super Bowl spot after Saints win
Seattle's thumping win over New Orleans sent out an emphatic message that they are now the team to beat.
Last Updated: 04/12/13 4:11pm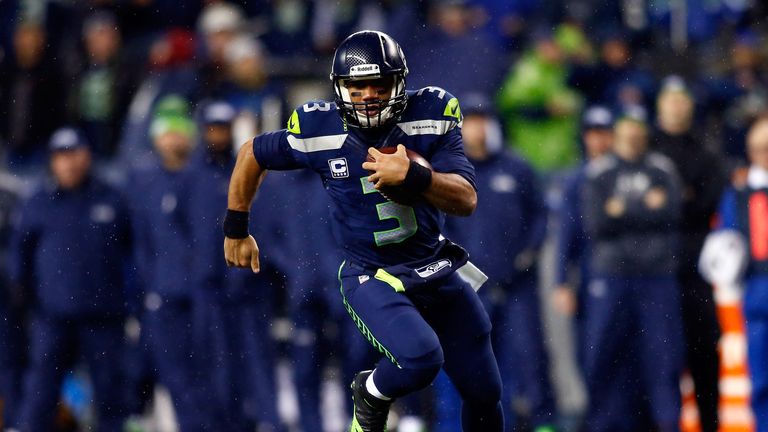 The Seahawks clinched a play-off spot with their 34-7 win at Century Link Field, but they also laid down a marker with the manner of their all-encompassing victory in which they bossed, bullied and brutalised one of the best offences in the league.
Moving on to 11-1 and the NFL's best record, Pete Carroll's Seahawks are two games ahead of the Saints and Panthers, their nearest challengers, and hold the tie-breakers against both teams in the race for home field advantage in the post-season.
In all likelihood, it now means that the road to the Super Bowl will go through the Pacific Northwest in January, and face not only a fearsome and ferocious Seattle team, but their deafening home fans.
These are the fans that have set a Guinness World Record for noise levels and registered with local seismic detectors as a magnitude one and two earthquake during the Saints game.
It surely gives Seattle a huge advantage if they nail down that home-field berth, but while we've all known about their form at home and their thumping defence for some time, the performance of quarterback Russell Wilson on Monday adds what looks the final piece in the puzzle that could see them go all the way to the Super Bowl.
They came close last year when just losing out in Atlanta, but a couple more wins and home field-advantage and a first round bye in the play-offs will be theirs - and second-season quarterback Wilson has yet to taste defeat at home since joining the Seahawks.
The number 75 overall pick in the 2012 Draft may be on the small side, but he showed against New Orleans that not only does he have the legs to outfox defences but he is a genuine passer that could reach elite status with more continued excellence such as this.
310 yards and three touchdowns with a 94.7 Total QBR is a great statline for Wilson, especially when you throw in his running ability - they threw in a bit of read-option against the Saints which worked beautifully when you have such a power runner as Marshawn Lynch.
Defence
Add that to a defence that held New Orleans to seven points - their lowest number since Sean Payton became coach in 2006 - and 188 total yards which was also a record low for Payton's Saints, and you have a real statement of intent from the Seahawks.
"To come out on Monday Night, against a great football team, the New Orleans Saints have a great defence. They have an unbelievable offense, and for us to come out in that fashion and win that game the way we did was pretty awesome," said Wilson.
"The fact that we were clicking on all cylinders, offensively, defensively, special teams. Our crowd was unbelievable, they broke the world record again. The energy in the stadium, you can literally feel the ground shaking. It makes a huge difference."
Carroll was delighted to seal a play-off spot, but that home field track to the Super Bowl is what he really wants, and a trip to San Francisco on a short week is another test that stands in the way of that.
"I talked to a couple of their guys coming off, and they mentioned it to me, they said it was so loud that they had trouble getting off on the cadence," said Carroll. "Without question, it was a factor. Our guys take advantage of that, we have a very fast group of guys. I know we worked together with the crowd once again."
"You never hear these guys say, oh boy, we want to get into the play-offs. That's not the goal we set. We want to win this division, and that division gets us a chance to play at home, and that's what we're after.
"And then we'll talk about what comes next. That's why this is such a huge week coming up."
The one blemish on Seattle's record came on the road in Indianapolis, so they'll be wary when facing divisional foes San Francisco on Sunday, but emerge from that with a win and they'll be all-but settled in that top NFC seed.
That will mean all the challengers will face a trip to Seattle if they want to get to the Super Bowl - and after Monday night that'll be one trip no team in the league would relish.