NFL: Sky Sports looks at the play-off picture ahead of Week 17
We look at the play-off scenarios ahead of what will be a tense final weekend of the regular NFL season.
Last Updated: 28/12/13 7:05pm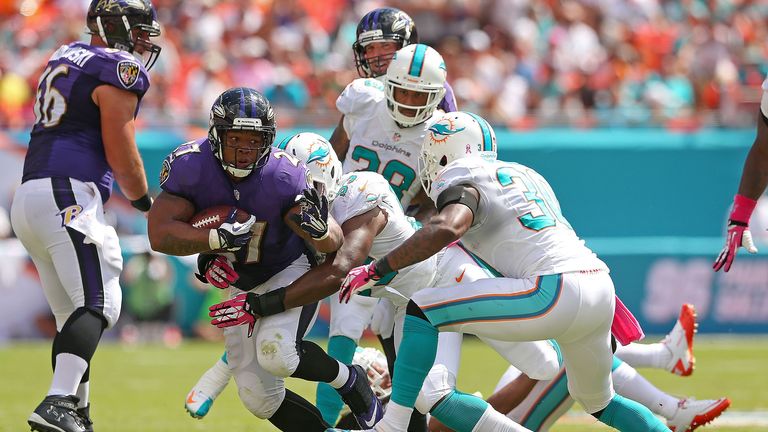 Ten teams across the league will go into the final day battling it out for just four remaining play-off places, and incredibly only one team, the Kansas City Chiefs, know for certain which seed they will have in the post-season.
There are two 'play-in' games in the NFC with both the Dallas v Philadelphia and the Green Bay v Chicago games being played for the divisional title - with the loser's season over.
AFC Top spot
12-3 Denver Broncos have won the AFC West and a bye, and they will sew-up top spot with a win over the hapless Raiders, so in all likelihood Peyton Manning will have home-field advantage.
11-4 New England Patriots should beat Buffalo at home, so will look for any Denver slip-ups to try and grab that No 1 seed, but they need to focus on their own jobs as a shock loss could see them drop as far down as No 4.
AFC Byes
10-5 Cincinnati Bengals have clinched the AFC North, and if they beat Baltimore at home then a loss for New England would give them the week off as the No 2 seed.
10-5 Indianapolis Colts are also still in with a shout of a bye week, although the AFC South winners need to beat Jacksonville and hope both the Patriots and Bengals slip up - and with both at home that's unlikely.
AFC Wildcard
Now it gets complicated....
8-7 Baltimore Ravens face a tough trip to Cincy to keep their title defence going, plus they need either the Chargers or Dolphins to lose.
8-7 Miami Dolphins will get the nod if they beat the Jets at home and the Ravens and Chargers also come out with final day wins.
8-7 San Diego Chargers could well beat a Chiefs team with nothing to play for, but they will need both the Dolphins and Ravens to lose to make the play-offs.
7-8 Pittsburgh Steelers need a dream scenario, but they are still technically in with a shout as a win for them against Cleveland plus losses for the Ravens, Dolphins and Chargers would give them a miracle post-season berth.
NFC Top spot
12-3 Seattle Seahawks are one of the Super Bowl favourites, but they still need to beat St Louis at home or have San Francisco lose in Arizona to secure the NFC West, No 1 spot and home-field advantage.
11-4 Carolina Panthers are finishing strong, but they still need to win in Atlanta to clinch the NFC South as you'd expect the Saints to beat Tampa Bay. Carolina could still finish top seeds if Seattle slip up.
11-4 San Francisco 49ers clinched a play-off spot, but they could still pip the Seahawks to the NFC West if they beat Arizona and Seattle lose at home for the second successive week - unlikely though that seems. They could yet be No 1 seeds if Carolina also lose.
NFC Bye
10-5 New Orleans Saints should make the play-offs, with just a home win against the Bucs needed or an Arizona loss against the 49ers, but if Carolina loses a tough game in Atlanta then all of a sudden Drew Brees can put his feet up for a week.
NFC places
10-5 Arizona Cardinals face a tough task as they need to beat San Francisco and then hope the Saints mess up against Tampa Bay to extend their season.
The rest is easy, with two huge 'play-in' games going down in the NFC on Sunday, with the 9-6 Philadelphia Eagles favourites to beat the 8-7 Dallas Cowboys in Texas with Tony Romo a huge doubt - but more of a worry is how the useless Dallas defence can keep Philly to under 40 points.
Aaron Rodgers could make a heroic return for 7-7-1 Green Bay as they travel to the 8-7 Chicago Bears, and that would suddenly give the Packers the edge in what otherwise looks a close call to see who wins the North.