It's Conference Championships time as the NFL reaches fever pitch
Watch both Sunday's huge Conference title games live as we find out who will make the Super Bowl.
Last Updated: 15/01/14 11:38pm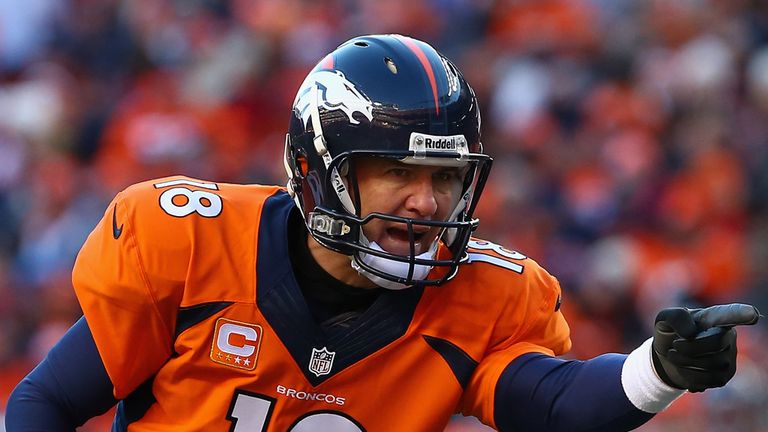 The New England Patriots v Denver Broncos and the San Francisco 49ers v Seattle Seahawks provide two mouth-watering match-ups for Sky Sports viewers this weekend. A chance at immortality is the prize.
Patriots v Broncos
It's the battle of experience at Sports Authority Field in Denver, with old foes Tom Brady and Peyton Manning leading the Patriots and Broncos respectively. The two share no fewer than seven AFC Championships between them, so both men know what it takes to secure a shot at the big showdown.
At 36, Brady can look back on his career with great pride already. The lynchpin of a Patriots dynasty which secured three Super Bowls in four years between 2002 and 2006, Brady will break his own record for most play-off appearances when he looks to seal a seventh Super Bowl appearance.
Another key to the Patriots' legacy is head coach Bill Belichick, who'll also be looking for a sixth AFC Championship title in the twilight of a glittering career at the top of the sport.
The experience of Brady and Belichick is supplemented by the free-spirited running of the controversial LaGarette Blount (who registered an incredible four touchdowns in the 43-22 victory over Indianapolis Colts on Saturday). With Julian Edelman waiting out wide, the Patriots will be a threat.
Standing in their way will be Manning and tens of thousands of Broncos fanatics - desperate to see their team reach the Super Bowl for the first time since legendary quarterback John Elway inspired them to back to back victories in 1998 and 1999.
Manning looked imperious when he guided the Broncos to a 24-0 half-time lead over the Pats earlier in the season but he'll be haunted by the second half of that game, during which Brady led his side back from the brink for an incredible 34-31 overtime success.
One of the key figures in the game will be Broncos star Wes Welker, whose running game and catch prowess the Patriots are acutely aware of having counted him among their most important players for five of their most productive seasons.
It promises to be a real classic to kick us off, with sub-plots all over the show!
49ers v Seahawks
At CenturyLink Field in Seattle, 49ers quarterback Colin Kaepernick targets a second consecutive trip to the Super Bowl and, if he makes it, will be hoping to erase the memory of last year's agonising 34-31 defeat to the Baltimore Ravens.
A dynamic runner when he chooses to scramble, Kaepernick has it all - but can he put it all together under the pressure of an elite Seahawks' defensive unit? The 26-year-old certainly showed no fear in helping San Francisco past the Carolina Panthers 23-10.
With weapons such as fearsome running back Frank Gore and aerial targets Vernon Davis and Anquan Boldin, Kaepernick is spoilt for choice offensively - and head coach Jim Harbaugh will certainly be cracking the whip in terms of intensity at both ends of the field.
The Seahawks, meanwhile, have gone about their business with ruthlessness - marrying a famously stern defensive set-up with some clinical plays with possession.
Of course, much of their offensive hopes are pinned on brilliant running back Marshawn Lynch - a four-time Pro Bowler whose two touchdowns helped secure a 23-15 victory over Drew Brees' New Orleans Saints last time out.
Confusion reigns as to whether another Seattle superstar - wide receiver and return specialist Percy Harvin - will shake off concussion in time to face the 49ers. Quarterback Russell Wilson, who has been quietly impressive again this season, will certainly be hoping he does.
Defensively, the intimidating Richard Sherman and Earl Thomas are aiming to ensure Kaepernick finds himself with nowhere to go.
It's a double-header not to be missed.
Sunday, January 19
New England Patriots @ Denver Broncos, Sky Sports 1 HD, 7.30pm
San Francisco 49ers @ Seattle Seahawks, Sky Sports 1 HD, 11pm