Super Bowl XLVIII: Marshall Faulk discusses match-up between Broncos and Seahawks
Hall of Famer Marshall Faulk wonders if Russell Wilson will cope with the Super Bowl pressure.
Last Updated: 30/01/14 11:12pm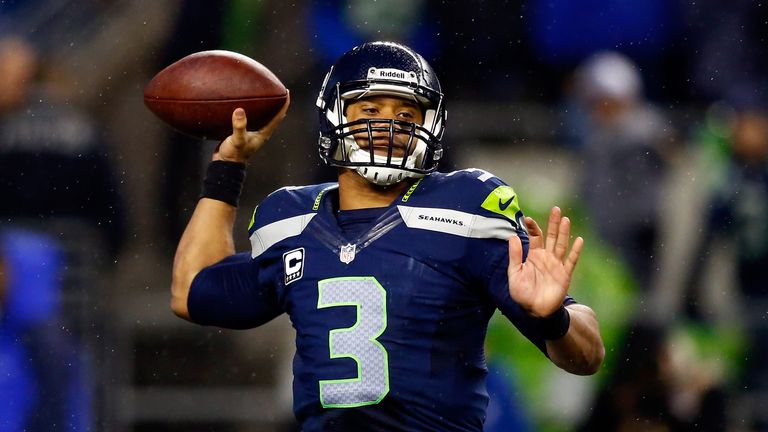 A back-to-back league MVP winner and a member of a Rams team nicknamed 'the greatest show on turf' is ideally placed to talk tactics ahead of the big game in New Jersey this Sunday.
There's a striking similarity between the current high-powered Denver team and Faulk's Rams team, and with Seattle's defence their main strength it should make for a brilliant tactical battle.
For Faulk, the equation is pretty simple - if you're the Denver Broncos you go after the Seattle run game, and if you're the Seahawks it's the exact opposite - you try and take Peyton Manning out of the equation.
Seattle running back Marshawn Lynch has been a giant for his team this year, and Faulk says Denver need to do everything to stop him and make second-year quarterback Russell Wilson win the game.
"I'll tell you one thing, I'm not losing to Marshawn Lynch if I'm Denver," Faulk told Sky Sports at the Super Bowl. "Whatever I've got to do to commit as many guys into the box as possible I'm going to do it.
"The New Orleans Saints made Russell Wilson only make a couple of throws, maybe when they think back on it they'd wish they had committed more men to the line of scrimmage like they did later in the game earlier and force him to make some throws.
"And I think that's what Denver are going to do - they're going to find out in the biggest moment of his career, can a second year quarterback make the throws? And that's a tough one.
Struggles
"I remember Ben Roethlisberger struggling against Seattle in the Super Bowl when they took the running game away from him and made him have to make throws. Willie Parker then popped a long one to let them off but it was tough for him.
"If they can do that and you put the pressure on him then it's a tough feat. We've seen the Tom Bradys and Peyton Mannings struggle when the game is on them in big games like this."
Manning had broken all kinds of records this season so Faulk says Seattle will need to try and force Denver to run as often as possible, and then try and exposure one flaw in the Denver offence.
"You have to disguise your defence and give different looks, but all those looks have to make Peyton Manning hand off the football - I think Seattle's game plan is exactly the opposite," Faulk added.
"You need to give Peyton the looks and make him feel like handing the ball off is his best option and then try to gain tackle Knowshon or get the ball out because we do know that the Denver Broncos running backs do have some problems keeping hold of the football."
Faulk now works for the NFL Network and he still loves almost every minute of the Super Bowl week - apart from the wacky part of Media Day.
"Any time you are in this atmosphere it always excites me. But when I walk around Media Day I get agitated, it's not the huge amounts of football questions, it's the stupid non-football questions that you sit up at a podium and people are asking you and you're thinking what does this have to do with the most important day of my life.
"How about if I showed up at your wedding and asked about your ex-girlfriend!"