End of the bargains
We analyse Seattle's frighteningly young and talented team and wonder if the Seahawks can afford to keep it together
By Alex Williams
Last Updated: 01/02/14 9:08am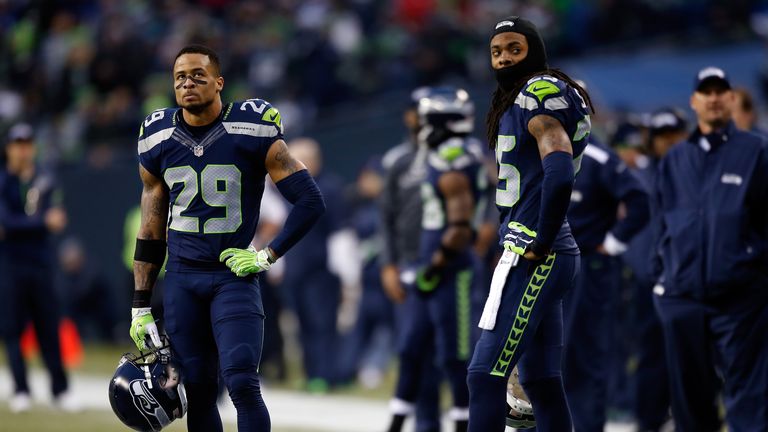 Even if they do not win this Sunday, many have already begun to discuss their 'dynasty' potential as they have a stacked, young and hungry roster seemingly at their disposal for many years to come.
General manager John Schneider must take much of the credit for the Seahawks' current success. As the person ultimately responsible for Seattle's draft picks, he has overseen an incredible number of successful selections.
The four Seahawks drafts prior to Schneider's appointment in 2010 produced just one player who went on to be selected to the Pro Bowl. The Schneider era has already yielded five.
And in addition to Russell Okung, Earl Thomas, Kam Chancellor, Richard Sherman and Russell Wilson, the likes of Golden Tate, Walter Thurmond, KJ Wright, Byron Maxwell, Malcolm Smith, Bruce Irvin and Bobby Wagner were all snapped up in Schneider-managed drafts.
In fact, all three linebackers and four members of the feared 'Legion of Boom' secondary who will start at MetLife Stadium on Sunday have been drafted within the last four years. Only Irvin and Thomas went in the first round.
On the other side of the ball the Seahawks have found a true leader in quarterback Russell Wilson, who is shaping up as one of the biggest steals in recent history after being picked in the third round of the 2012 draft.
Project
But having assembled such a young and talented core of players, Schneider may be forgiven for already beginning to tear his hair out over the next step in his Seattle project.
For this Seahawks side looks to have unlimited potential, until you realise that sometime soon all the players within it will have to get paid. The biggest obstacle to a Seahawks dynasty may ultimately be the salary cap.
The only thing more notable than how Seattle's NFC Championship-winning team was assembled is how small the salaries of its star players are.
Mid-round rookie contracts are some of the least lucrative in the league and even Irvin, is not exactly being paid a fortune (in NFL terms) due to the rookie wage scale which was introduced as a result of the new Collective Bargaining Agreement in 2011.
Another rule made by that CBA was that rookies cannot renegotiate their contracts until after the third year of their deals, meaning Wilson - a free-agent in 2016 - will have to make do with his reported salary of a little over $650,000 next year. Once again he is set to be the one of the lowest-paid quarterbacks in the NFL.
Sherman, however, is entering the fourth year of his rookie contract and so will be able to push for a renewal on the 'meagre' fifth-round deal he signed after being drafted. Fellow cornerback Maxwell, who has excelled in the absence of the suspended Thurmond this year, is in the same situation.
If Sherman does truly believe he is the "best corner in the game" he will almost certainly want to be paid as such, and that means an increase on the $16 million average salary Darrelle Revis is getting from the Tampa Bay Buccaneers.
Renewing contracts before they're up is usually seen as the player holding the team to ransom, but in the case of Sherman (and possibly Maxwell) the Seahawks may themselves be keen to renegotiate and front-load the deals because over the following two years, well, let's just say Schneider is going to be putting a lot of zeroes on a lot of cheques if he wants to keep this Seattle team together.
Thomas is another player who has a claim to being the best in the NFL at his position and whose rookie deal finishes in 2015. But as his first-round contract under the old CBA is worth more than Maxwell's or Sherman's, a renewal may indeed wait until that year.
As things stand, Thomas may be eyeing an average salary in the $8-10 million range to put him in line with the game's other elite safeties. This season Chancellor signed a new deal which pays him a reported average of $7 million a year through 2017 and Thomas is generally viewed as the better safety of those two.
Linebackers Wagner, Irvin, Wright and Smith (all four feature heavily in Seattle's gameplan) are not quite as highly thought of with regards to their ability at the position but are still young stars who are all due a hefty salary hike by 2016.
The defensive line has a more veteran feel to it and if the linebackers and defensive backs are to be retained it is likely some of them, such as Michael Bennett (free agent this year), Chris Clemons and Cliff Avril (free agents in 2015) will be on the open market again.
The problems multiply when the offence is taken into account. For all of the praise Schneider has received it should also be remembered that the Seahawks' two highest-paid players - wide receivers Sidney Rice and Percy Harvin - were both huge flops in 2013.
The Seahawks do not have a huge amount of cap room to spare, it's just their best players are also some of their lowest earners. Harvin still has potential if he recovers fully from hip surgery but Rice could well be cut this off-season.
Golden Tate and Doug Baldwin have carried much of the receiving load this year. Both are currently on low rookie deals but, if Harvin returns, they will be relegated to secondary options and will likely not be offered lucrative new contracts.
Future
Running back Marshawn Lynch is on a manageable deal of around $7.5 million a year until the 2016 off-season, by which time he will be 30 and probably have his best days behind him.
The offensive line has been one of the only areas of the team to have underperformed this season, but left tackle Russell Okung and centre Max Unger are top-level talents who are already well set on big contracts.
The big issue, therefore, is how much Wilson will get paid during the next off-season or the one after that. Although he is not viewed as absolutely elite passer, he has built a reputation as a clutch performer who always seems to make a play when it matters.
Given that teams have been liable to do such things as draft Blaine Gabbert 10th overall in their search for a franchise quarterback, Wilson will have serious leverage when negotiating a new deal as there will be plenty of suitors willing to throw the mortgage at him.
Wilson could well sign a long-term deal which has a total value in excess of $100 million, as was recently the case with comparable signal-callers Joe Flacco, Matt Ryan, Tony Romo and Jay Cutler.
Cam Newton, Colin Kaepernick and Andy Dalton could sign new deals in the interim, the values of which may serve to push Wilson's market value up even further. A lot of Seahawks players will be getting rich in the next couple of years and Wilson will most likely be getting richest.
So, now you see why Schneider has plenty to ponder despite his side's imminent Super Bowl appearance. Can he keep his young core in place while also fitting their wages under the salary cap as well as filling the holes on the roster through another series of phenomenal drafts? That will be the true test of his credentials as the best general manager in the game.
But if he can, the Seattle Seahawks could be the NFL's next true dynasty.