Super Bowl XLVIII: Our man in New York blogs on final preparations for the game
Our man in New York Paul Higham blogs on a relieved Roger Goodell and the final Super Bowl preparations.
Last Updated: 31/01/14 9:40pm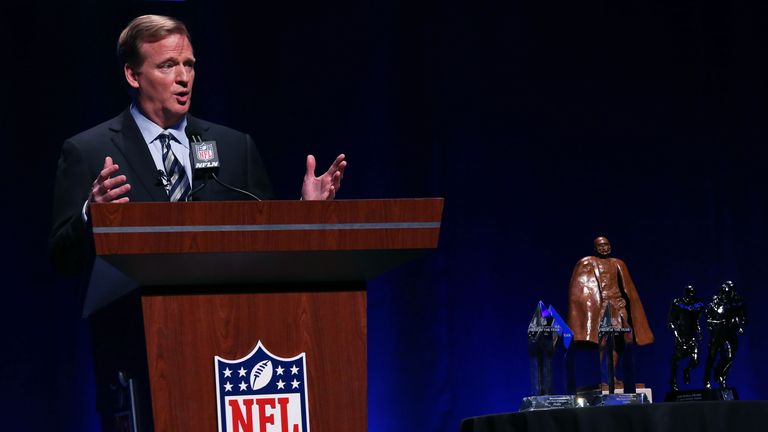 In Dallas three years ago I was present during one of their rare but heaviest snow storms in recent times - and Texas was just not ready for it with it being a rare occurrence as roads became treacherous and facilities closed down.
Back then, though, Goodell and the NFL could not have foreseen that, and the stadium was indoors - now, they knew holding a cold weather outdoor Super Bowl came with a huge risk, and when an arctic storm hit the USA his stomach must have turned.
That's why he was in such a jovial mood today as the forecast has improved tremendously - he admitted they did look at a Saturday kick-off if bad weather hit - but now it will be above the 40F that often classes NFL games as truly 'cold weather'.
With that threshold now looking certain to be easily passed, Goodell could casually ask the media what all the fuss was about, and get back to talking about the game - you could tell by his voice and his demeanour that he was a relieved man.
"We are doing something innovative and unprecedented something consistent with the essence of football and the Super Bowl," said Goodell. "There's been a tremendous amount of energy and excitement for the Super Bowl.
"This is the number one market and a great stage for this Super Bowl matchup. One unique aspect for this week has been the aspect of the weather, of course we cannot control the weather (cue fake snow falling behind him).
Terrific
"The forecast is terrific and just to confirm we will kick off at 6.30pm. Clearly the best of the best will play in this game and it should be a classic."
He did admit that a Saturday kick-off was discussed as the weather threatened, but thankfully that wasn't needed, and indeed it sounds pretty good for Sunday - as good as it gets really for February in New Jersey.
The success of the game could prove double edged for Goodell though, as even now officials from the likes of Denver, Boston, Philadelphia and Washington are eyeing up a Super Bowl bid and the prestige and riches that follow - meaning this cold weather experience could continue.
As the song goes though, if they can make it here, they can make it anywhere, and with the traffic, the two states to handle, the sometimes apathetic New Yorkers, and that weather - if Super Bowl XLVIII is a success it will set a precedent - maybe not one a lot of frozen journalists I've spoken to would relish.
And a great game it should be, we don't often get the two best teams of the season in the big game, but we definitely have this year, with the best offence v the best defence also making it a brilliant prospect.
The two coaches faced off today in their joint press conference, a fresh tradition started last year with the Harbaugh brothers - and a fascinating spectacle, although sadly coaches Fox and Carroll seem to get on, it'll be great when two coaches with some previous collide.
Another big story from the day comes with the selling out of the three Wembley games this year - Goodell is a known admirer of the UK fanbase, and I'd expect four games next year judging on this success.
London being 'one step closer than last year to having a franchise' will get plenty of headlines, personally I remain sceptical but there's no doubt there is a desire for more NFL across the Atlantic, only time will tell how far down the line that goes