Alex Ferguson picks his 10 'rip your heart out' moments in US sports
By Alex Ferguson
Last Updated: 25/06/14 1:16pm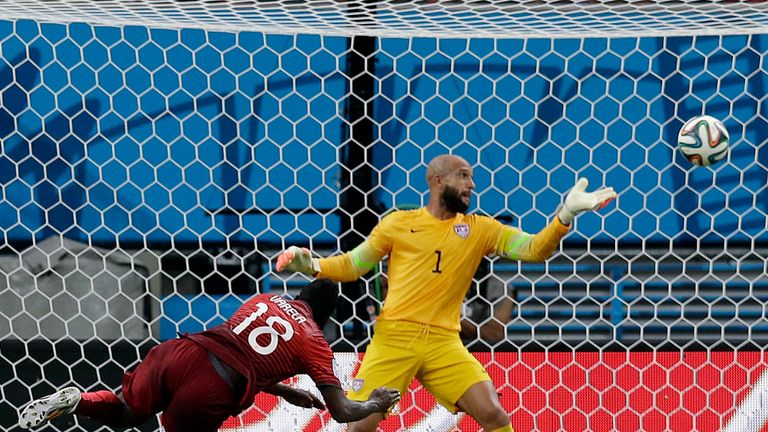 Portugal's last-minute draw with the USA on Sunday hurt a lot of US Football fans. Actually, it did more than hurt. It gutted them.
Alex Ferguson has 10 other 'rip your heart out' moments from US sports for fans to think about… followed by a little word of encouragement.
1. Alabama fans and the The Kick-Six
After Cristiano Ronaldo's inch-perfect cross onto Silvestre Varela's head ripped apart the hopes of millions of Americans, a question flew out on Twitter: "Hey, Alabama fans, is this what 'Kick-6' felt like?" For those of you who don't remember, last season Alabama looked fairly set on taking their clash against hated rivals Auburn into overtime with a last-second field goal. The long kick went wide, was picked up by Chris Davis, who ran it back to the other end of Jordan-Hare Stadium for a stunning Tigers victory. It was probably Alabama's most gutting loss in the history of their program.
2. So New York Yankees fans, was that what it felt like with David Ortiz in 2004?
Yankees fans love to talk up Aaron Boone's home-run in 2003 against the Boston Red Sox in Game 7 of the ALCS, but Bostonians got their own back in a big, big way when 'Big Papi' smashed a two-run home run in extra innings to win Game 4 for the Red Sox (and avoid elimination) and a walk-off single in Game 5 to avoid elimination yet again. The Yankees were so close to going to another World Series, but Big Papi ripped their hearts out. Tell me, Yankees fans: What was more painful – Ortiz or Varela?
3. So San Antonio Spurs fans, is THIS what it was like in 2013 with Ray Allen?
San Antonio Spurs fans, congratulations on winning the 2014 NBA title. You owned LeBron James and Miami Heat in the Finals this year, but you remember last year, right? You know, when you were going to win the title in Miami, but in the dying seconds the ball comes out to Ray Allen, who puts the ball in from outside the arc and takes the game to overtime. That shot destroyed your souls, and no-one's ever really stopped talking about it.
Was seeing Portugal's equaliser anything close to the pain you felt when Ray Allen dropped that bomb?
4. Pats fans and the 'Helmet Catch'
Any Pats fan will look at the last-second header in Brazil and say: "Yeah, but was it the Super Bowl?" And he'll be referring to David Tyree's wonder catch on his helmet from Eli Manning with the Giants trailing Super Bowl XLII. The Giants went on to winning the game and stopping the Patriots in their quest for a perfect season. Any Patriots fan who has got over THAT will probably get over the heartbreak of a Ronaldo cross.
5. Michigan fans and Wisconsin basketball…
…are still suffering after March Madness. They both had their hearts broken by Kentucky's Aaron Harrison, who hit a game-winning shot with 2.3 seconds on the clock in the former game (Michigan) and repeated the feat against the Badgers in the latter with 5.7 seconds left. Imagine if they are massive 'soccer' fans, too…..
6. Penn State fans…
…who got their hearts ripped out by Mario Manningham and the University of Michigan in 2005. I write this from a very personal level, because this loss still stings. In my years of supporting them, Penn State has never been closer to a perfect season. Anyway, they weren't playing that well at Michigan, but still managed to eke out a lead on a cold, noisy night in Ann Arbor. They took a 25-21 lead with 45 seconds left in the fourth quarter. They then had the kick-off returned 40 yards. After managing to get the ball to the Penn State ten, Chad Henne got a timeout with just a second left on the clock. Chad Henne hit Mario Manningham for the game-winning touchdown. Hearts broken. I think I'm still angry about that game.
7. Chicago Cubs fans...
…who must have thought they were going to their first World Series in 2003. A foul ball came over to spectator Steve Bartman, who dropped it on a packed night in Wrigley Field. The game progressed, the Cubs lost, and the Florida Marlins went to the World Series, and won. Steve Bartman was blamed for the Cubs for the fact that the team didn't make their first World Series in over 100 years. But Chicago Cubs must have been sitting there and asking Baseball Jesus when was going to be their time.
8. Boston Bruins fans…
…who thought they were taking the Chicago Blackhawks to Game 7 of the Stanley Cup Final... until Jonathan Toews scored two goals in the final 76 seconds - or 17 seconds apart- to rip their hearts out.
9. Clemson college football fans…
…whose team has been consistently letting them down with last-minute losses or surprising defeats against teams that they were favoured in. Their most bone-crushing defeat that we remember was against Georgia Tech in 2009, when they came back from a 24-0 deficit to take a 27-24 lead with 11 minutes left, only to then lose the game and leave one of their fans kicking everything around him tears, much to the joy of the commentators watching the poor guy kicking EVERYTHING in frustration. A special nomination goes to Georgia Bulldogs fans, who seem to lose one game a season (if not more) in frustrating fashion.
10.  But as sports fans…
…don't we all get accustomed to seeing our driver, team, individual dominate proceedings and then watch it all fall apart on a lap, a hole, a last-second goal, or touchdown? And when that despair happens, doesn't that make the victories even sweeter?
Good luck to the USA against Germany on Thursday at 5pm . For the record, I think they'll qualify. Which in the 'Group of Death', will be an incredible success story.