View from America: Focus returns to NFL after quiet summer for gridiron
Off-field issues making headlines, says Veness
By Simon Veness
Last Updated: 01/08/14 9:08am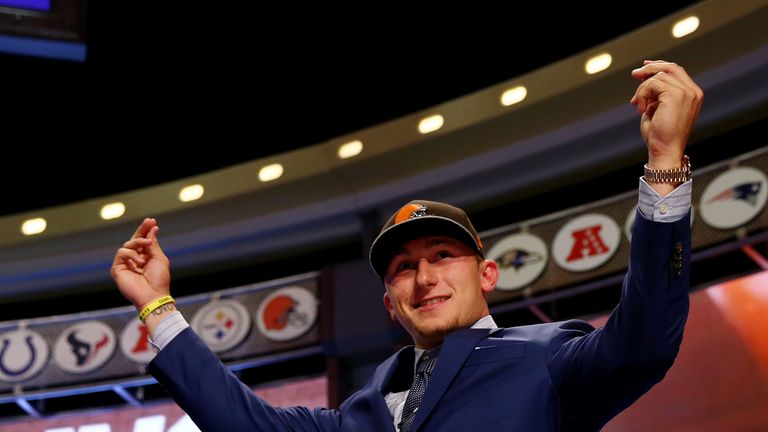 Getting a huge entity back in motion again after a period of prolonged slumber is never an easy task. Just try getting your teenage sons out of bed at the weekend.
But the surprising news-making inertia of the NFL this summer has been harder to fathom, even allowing for the major diversions of the World Cup, LeBron James and Tiger Woods.
When we last observed the monolithic sports entity that is the National Football League, we were reviewing the results of this year's draft and the monstrous amount of Johnny Manziel hype following his selection by Cleveland, among other significant developments.
But, since then, the US sporting landscape took several seismic shifts away from anything pigskin orientated and, for once, football failed to dominate the headlines through June and most of July.
Now the clock is ticking around to August, the behemoth is back. The 32 teams under the NFL's umbrella are clanking back to life – albeit still with something of a slow-motion effect.
Simon Veness
Instead, we saw soccer take centre stage like never before in the land of Uncle Sam, with record viewing for Brazil 2014; the LeBron James media machine cranked into full force with his surprise move back to Cleveland (and isn't it weird that this Ohio city has suddenly become an epicenter for sports speculation?); and the American media fell all over themselves trying to analyse Tiger's return to action, failing fairly miserably for the most part.
Now the clock is ticking around to August, the behemoth is back. The 32 teams under the NFL's umbrella are clanking back to life – albeit still with something of a slow-motion effect – and our focus is returning to the gridiron once again.
Off-field
Unfortunately – as is often the case at this time of year – while the league would be happy if everything was genuinely focused on the field, there are far more off-field issues that are driving the football narrative.
Ray Rice, Aldon Smith, John Abraham, Josh Gordon, Marshawn Lynch, and, inevitably, Manziel have all been in the spotlight for the wrong reasons, and the fallout from their various misdemeanours and mis-steps will continue to play out during the pre-season and even into the full action itself come September.
Baltimore's running back keystone Rice is definitely sidelined for the first two games following his odious 'assault' on his then-fiancée, while the league's top pass-catcher from 2013, Gordon, faces a full season's suspension and San Francisco linebacker Smith will learn next week how long he will sit out for his three felony gun charges and a drink-drive offence.
Abraham has disappeared off the Arizona radar since details emerged of him being found asleep at the wheel of his car during another drink-drive incident, while Lynch has become the centre of Seattle's pre-season hoopla with his inexplicable contract holdout – he still has a full two years to go on his original four-year, $30million deal.
The new Super Bowl champs, and especially head coach Pete Carroll, are distinctly unimpressed by Lynch's antics and, for all the fact they insist they are taking the 'next man up' approach, the ongoing absence of last year's leading scorer cannot be anything other than detrimental to their hopes of a successful title defence.
And then there's Johnny being Johnny, if you take Manziel's chequered off-season antics into account since he became the Browns' latest Face Of The Future (as long as that face is surrounded by fellow party-goers and rolled-up $20 notes).
It's still extremely early days in the pro life of Johnny Football, but those days have so far been one long string of alarm signals for the Cleveland hierarchy, with Manziel being ripped to shreds by soon-to-be Hall of Famer Andre Reed and labelled the 'Tower of Terror' by former head coach Herm Edwards.
I can especially relate to Edwards' reference. The Tower of Terror ride is the signature attraction at Disney's Hollywood Studios theme park, about eight miles from where I live here in Orlando. It is the kind of ride that seems a good idea to some, but, well, let Herm explain:
"I took my two girls to Disney World for the first time three years ago; they were seven and six and they saw this big ride with all the kids screaming on it, and they said 'Daddy, we want to go on that.' And I said, 'No you don't, that's the Tower of Terror.' But they insisted, so I said 'OK, off you go.' And at the end of the ride there's my two girls, all shaking and scared, and I said, 'Well, I told you. That's the ride'. And that's Johnny Manziel – he's a social Tower of Terror."
So there you have it. The Cleveland quarterback is either 'Who the %$#* Is Johnny Manziel?', according to Reed, or a scary roller-coaster ride of predictable proportions, depending on your perspective.
(And before anyone writes in, I know the Tower of Terror isn't a roller-coaster, but the analogy is ideal)
Either way, it is not a comfortable pre-season scenario for the Browns, with their quarterback-of-the-future looking more like Joe Namath off the field and Joe Schmo on it and their leading receiver fighting a full-year suspension. Ex-Michigan State and New England passer Brian Hoyer has assumed the starting quarterback role for now, and it is hard to see that changing before September.
Seasoned observers have been less than impressed by the first-round draft pick, and Hoyer – who actually went 2-0 as a starter before injury curtailed his season last year – is in pole position for the job as long as he stays in one piece.
Rule change
All in all, it is also a less than salubrious re-awakening for the league itself, prior to the first real action in the shape of the Hall of Fame game this Sunday in Canton.
But at least it will allow us to focus on the field for a change, with the Giants taking on the Bills and the chance to witness one minor rule change this pre-season (for the first two rounds of warm-up games only) as extra-point kicks are moved back to the 15-yard line, making them the equivalent of a 33-yard field goal.
Apparently, the routine point-after has become so automatic (and, therefore, in the fans' eyes, deadly dull), that moving it back 13 yards is seen as somehow rather daring, but it isn't exactly going to keep viewers riveted to their screens this August.
For that, the NFL is going to have to hope that Manziel can make a half-decent impression when he finally gets his chance and that the likes of Rice, Lynch, Smith and others are all genuinely anxious to put the past firmly behind them.
Reed, of course, will be among the seven players officially inducted into the Hall of Fame on Saturday night and the league will also have to hope that no-one asks him to expand on his opinion of Johnny Rookie. Not just yet, at least.