View From America: NFL pre-season blighted by more yellow flags
But do stricter rules benefit the game?
By Simon Veness
Last Updated: 04/09/14 9:50am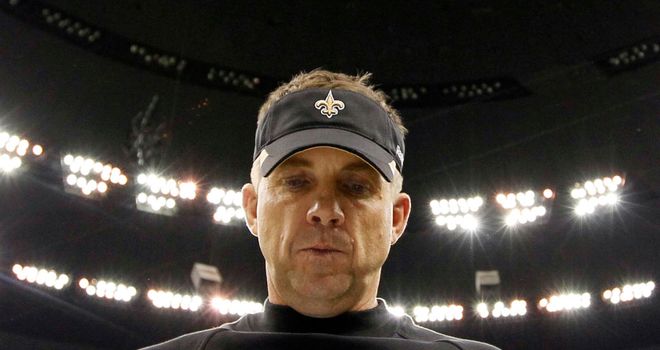 Flag-waving is a traditional American past-time. It is as natural as apple pie and as unselfconscious as a Scandinavian on a nudist beach. Almost everyone does it, and no-one bats an eyelid, not even the Scandinavian.
But when it comes to flags in football, we are currently seeing something that is raising more than eyebrows – it is raising howls of protest from coaches across the land.
It is a positive epidemic of yellow dusters, a frenzy of flags, and they are being thrown in record numbers this pre-season, a fact that does not bode well for the months ahead (especially for defensive players, as I will explain).
Regular readers will already know I am not a huge fan of pre-season games. You get to see a few series of the people you have actually come to watch, and then a bunch of tackle dummies take over, everyone pummeling each other in the hope of grabbing the 52nd or 53rd roster spot from one of their ever-hopeful rivals.
In simple terms, it is a human shredder, a great 32-team threshing machine that pours in several hundred wannabe future stars and then spits most of them out, battered and bruised from a month's ceaseless winnowing. The chaff gets thrown to the four winds and the solid wheat (i.e. mainly those who already had a job) fills out the roster.
It is an unedifying spectacle at best, and we have already seen a number of players limp off into the sunset, their season already finished and, in the case of an unlucky few, their careers as well, with Dallas second-year linebacker DeVonte Holloman the latest candidate due to a recurring neck injury.
In a league where defensive backs are already shackled by rules that favour the ever-growing numbers of lanky wide receivers, they are now being pulled up and penalised for even the slightest contact downfield.
Simon Veness
New guidelines
But this year's pre-season campaign is bordering on the carpet-chewingly insane thanks to those flags. In the backfield, on the sideline, out of the hands of referee and umpire alike. Flags, flags, everywhere, to the extent some games have taken more than three and a half hours. In pre-season!
ESPN sage John Clayton recorded 18 penalty flags thrown in the Detroit-Oakland yawn-fest, while New Orleans coach Sean Payton was positively apoplectic as his team racked up an eye-watering 22 penalties against Tennessee, including Jimmy Graham's two over-zealous touchdown celebrations, for which the towering tight end was rightfully hauled over the coals by his head coach.
So, what gives? What is driving this hail of yellow, this super-abundance of official disapprobation?
In a nutshell, it is new guidelines on illegal contact, especially for defenders, and it is the latter which is driving defensive coordinators just plum nutty. In a league where defensive backs are already shackled by rules that favour the ever-growing numbers of lanky wide receivers, they are now being pulled up and penalised for even the slightest contact downfield.
No more hand-fighting, no jostling with a runner, and probably no heavy breathing on them, either. No contact, zero tolerance, and flags aplenty as a result. Anything involving hands to the face is also a serious no-no in this new world of officiating, hence defensive linemen need to look out or they will be seeing nothing but yellow as well.
Rigid policy
The really bad news is that word from the officials insists NFL HQ expects them to maintain this policy of rigid policing once the action starts for real, too. Throw in the 32 total penalties we saw at the Saints-Titans outing for a regular season game that is still close in the final quarter, with every timeout being used, and we could be looking at games taking close to four hours to finish.
With Peyton Manning and the Denver Broncos offence, this is already starting to look like the Arena League in terms of scoring, but we certainly don't need it to start looking like a cricket match in terms of time.
Several coaches feel the flag totals will drop back closer to 'normal' levels once defensive players learn to live with the new microscope of misbehaviour, but I'm not so sure. Seeing players who still lead with their head in tackles and then look surprised when they (rightly) get flagged, it could take a long time for these new directives on no-contact-under-any-circumstances to sink in.
And, by then, the four-hour game could well be a reality, and we will all have drifted off into the land of nod – or thrown a brick through the TV at the 39th commercial for "a certified pre-owned car with a three-million-point safety check and unlimited mileage warranty for just a gazillion dollars."
Yuk.
Learning curve
So, when the Super Bowl champions Seattle Seahawks kick off against Green Bay on September 4, the scrutiny will not just be on how Pete Carroll's team handle the pressure of being expected to march back to another date with Roman numerals, but on exactly how many flags will fly – and if we're going have to rename it the Ticky-Tacky League.
Talking of the Seahawks, one tantalising genuine tidbit I have gleaned from the general pre-season noise (typical soundbite – "Yes, we're looking forward to the new season and think we have a real Super Bowl chance this year," says A Linebacker from Anyteam), is that Seattle's defensive coaches have drilled their men on the benefits of tackling with the help of rugby techniques.
It is something I have long suspected would be seriously advantageous to NFL teams in this new era of the non-head-first approach and it was fascinating to hear that it's been implemented under Carroll's watch.
The Californian has long been one of the most open-minded coaches in the business, and it makes sense he and his fellow teaching advocates would pick up on rugby's inbuilt ability to stop a man in his tracks without using a helmet or pads.
By all accounts, Seattle are now the Team Most Likely to bury you in the ground with an honest-to-goodness arm-tackle as well as their swarming, hit-first-and-ask-questions-later all around defensive style, and it underlines why many pundits make them favourites to be the first repeat champions since New England in 2004-05.
And hopefully with the same number of flags being thrown.
Fantasy
PS: If you have ever wondered what a Fantasy Football convention would be like, so have I. Hence I will be taking myself off to ESPN's Wide World of Sports here in the wide world of Disney (aka, Walt Disney World), for the inaugural annual ESPN Fantasy Football Convention this weekend.
The first-of-its-kind event features a talent-laden line-up of fantasy pigskin pundits, such as the incomparable Matthew Berry, Adam Schefter, Chris Mortensen, Trey Wingo, Stephania Bell, Tim Hasselbeck and others, and promises to deliver the secret to fantasy league domination.
Hopefully, I will come away with a few priceless pointers that will enable me to improve on last year's second place in the Sky Pundits League!