NFL play-offs: Sky Sports Kevin Cadle previews wildcard weekend
Our main man Kevin Cadle previews what should be a cracking first week of the NFL play-offs.
Last Updated: 03/01/14 5:33pm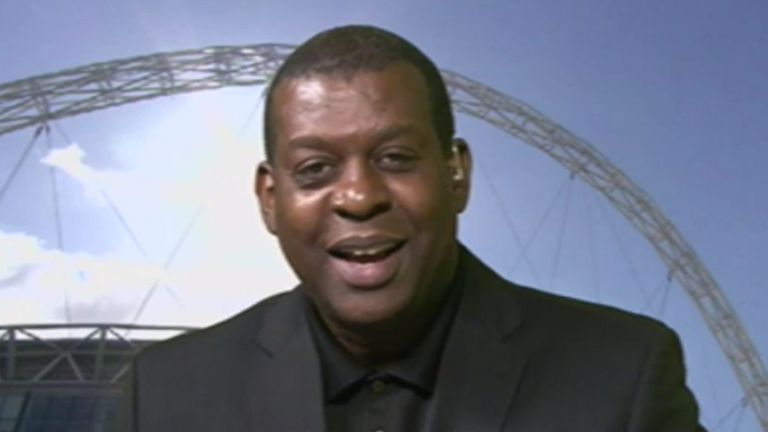 And we've got four crackers to kick-off another season of play-off action, with all of them promising to be thrillers, but who will make it through?
Here our main man Kevin Cadle talks you through the big games this weekend and who he fancies to move one step closer to the Super Bowl.
Indianapolis Colts v Kansas City Chiefs
Saturday, 9pm, Sky Sports 1
This is going to be a tough ball game. The one thing about the Chiefs is their form since their bye week. They were 9-0 going into their bye week but finished the season
This Colts team is a young team, enthusiastic with a quality head coach in Chuck Pagano - so I like what they have, but they do have problems defensively.
I like the Chiefs for this game because they have the best record on the road and I think their coach is more playoff ready. I think they have the better personnel.
Cincinnati Bengals v San Diego Chargers
Sunday, 1am, Sky Sports 1
The Chargers lost to the Bengals a few weeks back. It was a great win for them on Sunday, but it has to be said they needed about nine lives to win that game and the Chiefs were only playing their reserves.
None of their starters really played and it took them a last-second field goal in overtime to win the game, so I think the Bengals have what they need to make it happen. They have a good defence and the offence has what it takes. In their last five games at home they have averaged over 40 points per game and San Diego is not known for its defence, so I like the Bengals in this game.
Philadelphia Eagles v New Orleans Saints
Sunday, 5.30pm, Sky Sports 1
I fancy the Eagles in this game. It's going to be very cold in Philadelphia and the Saints are 3-5 on the road. They don't play well on the road. Their quarterback Drew Brees is up and down on the road. At home he is fantastic, but on the road he is very mediocre.
The defence is consistent, but Philadelphia are hot. They have found a way to win at home. Their QB has been fantastic and they have the No 1 rushing attack, which is very important because trying to pass and catch in the cold is very difficult.
Green Bay Packers v San Francisco 49ers
Sunday, 9pm, Sky Sports 1
The Packers have to work out how to solve Colin Kaepernick. Last year he ran for 181 yards - which is a single-game record for a quarterback - and then earlier this year he passsed for 412 yards and three touchdowns against the Packers, so they really have not yet figured him out and their defence has not got any better with the absence of Clay Matthews.
But the Packers do have Aaron Rodgers back and I think it was good that he played last week to get the rust out of his game. The other thing the Packers have going for them is Eddie Lacy. If he can get over his ankle injury, they've never had a look at him before, someone who can run the ball like he can, so he could be a big factor.
The 49ers have found an identity now and that's tough football. They play Smashmouth football, while Anquan Boldin has been a marvel at receiver, but for some reason, because it's at Lambeau Field, I like the Packers for this one.