NFL Power Rankings 6: New England and San Diego making strides forward
New England are the big movers in this week's elite division, while San Diego are also making strides.
By Simon Veness - View from America columnist
Last Updated: 15/10/13 12:16pm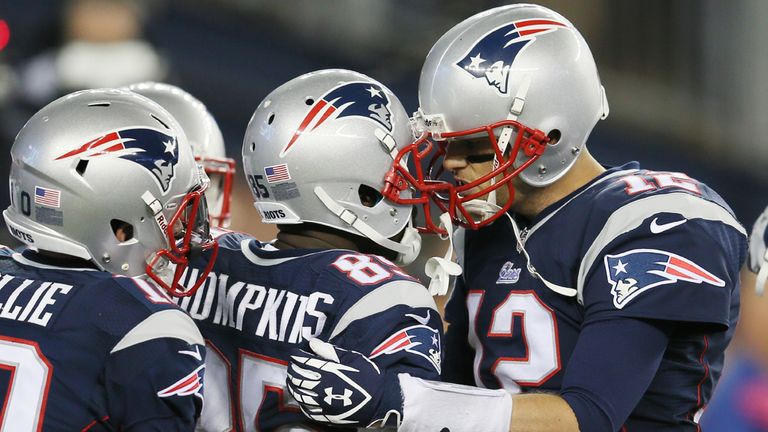 Each week Simon Veness will run the rule over all 32 teams and decide if they are Champions League material, Premier League, Championship quality or down among the Conference dead men.
New England are the big movers in this week's elite division, while several teams are queuing up for 'promotion' if any of the top eight slip up.
Down at the other end, Houston continue their dizzying fall and Minnesota's Wembley boost was VERY short-lived...
Champions League - The Genuine Contenders
1. Denver (no change): The Broncos win by 'only' 16 points and it is seen as a shocker. True, Peyton Metronome had three - gasp! - turnovers against a defence that had been seriously dissed, but Knowshon Moreno also ran for three TDs to ensure normal service.
2. New England (up 3): How DOES he do it? With receivers (like Austin Collie) being virtually dragged in off the street, Tom Brady still finds a way to throw touchdowns in the last minute, and against a good defence. It's 'the Team That Will Not Die'.
3. Kansas City (no change): The good news - that defence is just plain nasty, with a 10-sack day against Oakland. The bad - the offence was limited to 216 net yards, and that won't beat either of our Top Two this week.
4. Seattle (no change): OK, so the defence continues to be the Immovable Object but what was that Keystone Cops field goal attempt at home to Tennessee? That won't work at the best of times, let alone in the play-offs (unless they were channeling their inner Romo!).
5. New Orleans (down 3): Rob Ryan looked like he had just lost the winning lottery ticket in that last-gasp defeat by the Patriots. In fairness, he had five of the six numbers right, it's just that the number he didn't have was No.12, and that was on the back of the Player Who Will Not Die.
6. San Francisco (up 1): On one hand, Vernon Davis had a superb eight catches; on the other, the rest of the 49ers only managed eight catches between them. No wonder the team was interested in Cleveland's Josh Gordon (the answer, apparently, was No Way).
7. Green Bay (up 1): Aaron Rodgers was steaming at the knee-high hit at Baltimore that has put Randall Cobb out of action for at least six weeks, and no wonder. With James Jones also injured, Rodgers is likely to be throwing to receivers called Boykin and Dorsey.
8. Indianapolis (down 2): The Colts looked like a team that had studied for an algebra exam at San Diego and were instead given a physics test, which they promptly failed. Too many dropped passes and too many players out-muscled at times. The return of Peyton Manning this Sunday might be an examination in advanced calculus AND speed-reading by comparison.
Premier League - The Play-Off Hopefuls
9. Detroit (up 6): Of COURSE Matt Stafford is going to be throwing three TDS, he has Calvin Johnson to throw to. What's that? Johnson didn't have a TD? Joseph WHO? And that shattering sound is the hearts of numerous Fantasy League players worldwide.
10. Chicago (up 6): In the absence of any other middle-ranking team stating their case, the Bears' taking advantage of another three INTs from The Manning That Is Not Peyton is the best we have to round out the top 10. But why am I not convinced?
11. Cincinnati (down 1): Sorry Bengals fans, any team that needs overtime to beat someone called Thaddeus Lewis after a fourth-quarter meltdown of near Biblical proportions is not going anywhere fast (See what I did there - Thaddeus/Bible?*).
12. Miami (no change): It was Ryan Tannehill's favourite week of the season as he didn't get sacked ONCE. Now, if his offensive line can keep him clean AFTER the bye week...
13: Dallas (PROMOTED - up 6): DeMarco Murray has had to answer questions about his durability since his Oklahoma days, and guess what? His likely absence for at least the next week raises even more questions about the Cowboys' ground game.
14. Philadelphia (PROMOTED - up 6): Nick Foles proved he can run Chip Kelly's high-powered machine effectively enough in the absence of Michael Vick at Tampa Bay. The visit of Dallas this week will sort out whether he can kick it into overdrive.
15. Baltimore (down 6): Let me get this right - the Ravens offence piled up 360 yards at home to Green Bay and Ray Rice and Torrey Smith accounted for just 51 of them? That's how you arrive at the mathematical equation 360Y-51=3W+3L.
16. San Diego (PROMOTED - up 7): If there was an award for Third Round Rookie of the Year, Keenan Allen would be a real contender. The Chargers' first-year wideout has 20 catches for 305 yards and two TDs in his last three games.
Championship - Going Nowhere Just Yet
17. Cleveland (RELEGATED - down 3): When you look back at last week's comments for Cleveland about Brandon Weeden, you might think I had a crystal ball. In truth, it was the easiest prediction of the week, and now he has to out-duel Aaron Rodgers. Look out below!
18. Tennessee (RELEGATED - down 7): You know what you're going to get with Ryan Fitzpatrick at QB (2TDs and 4 INTs to date) but just 33 yards at 2.8 a pop from Chris Johnson? Really? Perhaps we need to rename him CJ2.8.
19. NY Jets (RELEGATED - down 6): Geno Smith is starting to look eerily like Mark Sanchez. When he's good, he's pretty good (like last week), but when he's bad, yikes.
20. Carolina (PROMOTED - up 5): So THAT'S where Cam Newton has been all season - waiting to burst out of a Minnesota phone booth with his Superman cape on. Now there's real hope as they get to entertain St Louis.
21. Atlanta (up 1): Yes, I know they had the week off, but I just couldn't put the Rams this high.
22. St Louis (PROMOTED - up 5): Was that a genuine 'W' or did Houston just implode? The eye test says the Rams still don't deserve to be any higher but win at Carolina this week and they'll force my hand.
23. Oakland (down 2): Despite being brutalised by the Chiefs defence, the Raiders put up a surprisingly stout challenge for three quarters and actually out-gained Kansas by 274 yards to 216. All is certainly not lost in the realm of Dennis Allen and who knows, Menelik Watson may even make an appearance on the Active list at some stage.
24. Arizona (down 6): Carson Palmer is on course for 29 INTs this term and the Cardinals are on the verge of being right back where they were last season when their quarterback carousel resembled the Not-So-Magic Roundabout.
Conference - The Current No-Hopers
25. Buffalo (RELEGATED - down 1): They almost deserve a Mulligan after playing Cincinnati so tough with a back-up QB making only his second start in a two-year NFL career spanning four teams. There is clearly plenty of heart here but can they turn the corner at Miami this week?
26. Pittsburgh (up 3): Winning the turnover battle for the first time this season has obvious benefits for the Steelers. They had more plays, more yards and more defence than the Jets - just in time to give themselves a vital boost for their first annual slugfest with the Ravens.
27. Houston (RELEGATED - down 10): If ever there was a complete and utter collapse at just about every level, it was last Sunday at Reliant Stadium. It even included the Texans FANS, as they disgracefully cheered when QB Matt Schaub got hurt.
28. Washington (down 2): The long-term health of Robert Griffin III is now all that anyone wants to talk about in Redskins-ville (apart from that nickname, of course). If there's anyone who still thinks he was physically ready to start this season, they probably also believe the current government shutdown is all Obama's fault, too.
29. Minnesota (down 1): The tragedy surrounding Adrian Peterson obscured the fact they were comprehensively taken apart, at home, by a 1-3 team. Bringing in Josh Freeman looks like re-arranging the deckchairs on the Titanic right now.
30. NY Giants (no change): If you think Palmer's predicted stats are bad, wait for this - The Manning That Is Not Peyton is projected to throw FORTY interceptions at the current rate and, while his receivers and O-line certainly aren't helping, he simply can't throw twice as many balls to the opposition as he does TDs.
31. Tampa (no change): While it is only a "minor" outbreak of MRSA, apparently, you can be forgiven for thinking there are an awful lot of sick people on the Buccaneers roster right now - sick of the lack of rushing production (1TD in 5 games), sick of turnovers (10), sick of playing teams close - and sick of losing.
32. Jacksonville (no change): OK, they managed to play the mighty Broncos close for much of the game and Justin Blackmon emerged as a Fantasy League beast, but they still can't run the ball, protect the quarterback or do any of the other basics consistently enough to look like anything other than the team that will pick first in next April's draft.
*For those non-Bible scholars, St Jude the Apostle was otherwise known as Thaddeus.