NFL Power Rankings 7: Seattle, Indianapolis and San Diego on the up
Seattle, Indianapolis and San Diego are on the up in our latest standings after a wild Week Seven.
By Simon Veness - View from America columnist
Last Updated: 22/10/13 2:38pm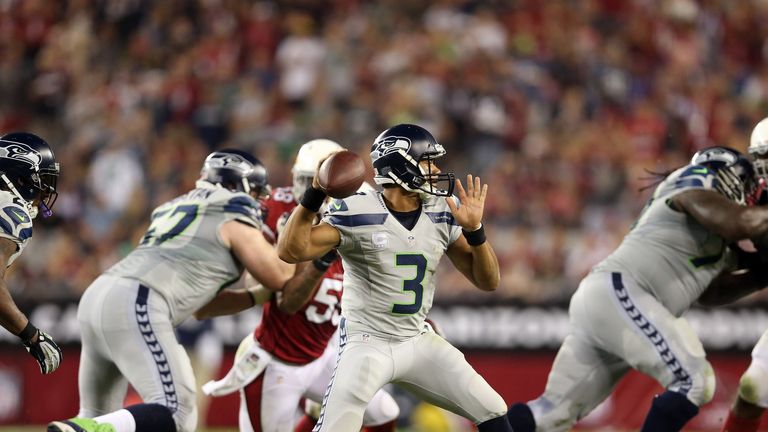 Each week Simon Veness runs the rule over all 32 teams to decide if they are Champions League material, Premier League, Championship quality or down among the Conference dead men.
Seattle, Indianapolis and San Diego are the big movers, while Detroit, Philadelphia and Cleveland have all got that sinking feeling...
Champions League - The Elite Eight
1. Seattle (up 3): When does 2+2=1? When the Seahawks have the second-best defence, the second-best running game and it adds up to the new No.1 ranking. A dominant win, on the road, against a decent defence - and no real challenge in sight until the Saints visit in Week 13.
2. Kansas City (up 1): The lone unbeaten team made awfully hard work of a home win against free-falling Houston, but you felt the Texans were in 'last throw of the dice' territory, hence their defence emptied the tank in a desperate bid to salvage something.
3. Denver (down 2): It wasn't the fact the Broncos lost that was the shocker so much as their failure to handle the play-off intensity in Lucas Oil Stadium. But I'm thinking they won't make that many mistakes in one game again this season.
4. Indianapolis (up 4): How do you define sweet and sour? A signature win over the league's top points-scoring machine, followed by news Reggie Wayne is lost for the season, taking a huge part of the Colts' receiving game with him.
5. New Orleans (no change): Fantasy League players will be anxiously monitoring the injury status of Jimmy Graham after the Saints' bye week. Drew Brees will also want to know if his top target has fully shaken off the foot injury that hobbled him at the end of the Patriots' game.
6. San Francisco (no change): Five wins scoring 31, 32, 34, 34 and 35 points; two defeats, scoring 3 and 7. But none of those wins were against teams above them, and both defeats were. Beating up the hapless Jags at Wembley won't count for much, either - let's see how they fare at New Orleans in Week 11.
7. Green Bay (no change): The Packers' running game was largely an afterthought in 2012. This year? How about the sixth-best, and improving, behind Eddie Lacy's 100 yards per game in the past three outings.
8. New England (down 6): Bill Belichick has had his share of injury challenges in the past, but his currently disintegrating defence - now shorn of Vince Wilfork, Jerod Mayo and Aqib Talib - threatens to be one of the biggest.
Premier League - The Play-Off Hopefuls
9. Cincinnati (up 2): Ever wonder why they call them 'special' teams? Carlos Dunlap's blocked field goal led to a 10-point swing that paved the way for the Bengals' victory in a close one at Detroit.
10. Dallas (up 3): I'm looking around to see what other teams deserve to be up this high and you know what? The drop-off in talent after the top nine is formidable. Somehow the Cowboys shrugged off the loss of most of their defensive line to win at Philly, but it was far from convincing.
11. San Diego (up 5): So THAT'S why the Chargers spent the No.12 pick in the 2010 draft on Ryan Mathews. The Fresno State product put together back-to-back 100-yard games for only the second time in his four-year pro career, and suddenly this team is ticking over nicely.
12. Chicago (down 2): Here's another team with a serious injury headache, and not just because Jay Cutler will be out for at least four weeks. The loss of Lance Briggs and Charles Tillman in the shootout with Washington makes it FIVE defensive starters now out for the Bears.
13: Detroit (down 4): Just call them not-so-special teams in Detroit. A blown field goal and shanked punt, and a fantastic offensive effort was completely undermined.
14. NY Jets (PROMOTED - up 5): The only thing consistent about the Jets is their inconsistency. If they don't win at Cincinnati on Sunday, it will be the fourth straight time they've followed up a victory with a momentum-sapping loss.
15. Miami (down 3): I feel like there's an echo in these rankings somewhere (Echo! Echo..! Echo...!). If the Dolphins could ever keep Ryan Tannehill clean, they could be going somewhere. With 26 sacks and four lost fumbles, not so much.
16. Baltimore (down 1): You just KNEW that game at Pittsburgh was going to be an old-fashioned AFC North slugfest. They can now spend the bye week wondering how to get Ray Rice and their 28th-ranked rushing game back in gear.
Championship - Going Nowhere Just Yet
17. Carolina (up 3): Two games, four TDs and zero INTs. But Cam Newton now needs to show he can do it on a short week, on the road and against a defence in Tampa that is actually better than its 13th ranking.
18. Atlanta (up 3): No Julio Jones and no Roddy White? No problem. Harry Douglas scorched to 140 yards and a TD - by half-time against the Buccaneers. Now do that at Arizona on Sunday and the Falcons could finally take flight.
19. Philadelphia (RELEGATED - down 5): The Eagles could be the first team in NFL history with home-sickness. That's nine straight defeats at The Linc and this one was firmly on an offence that redefined feeble.
20. Tennessee (down 2): Chris Johnson has averaged a less-than-stellar 27.5 rushing yards per GAME in his last four outings, but 40 yards per game in receptions. Confused? Not as much as Titans coach Mike Munchak, who now has the bye week to try to figure it out.
21. Pittsburgh (PROMOTED - up 5): That heavyweight defensive battle against their arch-rivals might just be the catalyst to a decent run for the Steelers. This week's trip to Oakland will tell us one way or the other.
22. Washington (PROMOTED - up 6): Make a note of the date - October 20, 2013, the day Robert Griffin III came off the FBI's 'Missing' list. Almost 300 yards passing and 84 rushing; it's like 2012 all over again for Redskins fans.
23. Oakland (no change): The Raiders badly needed the bye week to get a few guys healthy again. There is even the possibility of a Menelik Watson sighting.
24. Buffalo (PROMOTED - up 1): Can you name the highest-scoring team in the AFC East? Patriots, maybe, or the new-look Dolphins? Try again. Yes, it's Doug Marrone's Bills. Sadly, they have also conceded the most, which doesn't bode well for a trip to New Orleans.
Conference - The Current No-Hopers
25. Cleveland (RELEGATED - down 8): Finally, the message is getting through. "Do we have anyone else who can play quarterback instead of Brandon Weeden?" And yes, they do mean ANYONE, after a Browns fan advertised Weeden's job on Craigslist.
26. NY Giants (up 4): OK, they finally broke their duck but the Vikings handed them three gilt-edged turnovers and 10 points. Otherwise, it was still a struggle for Tom Coughlin's men, who will have convinced absolutely no-one that they can be competitive this season.
27. Arizona (RELEGATED - down 3): This offence has the whole team going full speed in reverse. Just 30 yards running on 18 attempts, two more INTs from Carson Palmer, and one of the league's premier receivers (Larry Fitzgerald) spinning his wheels in desert isolation.
28. Houston (down 1): Despite a brave effort at Kansas, the injuries keep piling up for the Texans and losing linebacker Brian Cushing could sound the death knell for the defence.
29. St Louis (RELEGATED - down 7): Here's yet another team dealing with a major injury, this time to the franchise QB, Sam Bradford. The Rams also completely lost their cool in the defeat at Carolina with FIVE personal foul penalties and an ejection.
30. Minnesota (down 1): Wow - are Christian Ponder and Matt Cassel THAT bad that the Vikings need to risk Tampa cast-off Josh Freeman? With Adrian Peterson all but invisible, this has all the makings of an end-of-season train wreck.
31. Tampa (no change): Yet another game in which the Buccaneers were never out of it, but never got out of their own way to try to win it. Another 11 penalties (for 103 yards) give Greg Schiano's imploding team a whopping 54 from 6 games, on course to rival Oakland's record 163 in 2011.
32. Jacksonville (no change): If the 49ers can put up 31 points against a highly respectable Tennessee defence, what can they do to the Jags? And will the officials invoke the Mercy Rule if necessary? This could be a pre-Halloween nightmare for Wembley fans.