NFL Power Rankings 9: New England, Carolina and Tennessee on the rise
Kansas City are the new leaders in the standings, while San Diego, Atlanta and Oakland sink.
By Simon Veness - View from America columnist
Last Updated: 05/11/13 4:53pm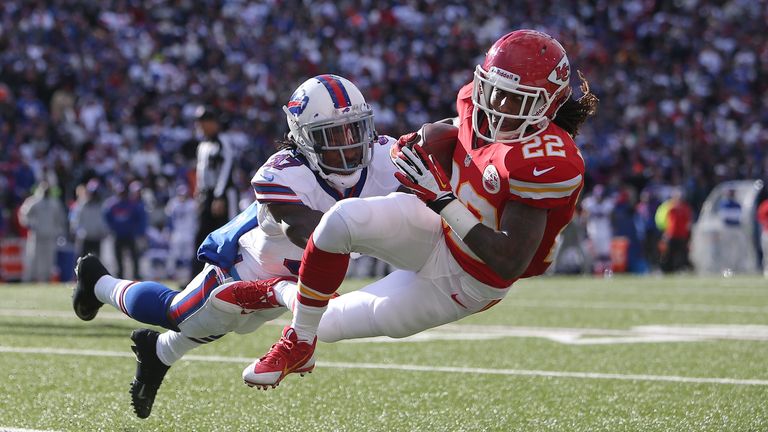 It means yet another shake-up - and another new No.1.
Each week Simon Veness runs the rule over all 32 teams to decide if they are Champions League material, Premier League, Championship quality or down among the Conference dead men, with 'relegation' and 'promotion' between the four divisions.
New England, Carolina and Tennessee are all on the rise, while San Diego, Atlanta and Oakland head in the opposite direction.
Champions League - The Elite Eight
1. Kansas City (up 1): OK, all they do is win and Alex Smith looks increasingly reluctant to throw the ball beyond 10 yards. But there IS that defence, and, if they split their divisional series with Denver, the road to XLVIII is likely to go through Arrowhead Stadium.
2. Denver (up 2): Ah yes, there IS that series with the Broncos in two of the next four weeks. Denver are suitably rested and know just one more defeat could mean 14-2 is not good enough to win the division. But there's now a significant gap on the sidelines and Jack Del Rio is no John Fox as head coach.
3. Seattle (no change): Will the real Seahawks please stand up? Was it the team that went 21-3 down to 0-8 Tampa Bay, or the unstoppable 24-3 second half force that broke Buccaneer hearts? I still fancy them to stick around, especially as their last home defeat was in December 2011.
4. San Francisco (up 2): How does a team get better without playing? Easy, they activate Michael Crabtree and Mario Manningham and welcome back (if that is the right term) troubled defensive star Aldon Smith, just in time for the challenge of in-form Carolina.
5. New Orleans (down 4): The No.3 passing attack but 26th-ranked in rushing. Therein lies the Saints' new dilemma. They have just three TDs on the ground this term, and running backs Pierre Thomas and Mark Ingram (with a combined 100 carries) have none of them.
6. New England (PROMOTED - up 3): Two touchdowns for Tom Brady in four weeks, then four against Pittsburgh. And it is not just Steelers defensive coordinator Dick Lebeau trying to figure that one out. Every AFC rival now knows these Patriots are getting better in a hurry.
7. Indianapolis (down 2): A famous comeback from 24-6 down obscured the fact they REALLY missed Reggie Wayne and their secondary was badly exposed by rookie Case Keenum.
8. Green Bay (down 1): The biggest loss wasn't displayed on the scoreboard against Chicago but on the X-Ray of Aaron Rodgers' left shoulder. If that is a long-term injury - and there were strong hints during the game it might be - the Packers' season could be toast.
Premier League - The Play-Off Hopefuls
9. Carolina (up 3): Like the Chiefs, the Panthers are simply chewing people up on defence and allowing their eighth-ranked running game to go to work. Like Kansas, they have yet to beat a team that many would count as a contender.
10. Cincinnati (RELEGATED - down 2): Once again, the most painful loss was not the freak overtime defeat to a safety (only the third time an NFL game had been decided on a defensive two-pointer) but that of Pro Bowl D-lineman Geno Atkins, especially with other injuries piling up.
11. Detroit (down 1): Time to see if the Lions are for real. Two of their next four are against Chicago and Green Bay, plus there's a trip to Heinz Field, where not many teams prosper and the Steelers will be playing with the fear of Mike Tomlin's wrath at their heels.
12. Chicago (up 1): The biggest difference in the Bears this season? That new-look offensive line. Last season, Jay Cutler was sacked a crushing 38 times. This season, he and Josh McCown have been taken down just 12 times in eight games.
13. Dallas (up 1): The Cowboys were just 35 seconds away from an embarrassing home loss to Minnesota when Tony Romo played his Get Out Of Jail Free card with a TD pass to Dwayne Harris. Now come trips to New Orleans and New York Giants and what's new could get old really quick.
14. NY Jets (up 2): One week bad, one week good. There's no other way to explain the rookie progress of Geno Smith. Which, of course, means the Jets will crash again at Buffalo on Sunday.
15. Tennessee (PROMOTED - up 5): You know I mentioned that Bizarro World thing early on? Well, Chris Johnson romped to 150 yards and his first rushing touchdown of the season at St Louis. He had 100 yards TOTAL in his FOUR previous games.
16. San Diego (down 5): Does the ghost of Norv Turner still linger in the Chargers' locker room? First and goal from the half-yard line for a routine win at Washington and they don't punch it in? Mike McCoy will get second-guessed for that all year if they fail to reach the play-offs for the fourth successive season.
Championship - Going Nowhere Just Yet
17. Miami (no change): If the team can survive the massive fall-out of Richie Incognito's suspension and the league investigation into the bullying of Jonathan Martin, it will add up to a LOT more than their great overtime escape at home to Cincinnati.
18. Baltimore (RELEGATED - down 3): This time last year the Ravens were 6-2 but didn't look anything like Super Bowl champs until a late-season change at offensive coordinator. This season they are 3-5 and don't look anything like title contenders, but in this AFC North anything is still possible.
19. Philadelphia (up 5): Peyton Manning, Sid Luckman, George Blanda, YA Tittle - and Nick Foles? Yup, the Eagles quarterback is now up there with those NFL legends after his seven-TD blitz of Oakland. And the team had not managed an offensive TD in the previous two games. This ranking business will truly drive you crazy.
20. Cleveland (PROMOTED - up 5): Suddenly Jason Campbell is out-duelling the Super Bowl MVP and is the sixth-ranked passer for QB rating. The Browns certainly have the defence to be competitive, but have they really found their quarterback-of-the-future in the past?
21. NY Giants (no change): You know what - no-one in the NFC East lost this week. Now, can the Giants cobble together some kind of running game after their bye week?
22. Arizona (no change): The Cardinals haven't won a division game in more than a year but get to warm up for the crunch with match-ups against Houston and Jacksonville that should see them to 6-4, and that could set them up for the final month, when they play all three divisional rivals again.
23. Oakland (down 5): Terrelle Pryor took a step back in his NFL education against the Eagles, but he certainly wasn't responsible for any of those seven TDs. We'll see how much he's learned with a trip to the Giants this week.
24. Atlanta (down 5): Tony Gonzalez is thinking: "I gave it one more shot for THIS?" The veteran tight end caught another six passes for 81 yards and his fourth TD of the season but Matt Ryan threw his 8th, 9th and 10th interceptions at Carolina and these Falcons look firmly grounded.
Conference - The Current No-Hopers
25. Washington (up 3): One big defensive stand might just have turned the Redskins' season around in that overtime win against San Diego. On the other hand, they still gave up another 410 yards and they could just as easily be 2-6.
26. Pittsburgh (RELEGATED - down 3): If the Steelers' defence isn't stinging and ready to make amends for a record defeat at New England - most points ever conceded, most yards given up - when they entertain Buffalo on Sunday, there could be some BIG changes in personnel across the board.
27. Buffalo (down 1): If nothing else, this team is still playing hard for Doug Marrone and, with Jeff Tuel under centre, they proved a real handful for the Chiefs. But now it's a trip to Pittsburgh when the Steelers have several points to prove.
28. St Louis (down 1): If nothing else, the Rams can say they have found a running back they can have faith in after Zac Stacy's 127-yard, two-touchdown day against Tennessee.
29. Houston (no change): If nothing else, the Texans will be fun to watch all the time Case Keenum gets the chance to sling it. He was throwing the ball like he was still playing for the Houston Cougars in the Conference USA of his record-breaking college days.
30. Minnesota (no change): If nothing else, the Vikings still have Adrian Peterson. Unfortunately, he can't play defence, too, as the team gave up 337 passing yards to Tony Romo, even more than their usual 290-yard average.
31. Tampa (no change): If nothing else, the Buccaneers made one of the NFC's super-powers sweat mightily on their own turf. Sadly, there's still no hiding that 0-8 record.
32. Jacksonville (no change): If nothing else...no, I've got nothing else, and neither have the Jaguars. But wait...they didn't actually lose this week. Does that count?