NFL Power Rankings 10: Can Dallas, Tennessee and Miami stop the rot?
Carolina move up the rankings while Dallas, Tennessee and Miami are in free fall!
Last Updated: 14/11/13 9:22am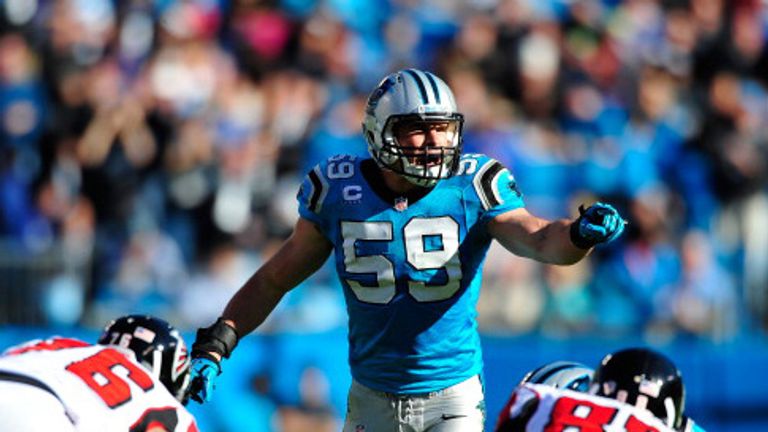 There's no movement at the top, but we're about to hit a stretch of key games for all the Elite Eight - and things could change in a hurry.
Each week Simon Veness runs the rule over all 32 teams to decide if they are Champions League material, Premier League, Championship quality or down among the Conference dead men, with 'relegation' and 'promotion' between the four divisions.
Carolina, Philadelphia and Arizona are this week's big movers, but Dallas, Tennessee and Miami all look like they have BIG problems.
Champions League - The Elite Eight
1. Kansas City (no change): It's crunch time for the Chiefs this week. After nine wins over teams that do not have a winning record, they can prove unequivocally against Denver that defence CAN still win championships - or that this ranking is a big mistake!
2. Denver (no change): OK, so they kind of strolled to victory over San Diego but their offensive line has picked a bad time to start doing an impression of a sieve with the sack machine known as Justin Hali (or is it Tamba Houston?) coming to call. The linebacking duo have chalked up 20 sacks to date - and will have a hobbled Peyton Manning firmly in their crosshairs on Sunday night.
3. Seattle (no change): Of last year's three read-option quarterback sensations - Russell Wilson, Colin Kaepernick and Robert Griffin III - only Wilson is actually improving on a stellar debut season. And so, slowly but surely, are the Seahawks.
4. New Orleans (up 1): Is Sean Payton reading this column? Last week I pointed out the Saints' one real weakness is running the ball, and this week the head coach masterminds a monster 242-yard, three-touchdown ground game in the complete annihilation of the Cowboys.
5. New England (up 1): Bill Belichick recently revealed that, at the age of 10, he caught passes from Roger Staubach (who was the Navy QB when Belichick's father was head coach). Now, if Surly Bill could just get his own wideouts to catch passes consistently, this team could be a real force, too.
6. Carolina (PROMOTED - up 3): If you haven't heard the name yet, Luke Kuechly (pronounced Keek-lee) is making all kinds of noise in the Panthers' linebacking corps. And, when you've just held the 49ers without a TD (Kuechly making 11 tackles, including two for a loss, and adding a sack), your ranking goes up huge-lee.
7. San Francisco (down 3): The team's worst passing display since 2005 will be laid squarely at Colin Kaepernick's door, and it's a fair observation. The team ranks dead last in passing (yards/game) and 27th for passing TDs (just 9), but only two players (Anquan Boldin and Vernon Davis) have topped 15 catches to date, so there's plenty of blame to go round at the moment.
8. Detroit (PROMOTED - up 3): Are the Lions really this good or are they just taking advantage of having the only healthy QB in the division? Either way, they now have a stranglehold on the NFC North and could even be odds-on to win their first play-off game since George Bush was president - the FIRST Bush.
Premier League - The Play-Off Hopefuls
9. Indianapolis (RELEGATED - down 2): If all the teams below them hadn't lost as well, this could have been a far bigger fall for the Colts. The writing was on the wall despite last week's win over Houston, and this week the whole wall came crashing down. Anyone know a good bricklayer?
10. Cincinnati (no change): After a run of 11 TDs in three games as the Bengals charged to 6-2, their quarterback has tossed 6 INTs in his last two. Time to prove if he is Dr Dalton or Mr (Andy) Hyde at home to Cleveland this week.
11. Green Bay (RELEGATED - down 3): Did I say toast? I meant (last week) that the Packers' season is burned to a crisp if they feel the need to re-sign The Quarterback No-One Wants in Matt Flynn.
12. Chicago (no change): We're still in Quarterback Armageddon territory here. Only the Bears are also running out of defensive players, with Charles Tillman the latest to be sidelined, and Josh McCown's famous Holding Act might not be enough to stop them going into freefall.
13. NY Jets (up 1): New Orleans defensive coordinator Rob Ryan more than adequately filled the Rex-less media void during the Jets' bye week. Now, can the head coach pick up the slack and stop his team's alternating boom-and-bust cycle this week against Buffalo?
14. Philadelphia (PROMOTED - up 5): OK, we're going to say the Eagles might JUST be legit, but not so much because Nick Foles has thrown 16 TDs and zero INTs this season but more because the defence is limiting opponents to less than 18 points per game in the last six.
15. Baltimore (PROMOTED - up 3): Out-gained 364 yards to 189, the defending champs didn't even win the turnover battle against Cincinnati but, as is increasingly the case, winning ugly is all that counts. And they are now hot on the Bengals' heels once again.
16. Dallas (down 3): Do you think things might have been different in Cowboyville if Jerry Jones had fired Jason Garrett and kept Rob Ryan instead? And they now have a whole bye week to think it over, with the Giants next on the agenda in Week 12.
Championship - Going Nowhere Just Yet
17. Arizona (up 5): It's not so much I think the Cardinals have suddenly discovered a winning formula (the offence still looks likely to undermine a promising 'D' at any moment), but there is no-one else pushing for promotion from the chasing pack right now.
18. Cleveland (up 2): If ever a team looked good by not playing, it was the Browns this week. If ONLY they hadn't stuck with Brandon Weeden for so long.
19. NY Giants (up 2): That whole 'winning ugly' idea is becoming the principal theme for these middle-ranking teams. But, as the Giants know only too well, just getting to the play-offs is all that counts. You can find some form when you get there.
20. Tennessee (RELEGATED - down 5): There is lax, there is careless, and then there is the Titans. If ever a team LOOKED as if they were trying to find a way to lose, it was Mike Munchak's men against Jacksonville, where five fumbles (three lost and one returned for a TD), an INT and a safety all contributed to their downfall at home to the winless Jags. Hard to see where they go from here.
21. San Diego (down 5): They restricted Denver to their lowest score of the season but their own power failure on offence - averaging just 22pts against two of the worst defences in the league - is now a major concern for Mike McCoy.
22. St Louis (PROMOTED - up 6): So THAT'S what Tavon Austin can do. I'd heard so much in pre-season about the impact the Rams' pocket rocket could have in his rookie season, I completely took my eye off his potential. And so did the Colts.
23. Pittsburgh (PROMOTED - up 4): The fact that the Steelers' defence came up with a big day against Buffalo (following their shellacking by New England) was no surprise. The fact Ben Roethlisberger was apparently looking for a move was. Especially to Ben Roethlisberger.
24. Miami (down 7): Even if they had somehow escaped the rather inept clutches of Tampa Bay, this is a team disintegrating both on and off the field. If they win again this year, it might be a surprise. Only TWO rushing yards against the Buccaneers - the lowest in the team's 728-game history - is just the START of their problems.
Conference - The Current No-Hopers
25. Oakland (RELEGATED - down 2): Terrelle Pryor, first four games of the season - QB Rating 98.5. Last four - 42. That's plenty for Dennis Allen to work on for Sunday's trip to Houston.
26. Minnesota (up 4): A battling performance by Christian Ponder was overshadowed by his late loss to injury, and the Vikings' crazy QB carousel goes spinning on. Incidentally, fully 13 of the 32 teams have now lost their starting signal caller at some stage this season - and there are still seven weeks to go.
27. Atlanta (RELEGATED - down 3): For their first four losses, the Falcons were at least competitive, losing by an average of just 5 points. For their last three it has been by an average of 20, and they have scored just 33 themselves. Re-arrange the following words to form a well-known phrase or saying - 'drawing-board,' 'the' and 'back to.'
28. Washington (down 3): Only the Jaguars have conceded more points than the Redskins (291 to 287), so at least Mike Shanahan knows which side of the drawing board to start on.
29. Buffalo (down 3): Welcome back EJ Manuel. I think. Hopefully the next defence he faces won't be playing quite so angry.
30. Houston (down 1): Case Keenum has a QB rating of 105.1 from his three games so far, all defeats, by an average of three points. They haven't had a 100-yard runner in that spell, though, so here's more drawing-board fodder for the hopeful return of Gary Kubiak.
31. Tampa (no change): The Buccaneers finally found a team who made more mistakes than they do, and it wasn't Jacksonville. But they're still digging out from a pretty deep hole.
31. Jacksonville (up 1): Hooray, the Jags won a game! Unfortunately for their ranking, so did Tampa. Better luck next week? They certainly used up plenty at Tennessee, where they were outgained 362 yards to 214, went just 3 for 12 on third down and a two-point safety proved the difference. But, as Hank Williams Jnr might say, it's a start.