NFL Power Rankings 12: Simon Veness rates the gridiron teams
The high-flying Seahawks and the Saints will lock horns with Power Rankings supremacy on the line.
By Simon Veness
Last Updated: 26/11/13 11:27am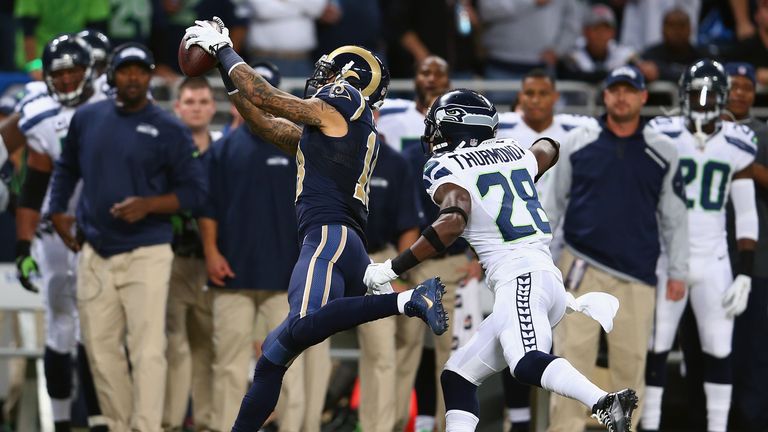 Each week Simon Veness runs the rule over all 32 teams to decide if they are Champions League material, Premier League, Championship quality or down among the Conference dead men, with 'relegation' and 'promotion' between the four divisions.
Arizona, Pittsburgh, San Diego and St Louis all made big strides - while Indianapolis, Detroit and Chicago all went sharply into reverse, and NO-ONE in the NFC North managed a win, even with Green Bay playing Minnesota!
Champions League - The Elite Eight
1. Seattle (up 1): Even on their bye week, they suffered a big loss. Cornerback Walter Thurmond - who was filling in admirably for the injured Brandon Browner - is likely to be suspended for four games, which leaves a big hole in the defensive backfield. With Drew Brees coming to town.
2. New Orleans (up 1): And he'll be bringing a few friends with him, like 9.5-sack defensive end Cameron Jordan, 140-tackle duo Curtis Lofton and Kenny Vaccaro, and the NFL's fifth-ranked defence (No. 3 against the pass). How do you spell Crunch Game? Saints at Seahawks.
3. Carolina (up 1): If the mark of a title contender is winning when not playing particularly well, the Panthers ticked that box at Miami. But, somewhere along the line, Cam Newton is going to have to win a game with his arm and his current average of 198 yards/game isn't going to cut it.
4. New England (up 2): Spotting the Broncos a 24-point lead and pulling off the overtime comeback on Silly Sunday suggests either, A) the Patriots are a turnover waiting to happen, or B) Tom Brady is bored with this whole level playing field idea. Actually, New England gave up as many turnovers in one quarter as they had in the previous three GAMES. This one just had 'fluke' game written all over it.
5. Denver (down 4): They were up 17-0 at the end of the first quarter at New England, and Peyton Manning had completed exactly THREE passes for SEVEN yards. Yes, it really was Silly Sunday, highlighted by the fact the crucial overtime play was created by Ryan Allen (Pats punter), Tony Carter (who failed to get out of the way) and Nate Ebner (who recovered the loose ball). Not exactly Manning v Brady at the death, was it?
6. San Francisco (up 2): A routine win over the league's 29th-ranked defence and a comfortable smothering of the fifth-rated offence stopped the rot of two straight defeats. And Colin Kaepernick eventually looked more like the 2012 version than the 2013 one (ranked 32nd in passing before Monday night). Now let's see how they deal with the revived Rams this Sunday.
7. Kansas City (down 2): Schizophrenia, thy name is the Chiefs. Alex Smith has his best game of the season, the offence puts up its highest score - and the defence goes AWOL. But then losing players with a combined 20 sacks is not good for your defensive health. And, if Justin Houston and Tamba Hali are sidelined for long, that shiny 9-0 record of just 9 days ago is going to tarnish fast.
8. Arizona (PROMOTED - up 5): The Cardinals have now won four in a row and Carson Palmer has eight TDs and only 2 INTs in that spell, plus a QB rating of 110. The danger sign - he has been sacked 30 times to date, and his 33-year-old body might not take too much more pounding.
Premier League - The Play-Off Hopefuls
9. Cincinnati (up 1): A great week to sit back and watch the AFC carnage unfold around them. Now, which Andy Dalton will we see against San Diego - the one who threw 17 TDs in their six wins, or the one who tossed nine INTs in the four defeats?
10. Philadelphia (up 2): While Houston's defence continues to implode, Philadelphia are looking better and better with ex-Texans linebackers DeMeco Ryans and Connor Barwin. Is this a coincidence?
11. Dallas (up 3): For most of their game against the Giants it looked like a game of "I can be worse than you," especially when two Cowboys defenders allowed Brandon Myers to catch the ball, fall to the ground, have a look round, bounce back up and stroll into the end zone. But Tony Romo showed he can still pull things together when it counts.
12. Indianapolis (RELEGATED - down 4): I've heard of cold starts, but this is ridiculous. The Colts have been outscored 93-12 in the first 30 minutes of their last four games. Is there no heating on the team coach?
13. Chicago (down 4): I know the Bears are hurting on defence, but you just allowed three players with a combined nine months' experience in the NFL to gash you for 261 yards on the ground? Really?
14. Detroit (down 3): If the Chiefs are schizophrenic, the Lions must have a multi-personality disorder. That's the only way you can explain the turnover-strewn boom-and-bust home defeat by Tampa Bay, who they outgained 390 yards to 229 but totally failed to dominate.
15. Baltimore (up 1): That harsh grinding noise out of Maryland is the sound of the Ravens' monstrous defence emerging from a long slumber and plastering the Jets all over the M&T Bank Stadium turf.
16. Pittsburgh (PROMOTED - up 3): And that equally discordant thumping from nearby Pennsylvania? Yes, that's the Steelers' 'D' ominously moving up through the gears - just in time for their traditional heavyweight, division-defining slugfest with the Ravens.
Championship - Going Nowhere Just Yet
17. Green Bay (no change): How do you spell déjà vu? M-A-T-T F-L-Y-N-N. On January 1, 2012, Flynn made his second NFL start and strafed Detroit for 480 yards and six touchdowns. Three teams and 100 years later, Flynn is back in the Packers' starter's role again and guess what? It's the Lions, again, on Thursday.
18. San Diego (up 4): Philip Rivers is quietly having the best season of his career, with a 71% completion percentage, almost seven points above his career average. And he's throwing TDs to the likes of Ladarius Green and Seyi Ajirotutu. Is this an MVP in the making?
19. Tennessee (up 2): So this is what an AFC Wild Card team looks like? They needed a last-minute drive to beat Oakland, for whom Sebastian Janikowski missed two field goals. No, I'm not a believer.
20. St Louis (up 3): Those three rookies who just ran all over the Bears? Tavon Austin, Zac Stacy and Benny Cunningham. Not exactly a three-headed monster but they had an 8.9-yard average gain and three TDs between them. Sam Bradford will be licking his lips when he returns next year.
21. NY Giants (RELEGATED - down 6): Hard to work out what the Giants did right in the defeat at home to the Cowboys. They DID put up 202 yards rushing but their third down and red zone efficiency remain woeful, they were penalised 11 times, gave up another key turnover and couldn't stop Tony Romo when it mattered.
22. Tampa (PROMOTED - up 5): In his past four games (with three Buccaneer wins), Mike Glennon has put up a 117 quarterback rating, better than any other current starting passer but Nick Foles.
23. Miami (down 3): Quick pop quiz - guess which team set an NFL record for fewest sacks allowed 25 years ago, with just eight? That's right, the Dolphins. How Ryan Tannehill must wish he was playing way back then after his 44th sack of the season against Carolina.
24. NY Jets (down 6): If the Jets defence could play both sides of the ball, they might have a chance. Sadly, they are saddled with Geno Smith and an offence that is imbibing in the Last Chance Saloon. How else do you explain their latest 'lowlight' of a snap that actually hit the man in motion - on the anniversary of Mark Sanchez's infamous butt-fumble? This is an offence that makes the Keystone Cops look organised.
Conference - The Current No-Hopers
25. Oakland (RELEGATED - down 1): As the Raiders' hopes of making progress this season recede into the distance, so does Menelik Watson's chances of making an NFL impact this year. For the first time in his brief career, he was a healthy scratch from the line-up, with coach Dennis Allen insisting: "He's behind from a fundamental standpoint." Not so good for a second-round pick.
26. Buffalo (no change): So Jon Bon Jovi fancies himself as a future Bills owner? It all makes sense, though, as the team's current outlook is Livin' On A Prayer.
27. Minnesota (up 1): Adrian 'All Day' Peterson continues to do everything he can to make the Vikings relevant, with only LeSean McCoy chalking up more rushing yardage this season. Amazingly, six teams passed on him in the 2007 Draft. Do you think Arizona might have been better off with him instead of offensive tackle Levi Brown?
28. Cleveland (down 3): Their season is now 11 games old and they have exactly ONE rushing touchdown. One. Somewhere in South America, an unknown Amazon tribe has at least two. Oh, and with Brian Hoyer and Jason Campbell both now out, their back-up QB is MarQueis Gray. Who is a tight end. And injured.
29. Atlanta (no change): Next year's Draft is likely to be rich in offensive and defensive linemen. And the Falcons can now start deciding on the best of them, as that's where their season is now officially headed.
30. Washington (no change): Robert Griffin III burst on to the NFL scene last year with a scintillating 102.4 QB rating. In the defeat at Philly it was down to 81.1; against San Francisco on Monday it plummeted to 58.7 and the offence averaged little more than half a yard per snap. There will be no play-off drama in Washington this season.
31. Jacksonville (up 1): Thirteen points can seem like 30 or more when your opponent simply can't throw the ball. And the Jaguars almost doubled their usual rushing average per game, of 61.7, with 118. On such simple things is a second win of the season achieved. With Cleveland, Houston (again) and Buffalo all next on the slate, they are poised to CRUSH last season's 2-14 record.
32. Houston (down 1): At least the Texans have some company in the first-to-worst stakes, as Atlanta have also pulled off the unenviable U-turn. But Houston are now threatening to turn their nose-dive into complete free-fall and even wideout Andre Johnson isn't sugar-coating it. "Yeah, we're the worst team right now," he said. And who am I to argue?