NFL Power Rankings 14: Simon Veness rates the gridiron teams
Simon Veness sees no reason to doubt the Seattle Seahawks despite their defeat on the road.
By Simon Veness
Last Updated: 10/12/13 9:19am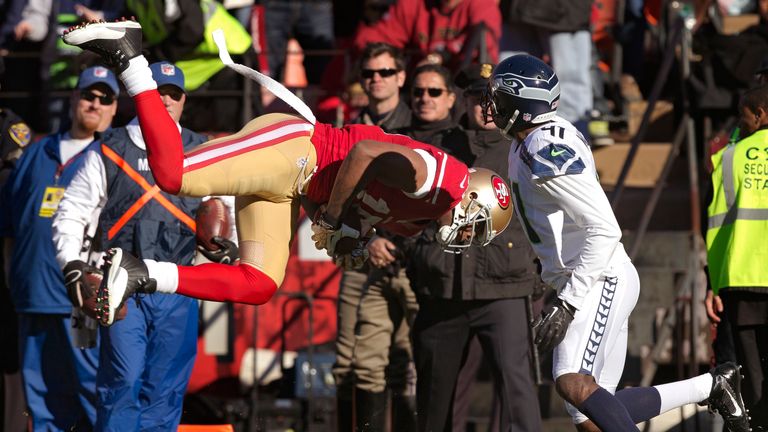 Each week Simon Veness runs the rule over all 32 teams to decide if they are Champions League material, Premier League, Championship quality or down among the Conference dead men, with 'relegation' and 'promotion' between the four divisions.
There's no change in our elite eight, but the jostling for play-off position is now getting serious. And Cincinnati, Baltimore, Arizona and Chicago are all waiting to pounce.
Champions League - The Elite Eight
1. Seattle (no change): A narrow defeat, on the road, against a desperate rival; not the stuff to make me doubt the Seahawks. And you know what - the road to XLVIII still goes through CenturyLink, where Seattle haven't lost since December 24, 2011.
2. Denver (up 2): How many more statistical blitzes would you like from the Broncos this season? How about this one - do you know how many times John Elway led them to 50 points in 233 regular season games? Zero. Peyton Manning has done it three times. This season. Kudos to Mark Kiszla of the Denver Post for that amazing gem.
3. New Orleans (up 2): "There's no place like dome" simply HAS to be the Saints' motto after that open-air mauling in Seattle and then an equally dominant performance over fellow contender Carolina back in the comforting confines of the Mercedes-Benz Superdome.
4. San Francisco (up 2): If only the 49ers could just play home games against the NFC West, they would be practically invincible. Their last defeat at the Stick against a divisional rival was on October 26, 2008.
5. Carolina (down 3): The league's No.1 scoring defence had not given up more than two TDs and 24 points in any game. Until Sunday. The Saints helped themselves to THREE TDs in the second quarter alone on the way to 34 points and a huge psychological edge for the play-offs.
6. New England (down 3): Sure they won, but Bill Belichick played his 'Get Out Of Jail Free' card in the miracle win over the Browns (the Browns - at home!), and that won't work twice, especially with Rob Gronkowski now sidelined for the year. Since The Gronk had returned to the team on October 20, the Patriots had jumped from 30th to 11th in red zone efficiency and from 22nd to seventh in points per game. Now? It's Tom Brady's worst nightmare.
7. Philadelphia (no change): Let me get this straight, the Eagles go four successive games scoring exactly NO points in the fourth quarter, then they hit Detroit with a TWENTY-EIGHT point fourth quarter avalanche (almost literally)? I could add something like 'It's snow joke' at this stage, but it would be totally unnecessary.
8. Kansas City (no change): There is no truth in the rumour that the Chiefs had more trouble in actually getting to FedEx Field in the first place than actually winning when they got there.
Premier League - The Play-Off Hopefuls
9. Cincinnati (no change): The most important stat for the Bengals in an emphatic win over Indianapolis was the big fat zero for turnovers against Andy Dalton. After nine INTs in the previous four games (and 16 this season), keeping that column clean will go a long way to post-season prosperity.
10. Baltimore (up 2): Taking a leaf out of the Eagles' book, the Ravens managed just seven points in the first 57min 55sec of the game with Minnesota, and 22 points in the final 2:05. If you wrote a Hollywood script like that, you'd get laughed out of Tinseltown.
11. Arizona (up 3): Cue one monkey being removed from the Cardinals' back, their first divisional win for almost two years. Another was Carson Palmer keeping it clean to the tune of no INTs for only the third time this season. But they are likely to have to win out to reach the play-offs - at Tennessee, Seattle and home to San Francisco. Ouch.
12. Chicago (up 3): OK, so they have lost twice to the Lions and therefore have to finish ahead of Detroit to take the NFC North but, on the evidence of Sunday and Monday, that's not just possible but downright probable. Jay Cutler? Who? Now, if they could just stop a run every now and then...
13. Detroit (down 3): Here's another stat that makes you shake your head. In the 'Snow Bowl' game in Philly, the Lions fumbled SEVEN times (and were lucky to lose only two), while the Eagles coughed up the pill, er, none. Zero. Naught. Nada. While the ball was a proverbial bar of soap on one side, it stuck like glue on the other. Redonkulous.
14. Miami (up 2): Sticking with the snow theme, the last time a Florida team went up into the icy north and came back with a must-have victory was, er, um, never?
15. Indianapolis (down 2): Guess to whom I'm referring here - 114 rushes for 326 yards at a 2.9 average and 29.6 yards per game, with a longest run of 16 yards and just two touchdowns (or one every 57 rushes). Not there yet? How about, he ranks 60th in rushing stats, behind the likes of Willis McGahee, James Starks and Mike Goodson. Still think Cleveland didn't know what they were doing when they shipped Trent Richardson to Indy? For a first-round pick!
16. Dallas (down 5): They were just the latest team to gash what passes for the Bears' run defence, to the tune of 198 yards but they weren't even in the same zip-code as a 'W.' Not when their defence made Chicago's seem like Fort Knox and Tony Romo struggled to put up 100 yards.
Championship - The Play-Off Hopeless
17. San Diego (up 2): The Rookie of the Year Award is looking set for the Chargers this season. Keenan Allen now has 61 catches for 902 yards and five TDs (which isn't bad after starting the first three games with 3, 30 and 0), good for 19th among all receivers. Pure third-round gold.
18. Tampa (up 5): There is a strong chance the Buccaneers could now finish the season 6-10 and Greg Schiano would dodge the axe that seemed inevitable at 0-8. Is that good news, Tampa fans? Many would say not.
19. Pittsburgh (down 1): Time to think about rebuilding for 2014, especially with a defence that is in danger of conceding the most points of the Mike Tomlin era.
20. Green Bay (up 2): Oh, the agony for the Packers' medical staff in wanting to get Aaron Rodgers fit for a three-game tilt at the NFC North title. But at Dallas and Chicago and home to Pittsburgh? That's a tall order even for a fully-fit quarterback firing on cylinders, not one coming in from the cold with a dodgy shoulder. Far better to take their medicine and re-tool for next year.
21. NY Giants (down 4): In the NFL, there are defeats, beatdowns and then mailing-it-in, couldn't-care-less performances that are seriously bad for a head coach's health. Guess which category the Giants' feeble 37-14 defeat at San Diego came under?
22. Tennessee (down 2): The promise of a 3-1 start now seems light-years distant for the Titans, who are staring at a second successive lost season. Mike Munchak has so far gone 11-18 and there are few signs anywhere of any improvement.
23. Jacksonville (PROMOTED - up 2): No team in the AFC currently has a better record over the past five games than the Jaguars and, while they have yet to beat a team with a winning record, Gus Bradley finally has something to work with in north-east Florida.
24. Minnesota (no change): It's tempting just to say, no Adrian Peterson, no chance. Yet the Vikings put up 23 of their 26 points at Baltimore without their unstoppable running back. But giving up three touchdowns in 125 seconds? That'll get a coach sacked.
Conference - Down Among The Dead Men
25. NY Jets (up 2): No, it's not a mirage; Geno Smith had more TDs than TOs and, lo and behold, the Jets are back in the 'W' column.
26. St Louis (down 1): The word is out - stop Zac Stacy and you stop these Rams.
27. Atlanta (down 1): While the Falcons have slumped to 10 defeats in 13 games - their worst run for six years - Matt Ryan has out-gained the opposing quarterback in nine of those outings. The Falcons defence? Not so much. They now rank 28th in the league and Mike Smith has a major job on his hands to re-build this unit.
28. Cleveland (up 2): That weird 'Whuuuu?' sound from New England at the weekend? That was the Browns, cruising to a rare victory at New England, up 26-14 with 61 seconds to play. And then 'Sunday' happened to them.
29. Buffalo (down 1): A record 881 points were scored in Week 14. The Bills managed just six. And they didn't even have the excuse of playing in the wintry blizzard that hit much of the country.
30. Oakland (down 1): Slowly but surely, the Raiders are sinking back into the position many predicted at the start of the season. Successive four-win seasons isn't going to provide job security for many.
31. Washington (no change): Mike Shanahan is poised to become the first head coach in history to bench his starting quarterback because he fears for his safety. Not exactly a ringing endorsement of any part of his offence, is it? And then there's a defence that now ranks dead last in points per game. And to think this same team had a home play-off game last season.
32. Houston (no change): Is it the ultimate curse? I predicted a Super Bowl season for the Texans back in early September, just prior to their complete and utter collapse. A bit like predicting the Titanic would break the record for the fastest transatlantic crossing. At least Houston kept their feet dry.