NFL Power Rankings 16: Simon Veness ranks the gridiron teams
Ahead of the final regular NFL weekend, Simon Veness says Arizona and Indianapolis are on the up.
By Simon Veness
Last Updated: 27/12/13 10:24am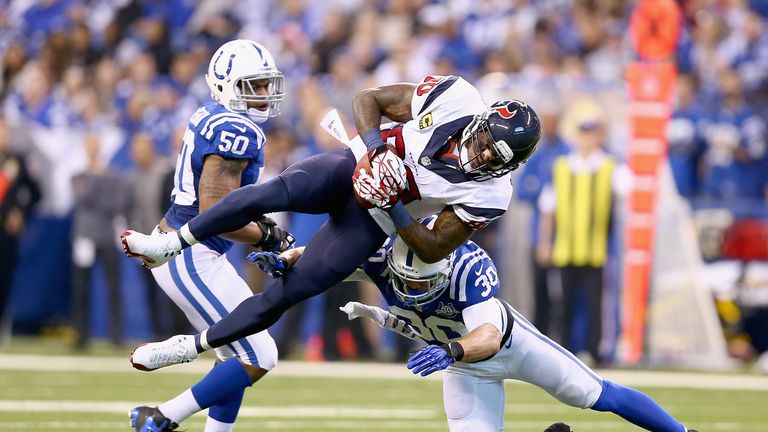 Yes, Miami, Baltimore, Chicago and Kansas City, we're looking at you (and no hiding at the back Seattle, New Orleans and Detroit).
Each week Simon Veness runs the rule over all 32 teams to decide if they are Champions League material, Premier League, Championship quality or down among the Conference dead men, with 'relegation' and 'promotion' between the four divisions.
Yet again, half of our Less Than Great Eight laid a big fat egg when the stakes were raised, leaving the door open for Cincinnati, Arizona, Indianapolis, San Diego, Pittsburgh and Philadelphia to come marching through and lay claim to the top ranks. It creates an absurd bottle-neck at the top...
Champions League - The Elite Eight
1. Seattle (no change): The cloak of CenturyLink invincibility has been unceremoniously removed by the surprising Cardinals but the Seahawks remain the team to beat. Pete Carroll just needs to make sure someone, anyone, can catch more than three passes from Russell Wilson.
2. San Francisco (no change): NaVorro Bowman bailed the 49ers out of an unthinkable home defeat against Atlanta with his 89-yard interception return. It obscured the fact only two players caught more than one pass from Colin Kaepernick, which will not be a recipe for post-season success.
3. Carolina (no change): Solid defence? Check. Unflustered offence? Check. Reliable special teams? Check. Fourth-quarter-comeback quarterback? Yup, got that one, too. Despite an astonishing 17-minute difference on time of possession, the Panthers chalked up more than a simple 'W' with Cam Newton's last-minute touchdown.
4. Denver (no change): Not content with having an NFL-record four players in double digits for touchdowns, Peyton Manning added Eric Decker to the 10-or-more party to make it a mind-boggling five. I'm pretty sure the Broncos would trade one of that quintet for a healthy Von Miller, though.
5. New England (up 2): The Pats laid a mighty 41-7 beating on their play-off nemesis to leave the Ravens' repeat hopes hanging by a thread. But the most impressive aspect of the game was a defence that helped win the time of possession battle, forced four turnovers and contributed the final 14 points of a totally deflating defeat.
6. Arizona (PROMOTED - up 6): The offence may still have the faint whiff of a turkey a month after Christmas (Carson Palmer's latest four INTs give him a whopping 21 for the season) but any team with a defence like the Cardinals is going to have a chance. Just ask Russell Wilson after his worst performance of the season.
7. Cincinnati (PROMOTED - up 3): Andy Dalton is over 4,000 yards for the season for the first time in his career, with a game to play, and the Bengals have quietly worked their way to a 7-0 home record, topping 40 points in four successive games (a team record). That's a play-off ready team - and seriously bad news for the Ravens, who must win in Paul Brown Stadium on Sunday.
8. Indianapolis (PROMOTED - up 6): The Colts have now steadied their ship after a distinct mid-season wobble. And it's (very) steady as she goes with Andrew Luck at the helm. His first two seasons to date - 45 TDs and 27 INTs and an 86 QB rating; by comparison, Peyton Manning's first two - 52-43 and 90. Not too shabby, hey?
Premier League - The Play-Off Hopefuls
9. Philadelphia (no change): A 55-14 win and no promotion? Did you SEE how bad Chicago were on Sunday night?
10. New Orleans (RELEGATED - down 5): It's not the last-minute, closer-than-a-Strictly-Come-Dancing-vote finish that drops the Saints this far but three defeats in their last four. All on the road. Scoring just 12 points a game. And their play-off future is ONLY in road terms.
11. Kansas City (RELEGATED - down 5): The Chiefs have now played four times against fellow AFC play-off contenders. And won none.
12. San Diego (up 3): The Chargers will look back at their first five games - and defeats to Houston, Oakland and Tennessee - and think: Was that really 2013?
13. Baltimore (down 2): When Justin Tucker starts missing field goals after making 33 in a row from all distances, you know it's not your day. But the Ravens couldn't even claim it was their MINUTE at any stage of that home humiliation by the Patriots.
14. Pittsburgh (PROMOTED - up 3): If the Chargers are still regretting their start to the season, what must Steeler Nation now make of their 0-4 opening? Five wins in their last seven suggests this would be a team with a post-season future, if only.
15. Chicago (RELEGATED - down 7): Who were those helmeted men who turned up at Philadelphia on Sunday night? Because it sure as heck wasn't a recognisable Bears team in any phase of the game. But the run defence really took the biscuit. A unit giving up 155 yards per game was positively denuded for 289 on the ground at The Linc.
16. Dallas (PROMOTED - up 3): But for a fourth-down, last-gasp end zone pass by Tony Romo, it would have been adios, Cowboys. Now they are facing a play-off showdown future without their last-minute hero. That's some seriously bad karma in The House That Jerry Built.
Championship - The Play-Off Hopeless
17. Green Bay (RELEGATED - down 1): The Packers are still in NFC North business at 7-7-1. They have one of the NFL's top running backs in Eddie Lacy and a last-ditch shootout at Chicago. And, if you said the Bears had trouble stopping the run you would be guilty of the understatement of the year. Guess who the Bears will have to stop to reach the post-season?
18. Miami (RELEGATED - down 5): Ryan Tannehill has now been sacked a staggering 93 times in 31 games in the pros. Even David Carr, the poster child for quarterback take-downs, was decked only 91 times in his first two seasons at Houston. Carr managed only another three seasons as a starter.
19. St Louis (up 1): Zac Stacy has quietly worked his way into elite running back territory, just 42 yards short of 1,000 in only 10 games as a starter in his debut season. Not bad for a fifth-round pick out of Vanderbilt.
20. Detroit (down 2): If the Lions had wanted to get head coach Jim Schwartz sacked, they could not have done a better job with that miserable, mistake-laden display at home to the Giants.
21. NY Jets (PROMOTED - up 4): While the Lions mailed it in for their boss, the Jets put in a sturdy shift for Rex Ryan. And, while both coaches may be gone this time next week, Ryan has certainly achieved more, with less.
22. Tennessee (up 1): Nate Washington topped 100 yards receiving three times this season, and the Titans won all three. Pretty simple to know what to do next season, hey?
23. NY Giants (up 1): Can we play the Lions every week? That could be the plaintive refrain from Tom Coughlin's men. Outgained 355 yards to 279, they also lost on time of possession but, crucially, they didn't lose the turnover battle. And that's been a rarity for these Giants this term.
24. Buffalo (PROMOTED - up 2): That ferocious pass rush - a league-leading 56 sacks - does at least give rookie head coach Doug Marrone something to build on next year.
Conference - Down Among The Dead Men
25. Minnesota (RELEGATED - down 4): Following up a 48-30 win with a 42-14 shellacking will give a head coach conniptions. And Leslie Frazier needs a bout of those like he needs another quarterback meltdown. Oh, wait....
26. Tampa (down 4): All the promise of the Buccaneers' run of four wins in five games has been frittered away with two increasingly dismal defeats. Greg Schiano will be another head coach in fear of Black Monday next week.
27. Atlanta (no change): If ever one play summed up a team's season it was the freak interception that turned a near-comeback into a 10-point defeat at San Francisco. A brave showing but ultimately another empty feeling for the Falcons.
28. Jacksonville (no change): If you can't get the 'W,' at least get your retiring centre his first career reception. The Jaguars did just that for Brad Meester after 14 years in the league.
29. Cleveland (no change): It's absolutely crystal clear where the Browns will be looking first in the off-season. Their quarterback rating of 76 is good for only 25th in the league, which, frankly, is no good at all.
30. Oakland (no change): The Raiders rank 29th in QB rating. At least it's better than their Power Ranking.
31. Washington (no change): How to tease your fans - score 17 unanswered points to be poised for a morale-boosting win over Dallas. Then allow 10 points in the final 6:09. Yet another trip to the Heartbreak Hotel for Redskins followers.
32. Houston (no change): Just 31 games ago, the Texans handed Matt Schaub a $62million contract extension. That has added up to just 14 wins and the sack for Gary Kubiak. Schaub himself probably won't be far behind.