NFL Power Rankings 17: Simon Veness ranks the gridiron teams
After the final regular NFL weekend, we look at who finished in style and who failed to impress.
By Simon Veness
Last Updated: 01/01/14 10:09am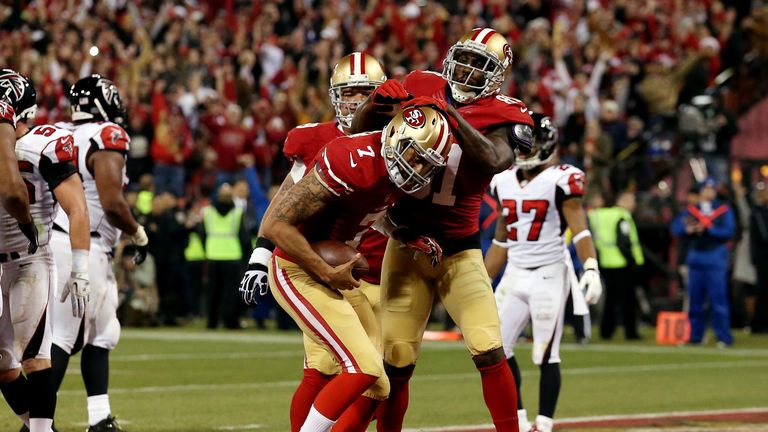 It makes the final Power Rankings of the year a real eye-opener (or closer, in the case of Pittsburgh - see below).
Each week Simon Veness runs the rule over all 32 teams to decide if they are Champions League material, Premier League, Championship quality or down among the Conference dead men, with 'relegation' and 'promotion' between the four divisions.
There were no great revelations in our elite category, but the top five certainly finished in style and there were major final-week statements from Indianapolis, Pittsburgh and even the two much-maligned New York teams. Here's what we saw...
Champions League - The Elite Eight
1. Seattle (no change): Normal service is resumed at the Den of Din, otherwise known as the Seahawks' CenturyLink Field, albeit in more muted fashion. The league's No.1 defence will be able to sharpen its fangs for the Divisional Round and visitors better bring ear-plugs.
2. San Francisco (no change): Anquan Boldin's season - 87 receptions for 1,179 yards and seven touchdowns - was his best year since 2008, with Arizona. How Baltimore could have done with some of that this season. Meanwhile, Colin Kaepernick is thanking his lucking pigskin stars.
3. Carolina (no change): Here's another defence-minded team that is pretty much set for the post-season. Do you spot a recurring theme here? That bye week could also be crucial in getting Steve Smith fit for the Divisional Round. Cam Newton appeared to miss him badly at times against Atlanta.
4. Denver (no change): OK, now it's crunch time for Peyton and Co. All those shiny regular-season records will count for absolutely nothing if the Broncos don't bring their pinball scoring machine to the play-offs.
5. New England (no change): The Pats have now enjoyed the play-off bye week an amazing EIGHT times in Bill Belichick's 14 seasons as head coach. I guess that doesn't say a lot about the competitiveness of the AFC East but the fact he can produce a LeGarrette Blount-shaped rabbit out of a hat to the tune of 189 yards suggests Surly Bill still has plenty of ability to surprise.
6. Indianapolis (up 2): The Colts have quietly moved up to ninth in the league in scoring defence, Andrew Luck has found a new favourite receiver in TY Hilton, and they are ideally suited to go toe-to-toe with Kansas City, who they now get to play at home having beaten them on the road in Week 16. Could they be play-off dark horses? (ouch!).
7. New Orleans (PROMOTED - up 3): There's absolutely no doubt the Saints can thrive in the Superdome; an 8-0 record at home says everything you need to know about the smooth operating of the Drew Brees Indoor Machine. But the questions remain over Mr. 5,000 on the road.
8. Cincinnati (down 1): Memo to Andy Dalton - throw four interceptions in the play-offs and the Bengals will be toast. There's no quarterback left in the tourney who will match him INT for INT. Of the AFC teams left, only Tom Brady and Philip Rivers with 11 INTS come close to Dalton's 20.
Premier League - The Play-Off Hopefuls
9. Philadelphia (no change): The Eagles' offence was exposed as naïve in the nerve-shredding win at Dallas that owed just about everything to their three-turnover defence. Connor Barwin, DeMeco Ryans and Mychal Kendricks all tackled like demons and Cary Williams made the key pick. They will need to rediscover their fast-paced mojo for the more serious test of New Orleans.
10. Arizona (RELEGATED - down 4): Carson Palmer became the first player to throw for 4,000 yards in a season for three different teams. Now, if he could just cut out half of those 22 INTs, this is a team with a future.
11. Green Bay (PROMOTED - up 6): You have to be kidding me. Aaron Rodgers misses seven games then comes back and throws the winning 43-yard TD in the final minute? You'd get laughed out of the Hollywood Screenwriters' Guild if you sent that in as a storyline. But the Packers now represent a really tough prospect in the knockout phase.
12. Kansas City (down 1): Rookie right tackle Eric Fisher and full back Anthony Sherman must be wondering how they upset head coach Andy Reid for Sunday's overtime defeat by San Diego. They were the only two of the 22 regulars to start the game. That's right, Reid rested TWENTY starters, effectively enjoying a bye week before the play-off trip to Indy.
13. Pittsburgh (up 1): If the season had started eight weeks ago, the Steelers would be sitting with a proud 6-2 record and contemplating a healthy post-season future. Alas, an 8-8 record tells the full story but Cincy will probably be far happier to welcome the Chargers
14. San Diego (down 1): That's some kind of voodoo that Mike McCoy has working for him in southern California. First he puts the hex on both Miami and Baltimore, then he gets Andy Reid to rest most of his team, Ryan Succop misses a gimme of a field goal - and the officials miss the obvious penalty that would have given him a second chance. Oh, and Nick Novak then boots the Chargers into the post-season at the 59th second of the 60th minute of the 11th hour. And you thought the Green Bay win was improbable!
15. Baltimore (down 2): The Ravens defence certainly did their part, intercepting Andy Dalton four times and limiting his big-play ability to basically one long TD. The offence? Not so much. The running game is still MIA and Joe Flacco's $120.6million contract is looking awfully lopsided when there are 22 entries in the INT column - fully TEN more than any of his previous five seasons.
16. Chicago (no change): Arguably the biggest losers as they had everything in front of them on Sunday - home game, settled team, just one win away from topping the wacky NFC North. Should be pretty switched on, hey? Then how in the name of Hades does the defence allow Jarrett Boykin to casually pick up a fumble and stroll into the end zone for six? One to ponder for months, Bears fans.
Championship - The Play-Off Hopeless
17. NY Jets (up 4): In Rex they trust. Ryan will be back for a sixth year in 2014 despite a third straight 'Miss' in the play-off stakes and a milquetoast 42-38 record. They finished strong enough at 3-1, but is owner Woody Johnson really blind to that crucial 2-5 middle section of the season when Geno Smith played more like Mel Smith?
18. Dallas (RELEGATED - down 2): The Cowboys' much-maligned defence stood firm for much of the game at home to Philly but their offence shot them in the foot with three turnovers that ultimately proved the difference. Of course, Tony Romo would have won the game, wouldn't he? Let the debates begin!
19. Tennessee (up 3): So where was THAT Chris Johnson all season when my Fantasy League team needed him?! It doesn't look like he will be back in Titans colours for another go after just two 100-yard games this year, though, and the jury is still out on head coach Mike Munchak.
20. NY Giants (up 3): It's not quite true that there were more points on the scoreboard than spectators in MetLife Stadium by the end of their win over Washington but the lack of interest in this game during incessant second-half rain drew most of the headlines.
21. Miami (down 3): I watched the Dolphins' game at home to the Jets with total bemusement. Was this a team bidding for a 'Win And We're In' post-season future or a bunch of stiffs playing out the string? It's up to Joe Philbin to figure it out as it baffles me - just seven points in two games when one win would have been enough? I honestly don't know how you revitalise such an inert offence.
22. St Louis (down 3): Several Rams players seemed keen to end the season before the final seconds ticked away, as there were four personal foul penalties in the space of TWO third quarter plays. Sure enough, Kendall Langford got ejected and was able to start his off-season a little early.
23. Minnesota (PROMOTED - up 2): OK, so it was only the sad-sack Lions, but the Vikings' fifth win of the season may well have confirmed Cordarrelle Patterson as a major all-purpose threat in the future. Sadly, it won't be a future with Leslie Frazier as head coach as his 21-33-1 record was immediately deemed sack-worthy.
24. Detroit (down 4): Talking of sack-worthy, here is Jim Schwartz and a team that lost six of their last seven - all of them when holding the lead at some stage in the fourth quarter - from a position of complete NFC North supremacy. There is undoubted talent here for the next man in, though.
Conference - Down Among The Dead Men
25. Atlanta (up 2): There was no sense of the Falcons just making up the numbers at home to Carolina - they played the Panthers as tough as anyone has all season. And you have to think this season was a one-off aberration for Mike Smith that can be readily rectified next time out.
26. Buffalo (RELEGATED - down 2): The NFL's sack leaders were held to just one miserly QB take-down at New England as the Patriots ran all over them. Just one more thing to put in the 'To Do' column for the team with the longest current play-off drought in the league - 14 years, and counting.
27. Tampa (down 1): Holy Clearouts, Batman - the head coach AND general manager gone? That was a heavy 1-5 finish to the season, then. Yet this is a team loaded with talent and the new regime should find plenty to work with.
28. Jacksonville (no change): Ranking 30th in the league for passer rating and average pass completion and 32nd for points per game, it doesn't need Mystic Meg to divine where the Jaguars' top priority for the off-season lies. It starts with 'quarter' and ends with 'back.'
29. Cleveland (no change): Does it seem harsh to fire Rob Chudzinski after just one season? Consider that their last win was back on November 3, their only victory against a winning team was at home to Cincinnati in September and, along the way, they managed to lose to the Jaguars, Jets and no-defence Bears.
30. Oakland (no change): The Raiders will be glad to see the back of Peyton Manning for at least another nine months. He torched them for seven TDs in two games - with only EIGHT incompletions. Think about that - almost as many touchdowns as passes that weren't caught. Time to look again at the secondary, perhaps (if only Oakland had that few problems!).
31. Washington (no change): And so the Mike Shanahan era ends with a mind-numbing run of eight straight defeats, only three of them against play-off bound opponents. And that's not to mention the circus surrounding Robert Griffin III, which I just did, so I'll just add it was of the three-ring variety.
32. Houston (no change): A run of 14 straight defeats is hard to come by in the NFL. Only five previous teams had managed it, with Detroit (0-16 in 2008) and Tampa Bay (0-14 in 1976) leading the way. But none had managed to hit the 14-game skid after a 2-0 start. So, some achievement for the Texans after all, then...?