NFL Power Rankings Post-season: Simon Veness ranks the gridiron teams
Simon Veness casts a final eye over how all 32 teams would rank following the post-season.
By Simon Veness
Last Updated: 06/02/14 10:00am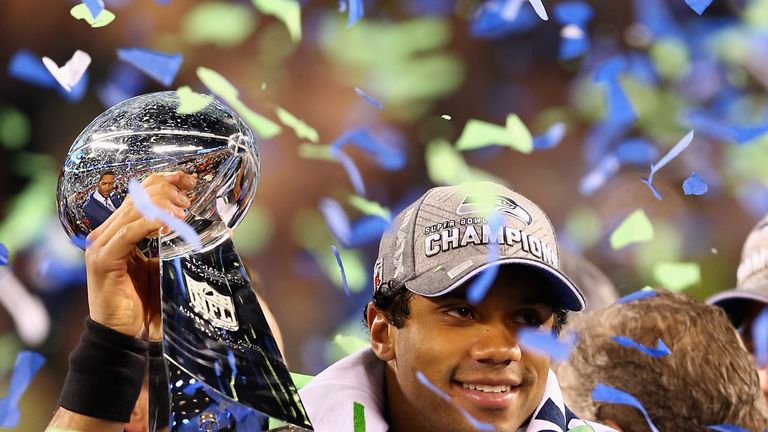 That's the only explanation for how Super Bowl XLVIII could be played in idyllic February conditions in New York, either side of weather systems that would have taken the dangly bits off a brass monkey and/or buried a herd of thundering elk.
The game itself was the perfect end-piece to an amazing and wildly unpredictable season, capping off a week in the Big Apple that started in minus-10, reached the dizzy heights of 12C on game day, and then plunged us into a blizzard as we tried to leave on Monday. Roger Goodell - who DO you know 'upstairs?'
Anyway, all that frivolity aside, I thought it worthwhile to make a final judgment on each team in our unique Power Rankings style, allowing for 'promotion' and 'relegation' between the four main levels, and looking ahead (a little) at who will be on the rise next season. And, no surprises, the NFC is sitting pretty.
Champions League - The Elite Eight
1. Seattle (no change): Can there be ANY doubt who the best team was this term? I mean, seriously - they just monstered the highest-scoring offence of all time and made it look like men against boys, even if Russell Wilson (how did he NOT get the MVP award with a 121 quarterback rating?) still looked the youngest person out there.
2. San Francisco (no change): You know the best thing about next season? We will get at least two more games between the 49ers and Seahawks. And I'm already betting there will be a third, too.
3. Carolina (no change): You can see the trend here, can't you? There is just no substitute - even in today's pass-happy, air-it-out NFL - for a solid, hard-hitting 'D.' And the Panthers will have another season of maturity in Cam Newton's locker, too.
4. New Orleans (up 3): I'm going out on a longish limb and saying that the NFC currently have FOUR teams that would knock off the best the AFC can put up. Suddenly, the Saints' 23-15 play-off defeat at Seattle's Den of Din doesn't look so shabby, hey?
5. Denver (down 1): There's no real dispute over the best team in the AFC; the play-offs spoke loud and clear. But mixing it up with the NFC right now? These Broncos need to get a LOT sturdier before they are ready to take on any of the above.
6. New England (down 1): Here's where I'm starting to look ahead. Next season, the Patriots should have a fully fit Rob Gronkowski and Tom Brady will have a clutch player to throw to once again. Mind you, they will also need to work on that defence that went completely MIA in Denver.
7. Indianapolis (down 1): Arguably the team with the biggest upside (at least, AFC-wise) in 2014 should be the Colts. With Reggie Wayne and Dwayne Allen back, this could be a truly formidable offence, and the defence is definitely capable of more.
8. Green Bay (PROMOTED - up 3): While Peyton Manning is busy turning scoreboards into pinball tables, the best all-round quarterback in the league, in my mind, still resides in Wisconsin. And, if he can stay healthy for all 16 games, the top four had better watch out.
Premier League - The Play-Off Hopefuls
9. Philadelphia (no change): If there is one thing we now know for sure about the great Chip Kelly Experiment, it is that it DOES have an NFL future. And, given another pre-season to hone his fast-paced machine, the Eagles could be the team no-one wants to play, especially in the post-season.
10. Arizona (no change): Their 10-6 record, with a desperately close last-week defeat to San Francisco, would have seen them romp to the NFC North title and probably take the East as well. And the fact is they went 1-1 against the Seahawks. But, sadly, they will still be in the NFC West next term.
11. San Diego (up 3): They may have struggled to repeat their regular season win at Denver in the play-offs, but, give him a fully fit Ryan Matthews, and Mike McCoy will march a fair bit further next time out.
12. Kansas City (no change): How in the name of Hades does one of the regular season's best defences give up 45 points after being handed a 38-10 lead? Seriously, I'd like to know. Yes, we'd seen the old Houston Oilers blow up in more amazing fashion against Buffalo in 1993 (from 35-3 down), but the Chiefs' collapse was more stunning for the quality on the defensive side of the ball. Methinks this will tax a LOT of the off-season for Andy Reid and Co.
13. Pittsburgh (no change): After finishing the season 6-2, the Steelers will be thinking they just need to START next season as if they're not sleep-walking. But hold on - they have some serious re-building to do with an ageing defence while the arrival of Mike Munchak as offensive line coach may not be a moment too soon either.
14. Cincinnati (RELEGATED - down 6): No team did themselves more damage with one post-season defeat than the Bengals. In one fell swoop they are left questioning their defence, their quarterback (who finished the season with 26 turnovers, including 22 INTs) and their coaching. Sleep well, Cincinnati.
15. NY Giants (PROMOTED - up 5): OK, I'm taking a bit of a flyer here, but I'm betting there is no way the Giants are this bad again in 2014. Eli Manning will once again play like a Super Bowl MVP and not like an MIT (Most Interceptions Thrown), and Victor Cruz will dance his way back into the spotlight.
16. Baltimore (down 1): Huge, huge year coming up for Joe Flacco. That $120.6million contract will be thrown around like a bag of confetti if he doesn't start strong. Getting him a reliable wide receiver in the off-season (and getting tight end Dennis Pitta fully fit) will be key.
Championship - The Play-Off Hopeless
17. Chicago (RELEGATED - down 1): Missing out on the play-offs with everything at stake may haunt the Bears for some time to come. And Jay Cutler (QB rating 89.2) had better start the season strong or all those calls for Josh McCown (QB rating 109.0) to keep his place are going to seem awfully prescient.
18. NY Jets (down 1): Another year of Rex Ryan is definitely something to rejoice about here in media-land. Nothing is ever dull with 'Sexy Rexy' and New York could need him with none of their teams looking like contenders right now.
19. St Louis (up 3): Whether there is a move to Los Angeles afoot (or even a-toe), the Rams could rebound as a significant force in 2014 if Sam Bradford returns fitter and smarter than the 2013 version, as the rest of the team showed it could hold its own at times in the toughest of divisions.
20. Detroit (up 4): Jim Caldwell has got to fancy his chances of turning the error-prone Lions around next time out. This is a team stacked with talent, and if there is one thing Caldwell knows, it is decent quarterback play. Matt Stafford, prepare to start learning all over again.
21. Atlanta (PROMOTED - up 4): This is another team just itching for the chance to rebound and show its 2013 form was an aberration. Some defensive reinforcements are definitely necessary - and a replacement for the old faithful of Tony Gonzalez - but there's no way the Falcons should fly so low next time out.
22. Tampa (PROMOTED - up 5): Possibly more than any other team, the Buccaneers have reason to hope that a new head coach - the redoubtable Lovie Smith - could make a lot of difference to a miserable 4-12 team.
23. Dallas (down 5): A dysfunctional 2013 campaign that struggled to an 8-8 finish and a third straight play-off-less season already looks set to be even worse with the so-called 'house-clearing' under Jerry Jones that fails to deal with the central problem - Jerry is still calling the shots.
24. Miami (down 3): This team pulled together remarkably well in the wake of the Richie Incognito-Jonathan Martin scandal, but it now has to decide if it can pull itself back up in the off-season with SO much work to be done on the offensive side of the ball.
Conference - Down Among The Dead Men
25. Tennessee (RELEGATED - down 6): Ken Whisenhunt turned down the Lions to land the head-coaching gig in Nashville. And, while Detroit may seem a lot bleaker in urban terms, the talent level in Titans-land may well be bleaker, too.
26. Washington (up 5): Just because, they CAN'T be any worse. Can they?
27. Minnesota (RELEGATED - down 5): Mike Zimmer has been head-coaching material for at least the past five years according to those in the know. Now we will see if he can pick up this patchwork-quilt of a team and turn it into something serviceable. It could take several years of serious sewing, though.
28. Buffalo (down 2): Much hinges on keeping EJ Manuel (pictured, above) healthy and in full learning mode for his second year in the NFL. If he can avoid the mistakes of 2013 - like an 11-9 touchdown to interception ratio and a feeble 58.8 pass completion percentage - this team could well rebound much higher. For now, it's still 'here's hoping.'
29. Houston (up 3): Predicting modest progress for the Texans in 2014 is no great mind-bending feat. Trying to predict who their quarterback will be - with the first pick in the draft - certainly is.
30. Jacksonville (down 2): Quick - name me five Jaguars players! Not so easy, is it. And Gus Bradley has had a whole year to try to figure out where to go with a team that has zero building blocks. The LEGO store might be good for starters.
31. Oakland (down 1): First, the good news - Menelik Watson ought to be fit for next season. Now, the bad news - they can't draft another 52 players.
32. Cleveland (down 3): Considering no other coach fancied the top job in Cleveland, Mike Pettine is not exactly inheriting a golden opportunity. Poisoned chalice might be more like it. This team finished 28th in scoring, 26th in turnover ratio, 27th in rushing and, more importantly, dead last in a not-very-competitive NFC North. Rob Chudzinski may well feel the owners have done him a favour cutting him loose after just a year.