NFL Fantasy Football continues to take the NFL by storm as consumption rises
By Simon Veness
Last Updated: 04/09/14 10:31am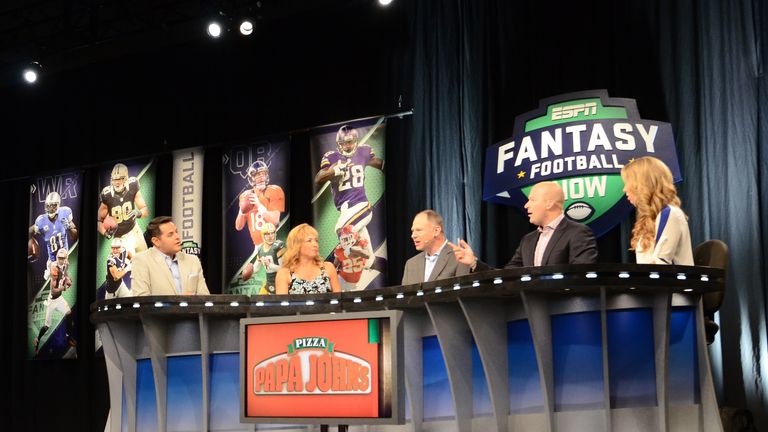 The line between reality and fantasy is often blurred. You only have to watch Big Brother to realise it is far more pie-in-the-sky (or pie in your face) than anything to do with 'reality TV'.
Seeing grown women dressing up as Disney princesses in the theme parks here in Orlando also makes you wonder if there has been a reality by-pass installed somewhere in the current time-space continuum (call in Peter Capaldi – we need a time travel expert!).
But it is also increasingly the case in the ever-widening world of the NFL, where Fantasy Football is gaining more of a grip, with more people in more places than actual fans of the game itself.
Let me explain. The average attendance at games in the past four years has remained pretty flat at a shade in excess of 17 million, which represents about 79 per cent of total capacity. That seems pretty good, until you learn the league peaked at around 22 million ticket sales in 2007.
In 2008, only five teams played to stadiums less than 95 per cent full. In 2013, that number doubled, at a time when TV ratings are at their best since 2006.
And, while you can blame the recession to a certain extent, along with price rises in many places (and, let's be honest, who wants to pay $12 for a beer at a game when you can buy them at a supermarket for $2 AND get a better view of the game on telly?), there is another factor involved in this equation.
Attention
At the risk of going all Wall Street on you, the "consumption" of NFL on the various media streams, including the TV, radio and online, has never been higher. It is wall-to-wall on ESPN, Fox Sports, NBC and others; it is the No.1 product for many advertisers to be associated with; and it is the biggest sales tool for many satellite, cable and phone providers (as you can now watch games on every mobile device known to man, and probably your cooker, too).
So, more people are paying attention to the game than ever before, but they are not necessarily attending games and they are not necessarily buying more merchandise, either. What they ARE doing is playing Fantasy Football, in all its increasing varieties, and finding an increasing number of ways to do so.
Witness last weekend's first annual Fantasy Football Convention here in Orlando, which was held inside Walt Disney World. Hardly a bastion of football fever in its family-going appeal, the House of Mouse was nevertheless an excellent choice, and here's why.
It attracted almost 500 conventioneers (it would have had more but they capped the attendance, quite deliberately, at 500) and the age range varied from eight to 70-plus. It included many women and it included families as well as die-hard fantasy followers. The mix of people was quite startling.
We heard from two young 20-somethings from Mexico City who were here on a fantasy trip of a lifetime, and Joe from Gainesville, who's wife Sheena lost in the final of her fantasy league last season – to Joe's 84-year-old grandmother!
And the ESPN Fantasy Football Now team were out in force, from long-time fantasy guru Matthew Berry to recent recruit Stephania Bell, who now provides regular insight into the world of football injuries, just so fantasy devotees can agonise that bit more over whether to choose Jamaal Charles or Adrian Peterson in the first round of their draft.
Throughout the two-day event, the crew were highly conspicuous by their willingness to mix and mingle; talk fantasy football and sign autographs; pass on insight or just high-five each member of the tables undertaking their team-building in the afternoon Live Draft session.
There was a tailgate party and a live morning presentation of the Fantasy Football Now programme; a character breakfast with Mickey and Co (naturally) as well as a lunch with the ESPN gang; and there was an extensive Q&A session with the pundits in addition to the chance to pick their brains individually as they walked the floor at the Live Draft.
In short, it was Fantasy Football heaven for all those who signed up, and the registration fee (a whopping $349, or 'only' $249 if you lived in Florida) was barely an afterthought for most people by the end of the second day.
"It was everything I hoped for," said the guys from Gainesville. "Worth every cent," insisted the family from Jacksonville. And "We'll be back – with friends!" according to the Mexico City duo.
Value for money
Indeed, it was hard to see how the punters didn't get value for money in the final analysis. It was certainly as family-friendly as you would expect from a Disney event; the food and peripherals were all good quality (notably all the Live Draft paraphernalia, which provided colour-coded stickers and an actual draft board, to give it an element of the real thing); and the venue is absolutely tailor-made for large-scale fan events that get the guests up close with the 'talent.'
In this case, in addition to hot fantasy items Berry and Bell, the talent included former Washington and Denver star Mark Schlereth, now a major TV analyst; presenters Trey Wingo, Sara Walsh and Robert Flores; former Giants, Redskins and Eagles quarterback Tim Hasselbeck, another player-turned-commentator; and NFL writer and analyst Chris Mortensen, arguably one of the most insightful pundits on any of the channels.
All of them were happy to wander and chat, provide key advice or just stop for a photo opportunity. It was all genuinely relaxed and involving, while the TV broadcast and ensuing Q&A session added the feeling of being right in on the 'live' action, which is exactly what organiser Robyn Remick – ESPN's vice president of business development and content – had hoped for.
Together with senior coordinating producer Seth Markman, they created an event that ticked all the boxes for those who attended, and probably gave the NFL and other football-related entities considerable food for thought.
It's a truly original situation – a sport in danger of being swamped by its offspring – but the popularity of fantasy football shows no sign of slowing down, and the growth of events like the convention indicates there is more to come, too.
So, if you are a big NFL fan but you haven't yet signed up for a fantasy league of some kind, you're probably in the minority and safe from the addiction it generates (just ask my two new friends from Mexico, Jorge and Jose!).
But if you have already signed up for a league this season, beware. There is much more info (and advice, and insight, and tips, and confusion!) out there than you ever thought possible, and it is growing seemingly by the minute. And if you thought it was tough just playing the game, spare a thought for those of us with the full fantasy addiction – it's WAY more serious than that.
Check out our NFL coverage - including NFL Total Access - at www.skysports.com/nfl