Alex Ferguson blogs on Penn State's recovery from the scandal
The spirit of Penn State is alive and kicking as the university recovers from its scandal, says Alex.
Last Updated: 24/09/13 9:43pm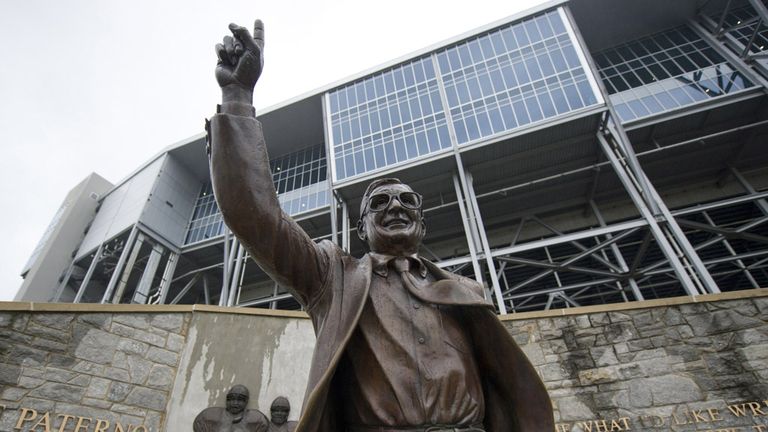 Well, Sky Sports blogger Alex Ferguson returns for his first time at Beaver Stadium for six years (and before the scandal unfolded).
Whenever I go back to The Pennsylvania State University, I always carry with me a bunch of memories.
Whether it's memories of the 100,000 'White Out' crowd when Ohio State came to town in 2005. We drank all day, saw Penn State win in front of one of the loudest crowds college football has ever seen, and celebrated long into the night.
Or my first game with half that kind of crowd against Indiana in 2003, in which the Nittany Lions won 52-7 and I was convinced Zach Mills was a great quarterback (he wasn't). The memory is less about the game and more about the Indiana cheerleaders, who kept on being happy despite the schellacking their team was getting.
Or the time when Lamar Woodley - then of Michigan - owned Penn State's offensive line in 2006. I've never seen a defensive performance like it - and that's including seeing Jadeveon Clowney.
Or the millions of jokes (most of them unprintable), shots and laughter generated in one of Penn State's many bars, including our favourite - Café 210, which has a great porch in which to drink on and watch the world go by. We did that a lot on the Friday before Gameday in the past...
And State College resident, Penn State fan and all-round good guy Sean Fitz and I did it again for hours on the Friday before the visit of Eastern Michigan on Saturday afternoon.
As the fanbase came through - most of them there because not only did the hotels in the area demand two night minimum stays (at exorbitant prices), but it was also an excuse to drink an adult beverage or two and think: "Wow, to think I did this for four years here." We think about friends of ours who are spread all over America, and we meet some of his fellow journalists (Fitz runs a recruiting website, Lions24-7, which concentrates on the Blue & White) at another bar on Beaver Avenue, who talk about everything from dating websites to reasons why we don't like different coaches at other schools.
I get the chance to relive the 2005 loss to Michigan (again), when the refs gave Michigan two extra seconds at the end of a game which ended up with Mario Manningham clutching a last-second TD, and Penn State losing a chance at the National Championship. Gosh, I'm still bitter about it, I think.
"We Are.....Penn State"
As Saturday dawns, we are happy that it's going to be a beautiful day. The sun is shining, and if Football Jesus is good to us, Penn State will win and start the season 2-0.
But for me, it was going to be particularly difficult, because it was the first time I'd been back since the firing (and subsequent death) of long-time Penn State coach Joe Paterno.
For me, Penn State was the reason why I love going to Beaver Stadium and is the biggest reason why you could say I am a supporter. After all, I'm not from Pennsylvania, and my parents didn't go to the school. Heck, most of my extended family either went to Harvard or schools in the South. But for some reason, I feel in love with Penn State Football.
I still remember going to the Stadium and seeing the statue that had been erected to Paterno for the first time. It wasn't an amazing size. 'It's suitably humble', said one fan as I remarked on it back in 2003. And on all the evidence of how Paterno behaved back then, I'd have to agree.
"They asked me what I'd like written about me when I'm gone. I hope they write I've made Penn State a better place, not just that I was a good football coach." - Joe Paterno (quote by his statue) ... "I should have done more" Joe Paterno ... "Paterno", Joe Posnanski.
Controversy
And then the hurricane hit in 2011. You know, the Jerry Sandusky Hurricane in which news broke that Jerry Sandusky, the long-time Penn State assistant - had molested a number of children as part of a kids' charity. There were allegations of a cover-up that cost the university president, the head of sports, and 'JoePa' his job.
No-one actually knows how much Joe Paterno did when the actions of Sandusky were reported to him, but Paterno said over and over again in an interview in 2011: "I wish I had done more". There's no doubting the most powerful person on the campus at Penn State was not the president - it was Paterno. Through his coaching of the university, he helped to build Penn State into the gargantuan university that it is. It started as a small university in a farming town in the middle of the (very pretty) Pennsylvania nowhere.
Walking around Beaver Stadium on matchday, there's no Joe Paterno statue. That was removed in 2012. There's no real evidence that he coached within the stadium, either.
You see, Penn State's taking its medicine from the NCAA, college football's ruling body, which not only banned Penn State from going to a bowl game for the next four years, but also cutting the amount of scholarships (ie vastly reducing a team's depth) by 40 over the next four years, which impacts recruiting. Not only that, but the NCAA hammered Penn State with a $40m fine, and ensured that Joe Paterno's 1998 to 2011 legacy was wiped out.
Anyway, while the medicine's being taken - and by all accounts, the school's taking all of it really well, although there is a feeling that Penn State should appeal the NCAA's measures, since the actions by Sandusky were criminal and nothing to do with the program itself... (in other words the NCAA is simply punishing the future of Penn State), it hurts.
In other words, because there's no bowl game, the Nittany Lions really are playing for pride.
"I'm trying to protect what I keep inside, All the reasons why I live my life" - Tracy Chapman "Crossroads"
"This is the best student section in college football!" - Kirk Herbstreit, College Gameday Penn State vs Ohio State, 2005.
But you know what? Tell that to the Penn State student section, which filled out mid-way through the first quarter, despite this being an opponent that's certainly not 'big' by the stretch of anyone's imagination. Tell that to the students who camped out overnight for the best spots at 'Paternoville', and still live off being called the best student section in college football in 2005 by the Gods of College Gameday.
Tell that to the 90-odd thousand people who attended, still wearing the blue and white on their sleeve. Tell that to the millions of others who live Penn State football all the year round, who join in the crowd and it's throaty roar of 'We Are!' and 'Penn State'. Because that means something still, because why should they let a man like Sandusky get the upper hand?
Oh, and tell that to Penn State quarterback Christian Hackenberg, who could have gone to any school in the country, but chose to play for Penn State...because that's where he committed to playing. Tell that to tight end Adam Breneman, who committed with Hackenberg, who also could have gone to any school in the country. Tell that to wide receiver Allen Robinson, the best-kept secret in college football who's got Superglue in his gloves.
And most of all, tell that to Penn State coach Bill O'Brien, who was a former assistant of one Bill Belichick at New England, who has reignited the program in terms of its passing and its offensive excitement. "It's a lot more exciting watching Penn State football now," Penn State fan Bill Daiber tells me as we exchange a beverage the day after. You're right Bill, it is. O'Brien's good for a quote, too.
As for the game itself, Penn State played badly in the violent chess game early on, before kicking into shape and winning out 52-7. Allen Robinson pulled off a catch that reinforced my 'Superglue' remark. Christian Hackenberg proved why he's the best first-year quarterback in college football. And Beaver Stadium proved that despite the fact it's not the same without Joe Paterno, it's still the same.
After the story was published, the NCAA announced that they were reducing their scholarship reduction fine on Penn State. The Nittany Lions should have a full team by 2016-7. The NCAA also said that it was considering reducing PSU's bowl ban as well.