NFL: Johnny Manziel shows signs of improvement in Cleveland Browns defeat
Last Updated: 24/08/14 10:23am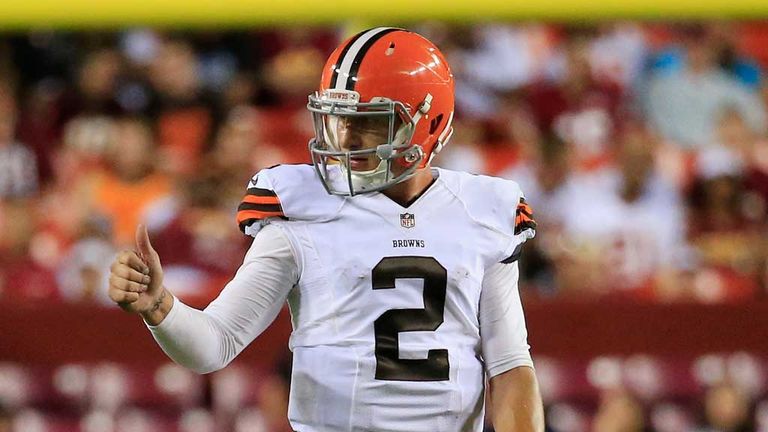 Johnny Manziel did his hopes of eventually supplanting Brian Hoyer as Cleveland Browns quarterback no harm in their pre-season defeat by the St Louis Rams.
Manziel has struggled in his exhibition outings so far, and Browns coach Mike Pettine tabbed Hoyer as his starter in midweek, giving the veteran the ball first again on Saturday when his team fell to a 33-14 defeat against the Rams.
Hoyer completed 10-of-16 passes for 84 yards, threw a touchdown to Andrew Hawkins and was intercepted before handing over to Manziel.
The Texas A&M college star rushed for a seven-yard score and also completed 10 passes, showing much better efficiency than in his previous outings.
But he was sacked a couple of times, one of them coming from Rams defensive end Michael Sam, who is bidding to become the first openly-gay player to take part in an NFL regular season game by making the St Louis roster.
The Rams also suffered a scare when quarterback Sam Bradford was hurt after being hit by Browns lineman Armonty Bryan in the first quarter - coach Jeff Fisher is hopeful the injury to his surgically repaired knee is nothing more than a hyperextension.
Austin Davis replaced Bradford and threw touchdown passes to Brian Quick and Chirs Givens, the latter from 75 yards as they eased to victory.
Peyton Manning impressed for the Denver Broncos but they suffered a late hiccup and went down to an 18-17 defeat by the Houston Texans.
Manning connected with free agent signing Emmanuel Sanders for touchdowns of 67 and 29 yards but a Tom Savage pass to Ryan Griffin with 59 seconds left and a successful two-point conversion gave the Texans victory.
Rookie quarterback Teddy Bridgewater threw two touchdowns passes to Allen Reisner as the Minnesota Vikings eased to a 30-12 win over the Kansas City Chiefs.
Drew Brees was also impressive on a big night for quarterbacks, throwing touchdown passes to Austin Johnson and Marques Colston in the New Orleans Saints' 23-17 win over the Indianapolis Colts.
And Knowshon Moreno made an impact on his Miami Dolphins debut, rushing for 64 yards on 10 carries as they saw off the Dallas Cowboys 25-20.
Julio Jones showed his injury troubles from last season are behind him with a 52-yard touchdown reception from Matt Ryan as the Atlanta Falcons went down 24-17 to the Tennessee Titans.
Joe Flacco impressed for the Baltimore Ravens, completing 16-of-23 passes for 180 yards and a touchdown in their 23-17 win over the Washington Redskins and two touchdown passes from off-season addition Josh McCown helped the Tampa Bay Buccaneers to a 27-14 win over the Buffalo Bills.