Great Britain win gold as Usain Bolt pulls up in home straight
By Mark Crellin
Last Updated: 13/08/17 2:54pm
Great Britain won a thrilling gold in a dramatic 4x100m relay at the World Championships in London.
But there was a sad end to the sprinting career of the great Usain Bolt, who pulled up injured on the anchor leg for Jamaica.
Bolt received the baton with Jamaica in third but, halfway down the straight, the all-time great started clutching his left thigh, eventually falling to the ground.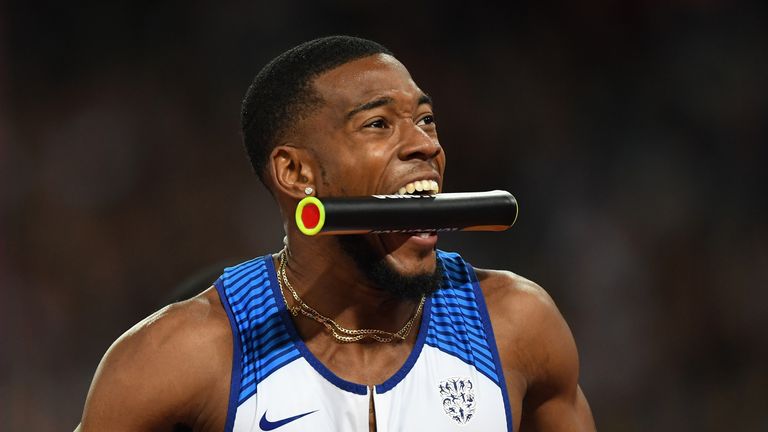 Even had he not been injured, Bolt would have been hard-pressed to catch Great Britain's Nethaneel Mitchell-Blake, who held off 100m silver medallist Christian Coleman of the USA to claim a famous gold for the host nation.
The British quartet of Chijindu Ujah, Adam Gemili, Daniel Talbot and Mitchell-Blake scorched round the track in 37.47 seconds, a new national and European record.
The Justin Gatlin-led US team took silver, 0.05secs behind, while Japan claimed a surprise bronze (38.04).
The win capped a fantastic night for Great Britain in the sprint relays, the women's quartet of Asha Philip, Desiree Henry, Dina Asher-Smith and Daryll Neita having claimed silver behind an impressive American team a few minutes earlier.
But the championships will be remembered for an anti-climactic end to the career of Bolt, a 19-time global champion who is arguably the greatest sprinter the world has ever seen.
The 30-year-old could only manage bronze behind Gatlin and Coleman in the 100m and, having fallen to the ground in the relay, his team-mates gathered round him, before Bolt was helped to his feet and limped over the line, applauding the crowd as he did so.
The British team were celebrating gold by then following a flawless performance which was started by Ujah, who was fast out of the blocks to secure an early lead.
Gemili and Talbot also ran superb legs, meaning Mitchell-Blake had a narrow lead to defend and he did so superbly, sealing the victory with a memorable dip for the line.
Talbot told Sky Sports: "The way the championships have been going we've been so close to so many medals and, in the past, the relay team, we have had a lot of stick and a lot of people saying 'why are we funding these guys, they're not winning medals?'
"And, to be honest, it just felt right as we put in so much hard work, and it was in London, and everything was feeling right, we just felt we could do it and everything just felt right and I really believed we could win it tonight."
The Jamaica team doctor later explained that Bolt had to pull up due to cramp in his hamstring.
Dr Kevin Jones said: "It's cramp in his left hamstring but a lot of pain is from the disappointment of losing the race.
"The last three weeks have been hard for him, you know. We hope for the best for him."