Joe English discusses impact of Sky Scholarship on 800m runner and son Mark
By Mark Ashenden
Last Updated: 15/09/17 8:52pm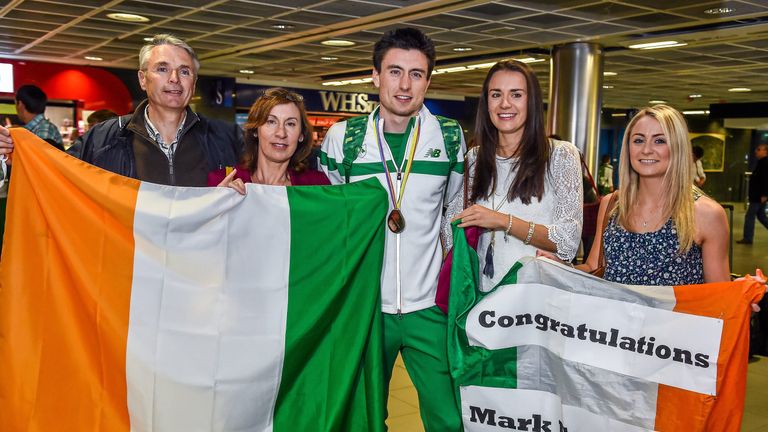 Every weekend, thousands of parents are screaming from the touchline, in the stands, or at the side of a pool, urging their kids to be winners. You know the ones!
Even Joe English, father to Irish 800m runner Mark and a calm maths teacher, admits to having embarrassed his family by bawling at his son to kick on in the final strides of a race.
He prefers to stay cool these days having gone through all the emotions of seeing his son on a European Championship podium, overcome a broken foot to make an Olympics, and go through a crazy schedule training to be a doctor.
Being a dad to a professional athlete, as well as two daughters, has not always been a smooth ride but he has learnt there is more to his son's career than a cupboard full of medals thanks to the input of Sky.
Mark, 24 and from Donegal, recently completed his Sky Sports Scholarship after two-and-a-half years of financial backing, mentoring from Darren Campbell, media training and plenty of other professional support.
Joe, a lecturer in mathematics, said: "Mark was the last one to come onto the Sky programme and it was difficult for him because the other Scholars had already settled.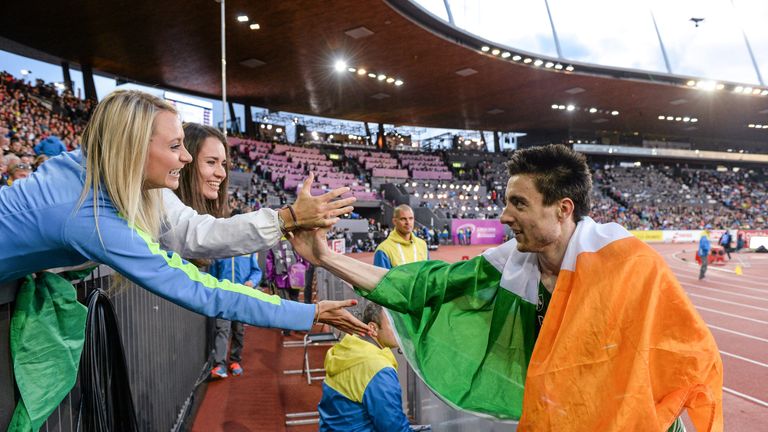 "He was so pleased to get on though and he knew how fortunate he was. There were huge benefits. The profile it gave him was incredible - locally in the community and nationally.
"I used to meet a guy in my local leisure centre who always watched Sky Sports News. He was shaving one morning and he dropped his brush when he heard a familiar voice on the TV. 'Good god, that's Mark English - he's one of our boys'.
"It all really helped Mark become connected to the local community, his school and around the country as well. And there were the interviews with Sky Sports and his media training.
"Mark used to think the content and what he said was critical but he was taught all these extra things by Sky like appearance, delivery, gestures, clarity. He was learning on the job!
"Mark got all this feedback from so many people and he learned loads off people like Geoff Shreeves and Bryan Swanson. He was assured that media asked him questions because they were interested in his story. He remembered that deeply and he's got a very different view on the media now. He knew they had a job to do and he felt it was his duty to use all his training and new skills to improve his interviews and help his reputation.
"There were also his Scholar blogs. The one he wrote about his two class-mates who died in the tragic balcony accident in Berkeley, California in June 2015 allowed him to deal with grief in words. Ironically he was involved in a day of filming with Sky Sports in Dublin on the day he heard the very sad news.
"The magnitude of this calamity caused Mark to stop in his tracks and realise that it sometimes takes a tragic event to put the triviality of sport into perspective. I think that blog resonated with many people. It reached out to Mark and many others who were struggling at that time.
"Some people might think Sky don't care about anybody at home but you look at the Scholarship programme and all the humanitarian causes a big corporation like Sky gets involved in.
"There were all these people who cared deeply for Mark - Tony Lester, Darren Campbell and many others. Mark was touched by the high level of care he received. How privileged can anybody get meeting people like that? He built that into his values and I saw that in the way he treated his girlfriend's family a week before the recent London World Championships when she had to deal with the tragic death of her father.
"Those qualities of Mark have really come out since he joined Sky as a Scholar. That is something worth more than any medal he could ever win. The skillset Mark has picked up, I cannot thank Sky enough."
Joe has seen Mark compete in all six of the big championships - the European Indoors and outdoors, World Indoors in Poland, the Rio Olympics and the London World Championships this summer.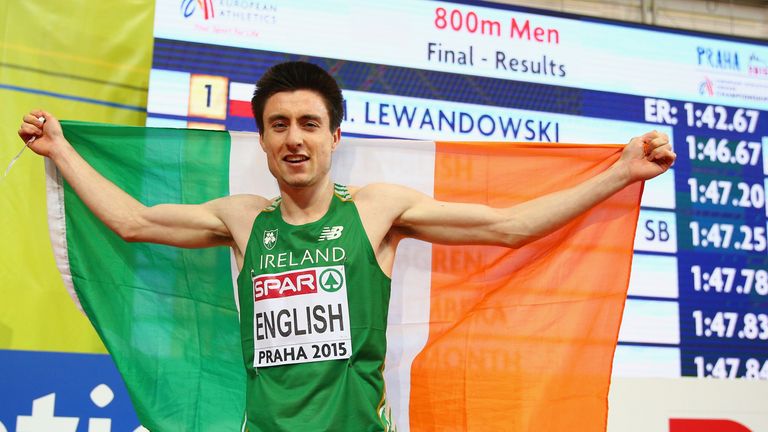 Helping Mark deal with back injuries, foot fractures and living in an oxygen tent racing to be fit for Rio have all been part of Joe's journey, but there was a moment in Zurich three years ago that stands out for Team English.
"Making his first ever final at the Europeans for Mark was everything and we were just very relaxed. We had no expectations," Joe added.
"He had nothing to lose. With 120 metres to go, he was fourth and everyone was standing up and we thought we better join them! We started to shout as well and if the cameras had been on us we'd have been a bit embarrassed in those last few metres. I even fell down the back of my chair!
"We aren't normally shouters and we'd usually be sitting down, but that night was different! We couldn't see the end and people were telling us the result and we still didn't believe it, until it flashed up on the screen.
"It was bronze - his first senior medal. My two girls ran down and Mark happened to turn around and see them. It was an incredible family moment and that was captured on camera. Just talking about it again gives me shivers.
"We've had huge highs, huge lows and over time the peaks level off as we get older. As a parent you learn to deal with those. But every ending has a new beginning and he's now moving on after such incredible and invaluable experience at Sky.
"Athletics is not the be-all and end-all for him, but he does still have big ambitions like breaking the 800m Irish national record, and staying injury free to be competitive again at the World Indoors next March in Birmingham and the Europeans next August in Berlin.
"He's also in his fifth year studying medicine as an Ad Astra Scholar at University College Dublin. It's a tough battle balancing his academic studies and running at the elite world level. Our expectations are tempered because of that and what he's been through, but he always does his best and we are so proud of him."
Watch out for news of our new Sky Sports Scholars later in September