Jessica Ennis targets World Championships gold in rival Chernova's 'back garden'
Jessica Ennis says her focus on regaining World Championships gold meant she was always set to miss the indoor season.
Last Updated: 06/02/13 2:52pm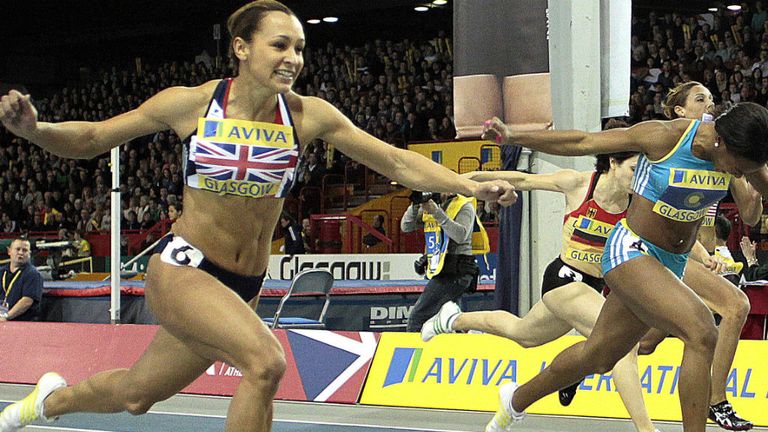 The heptathlete matched her billing as one of the faces of London 2012 when she coasted to the gold medal with a personal best points tally, but the pressure of living up to expectations took an exhausting toll.
In the aftermath of that Olympics success Ennis stopped short of ruling herself out of this year's indoor programme, but the news was confirmed this week as her attentions turn to this summer and Moscow.
The Sky Sports Living For Sport ambassador said: "Last year was such a huge year, so mentally and physically draining, I knew I wouldn't be at the top of my game come indoor season this year.
"We left our options open, and if things were going well we could have done the European indoors. At the moment I'm training hard and I feel in good shape, but I'm not quite ready to compete and it's more important to be ready for Moscow."
Ennis' aim there will be to regain the title she lost to Tatyana Chernova in South Korea in 2011 - and this time the pressure of delivering for a home crowd will be on her Russian rival.
"I don't think the pressure's ever off," Ennis said. "But last year was a huge amount - I hope I never experience pressure on that level again.
"But it's a World Championships. It's in Moscow, Chernova's back garden, so it's going to be a great opportunity for her. But I'm going to do my best, and I really want to get that gold medal back."
Ennis confirmed her lack of indoor action is likely to be a one-off for this year, when a wedding to fiance Andy Hill is also on the calendar.
But that celebration will not go hand-in-hand with a long honeymoon. She said: "Maybe I'll have a very small break, but I'll have to do some training during that time, unfortunately."