Oscar Pistorius weeps in court. Prosecuters confirm they will pursue premeditated murder charge
Oscar Pistorius broke down in tears as he was formally charged with the murder of his girlfriend.
Last Updated: 15/02/13 12:59pm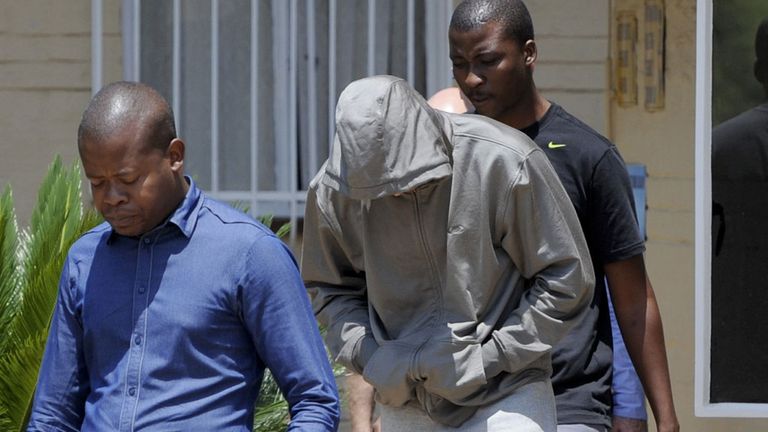 Prosecutors told the court in Pretoria, South Africa, that they will pursue a premeditated murder charge - which carries a mandatory life sentence - against Pistorius.
The world's most famous Paralympian had his bail hearing delayed until Tuesday and Wednesday next week and he remains in police custody.
Reeva Steenkamp, a model and budding reality TV show participant, was shot and killed at Pistorius' upmarket home in an eastern suburb of Pretoria.
Pistorius was met by a media frenzy outside court, having left a police station with a coat over his head.
Reports in the South African media suggest his girlfriend had been blasted four times through a bathroom door. A 9mm pistol was recovered from the scene.
Police said the model was shot in the head and upper body.
The sprinter's arrest caused shock around the world and prompted speculation he may have mistaken his girlfriend for an intruder in what could have been a Valentine's Day surprise gone wrong.
But police swiftly distanced themselves from the suggestions.
Miss Steenkamp's body was discovered at around 3am, after neighbours reported hearing screams and gun shots coming from the athlete's home.
Forensic tests were continuing on the premises with South Africa Police spokeswoman Brigadier Denise Beukes saying: "There were only two people on the premises: the resident and the deceased."
Brigadier Beukes said police were aware of previous incidents at the house where Pistorius lives.
She said: "I can't confirm that it's related to the person who has been arrested, but I can confirm there has previously been incidents at the home of Mr Oscar Pistorius."
Asked what they had been, Brigadier Beukes said they were "of allegations of a domestic nature".