Order in court
The latest episode in the Oscar Pistorius shooting saga has played out in a Pretoria court with the paralympian being cleared for international travel after winning his appeal over bail restrictions. Sky Sports News' Geraint Hughes looks at the implications of the legal move.
Last Updated: 28/03/13 4:02pm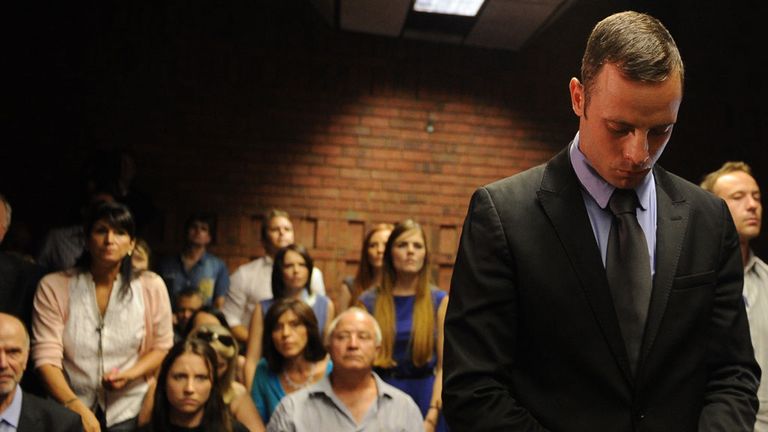 There is a feeling among those at North Gauteng High Court in Pretoria that a semblance of order returned to proceedings following Oscar Pistorius' latest legal challenge.
Following often chaotic scenes last month during the 26-year-old's bail hearing at Pretoria Magistrates Court which took four days for the sitting magistrate to reach his conclusions, High Court Judge Bert Bam heard arguments from both defence and prosecution teams within an hour. He deliberated for 90 minutes then read aloud his verdict. No fuss, little bother.
Pistorius' defence team had argued for a number of his bail conditions, which were set on February 22 to be relaxed or removed, namely his right to travel freely within South Africa and the return of his passport. It was argued that the athlete was subjected to 'house arrest'.
The prosecution vigorously disagreed, but Judge Bam found in favour of the defence. Pistorius can now travel abroad to compete internationally if he needs to - and according to his team, he just might have to so he can earn sufficient money to cover legal fees.
The 'Blade Runner' has conditions placed on the use of his passport - his lawyers must hold it, he must inform authorities a week before he intends to travel abroad with a full itinerary and return his passport to lawyers within 24 hours of his return to South Africa.
Other bail conditions were removed: unannounced visits from a probation officer were deemed unfair and unreasonable, he can drink alcohol and he can return to his home in Pretoria where Reeva Steenkamp was shot dead.
Another less obvious condition was also removed. If Pistorius is charged with an offence of violent crime against women he will be in breach of bail and will therefore go straight to jail until the conclusion of his trial.
Compared with the Hollywood-style circus that played out during Pistorius' bail Hearing in February this appeal passed without incident. It was always going to be that way. The paralympian himself did not attend and half of the media left before the hearing began when news that Nelson Mandela had been taken into hospital once more filtered through.
The prosecution don't intend to appeal Judge Bam's verdict saying: "we intend now to conclude our investigations and ready ourselves for trial". That trial will certainly not be a dour affair. Pistorius is front page news in South Africa and opinions swing wildly about his guilt or otherwise.
He'll be back in court on June 4 for a magistrate's hearing which will determine the readiness of both prosecution and defence to take the charges to full trial - although at times it feels as though this has already begun.
A trial date is expected to be set following that June hearing. When that will be is still unclear. South Africa's courts have a massive backlog of cases, but the high profile of the Pistorius case will ensure a fast-tracking to either the end of this year or the beginning of 2014.