Oscar Pistorius agent says his client is ready to return to training
Oscar Pistorius is ready to return to training but has no immediate plans to compete, says his agent Peet van Zyl.
Last Updated: 04/04/13 2:14pm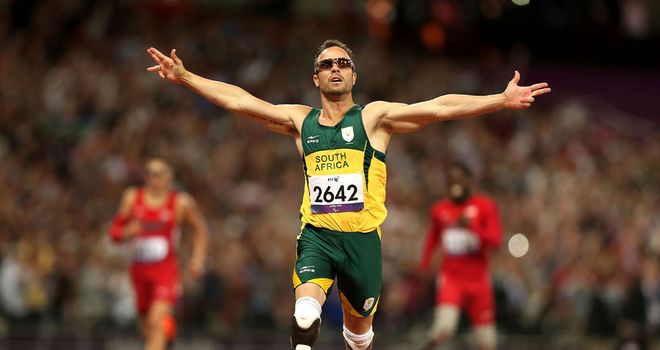 Pistorius, who denies the charge of murdering his girlfriend Reeva Steenkamp and is currently awaiting trial, has been pictured in a South African newspaper wearing his blades and running around a track in his home town of Pretoria.
The photograph of the 2012 Paralympic gold medal winner was taken last month by a member of a children's hockey team.
Van Zyl denied Pistorius has returned to training following the relaxation of his bail conditions, which now allow him to travel abroad in order to continue his athletics career, but confirmed he could resume soon.
"He was just having a jog around his track on his own accord. He wasn't back at training," said Van Zyl.
"That picture was taken by a schoolkid on March 24. Myself, Oscar and his coach had a meeting on Tuesday to discuss him getting him back to training.
"Based on that he told us he would like to get back in training and we can now look at formulating his training schedule.
"He is finding it very difficult and he is still coming to terms with the sad loss of Reeva. That is why it will be better for him to be back at training. It will be great to get him back to the track and get some routine. That's why we are taking it day by day.
"I can't see there would be any people saying this is disrespectful. This is not disrespectful to Reeva or her family.
"This has been part of his life for so many years. If it makes things easier for him to work through it and get some sense back into his life, let him run and let him jog. He's a human being and that's maybe an outlet for him."
Pistorius' uncle Arnold Pistorius has, however, played down the chances of the 26-year-old returning to training.
"Oscar is not back on any official training programme. This may change in future, but this will be a decision taken by Oscar," he said.
"At this point Oscar is still in an extremely traumatised state and has made it clear to all of us that he is not able or willing to even contemplate this issue at this stage."