Jessica Ennis-Hill sets new javelin mark on return from injury
Jessica Ennis-Hill set a new best in the javelin on her return from injury at a low-key Loughborough meeting.
Last Updated: 24/07/13 8:18am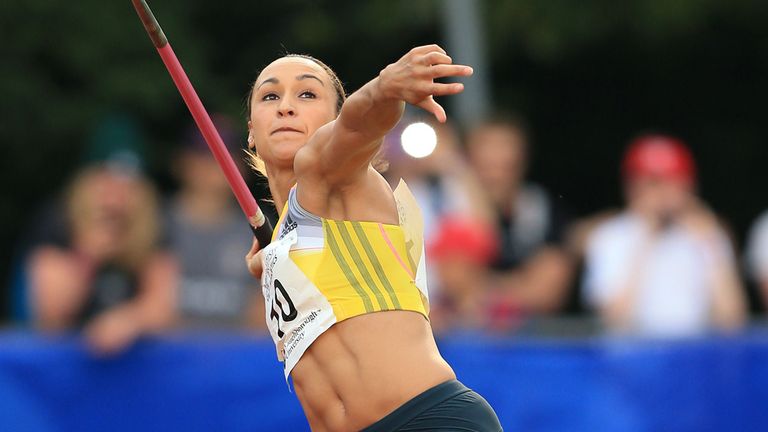 The Olympic heptathlete champion's appearance, in the javelin and the long jump, was just her second since last summer's London triumph.
A throw of 48.33m was 84cm longer than her previous career-best and an encouraging return with the World Championships less than three weeks away.
Ennis-Hill admitted afterwards she is still in pain, but she told Sky Sports News: "I'm happy to be here, back in competition, and trying to get sharp for the Worlds.
"It's feeling a lot better. I've just got a bit of strapping on it for a bit of support, but on the whole it's feeling a lot better than it has been.
"It's just trying to take those steps and get closer to where I need to be now."
Ennis-Hill, who managed 6.26m in the long jump, is due to compete in the 100m hurdles and the long jump at this weekend's Anniversary Games in London.
In an earlier interview, reported by the Press Association, she gave a slightly more downbeat assessment of her injury.
"It's pain," she said. "It's one little bit that's really painful.
"When I compress it and when I'm pushing off it, it hurts. If I had one event to prepare for then maybe it would have been a bit easier, but having to train for seven events and get all the work done that I needed to get done, it just hasn't happened unfortunately."
Asked about her aims for Moscow she said: "I want to be competitive, I don't want to go to just enjoy it. I want to contend for the gold medal.
"The standard's not really amazing at the moment, but (defending champion Tatyana) Chernova's coming into form. I want to be ready."